No matter what position you choose to sleep in, you need a mattress that supports your spine and allows it to stay naturally aligned. The mattress should also evenly distribute your weight to provide pressure-point relief.
What is a Pressure-Relieving Mattress?
The purpose of a pressure-relieving mattress is to reduce pressure buildup in areas like your spine, lower back, hips and shoulders by providing extra support in those problem areas.
Although there is no one mattress that is perfect for everyone, TEMPUR-Pedic carries an option for every type of sleeper. Consider our body shape, sleep position, how long you spend in bed, and general comfort preferences when selecting the right pressure-reducing mattress for you.
Comforting Pressure Points During Sleep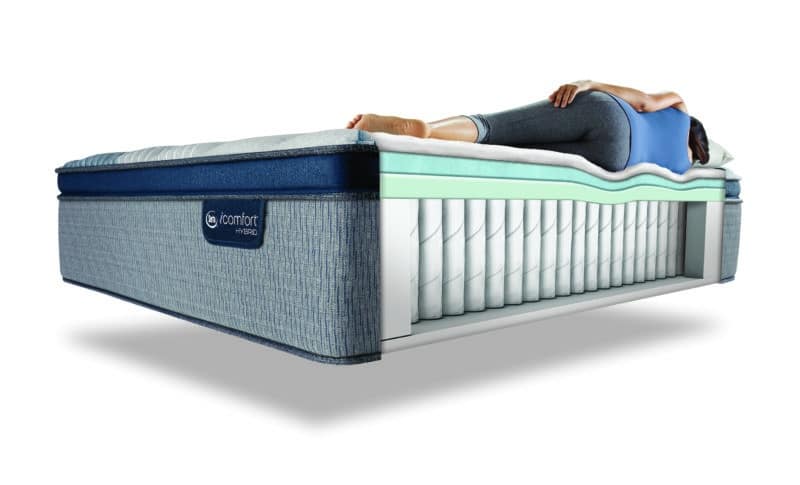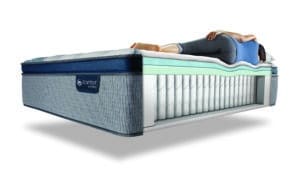 Pressure points are the parts of our body that contact the mattress more than other areas. If too much pressure is concentrated on these areas, it can lead to improper spinal support, as well as pain in the spine, neck, hip, back, or shoulders. In order to eliminate this pain, your weight needs to be evenly distributed across the mattress surface.
The TEMPUR-Pedic mattresses aren't just a surface to rest on. They cradle your back and hug your spine, which promotes spinal alignment and alleviates pain you may feel in your body's pressure points. You can also opt for a TEMPUR-Pedic pillow to support your neck.
Neck Pain During Sleep
Waking up with a sore neck can be a recurring problem, so identifying the source of this pain is a necessary step to reducing or eliminating it. Tight muscles or misalignment in the spine can cause neck pain.
Sleeping in an unsupportive position, with an unsupportive pillow or on an unsupportive mattress can definitely take a toll on your neck and spine. Being aware of how your sleeping position affects your body is a great way to identify this.
Sleeping on your side can be a good position to avoid neck pain, as long as you have a supportive mattress and a proper pillow that keeps your spine and neck aligned.
Sleeping on your back is also considered good for avoiding neck pain. With the proper mattress and pillow, your body will be in a neutral position and there will be no unwanted pressure on your neck, shoulders or hips.
Sleeping on your stomach can mess with your spinal alignment and cause neck pain. If you do sleep on your stomach, consider trying a thin pillow to support your spine properly or try changing sleep positions to reduce soreness in your neck.
If you find yourself waking up suddenly with neck pain, you may want to update your pillow.
A feather pillow that easily conforms to the shape of the neck is a good option but should be replaced every year or so. A memory foam pillow also conforms to the contour of your head and neck, a low-profile option that may work best if you are a back or stomach sleeper. If you sleep on your side, a mid-profile pillow or contour-style pillow with extra support under your neck may be the answer for you.
If the position you sleep in or your pillow is not causing added strain to your neck, then your sagging, unsupportive old mattress is definitely the culprit.
In order to relieve neck pain, your mattress must support your head and shoulders, keep your spine in alignment and allow your hips and other joints to relax comfortably. When your spine is in natural alignment, everything works better in your body. This includes your circulatory system, your respiratory system, your nervous system and your digestive system.
A TEMPUR-Pedic mattress will cradle your back and hug your spine, providing the spinal support you need as well as alleviating pressure in your body's pressure points. It is a perfect choice to eliminating neck pain.
Hip Pain During Sleep
Recurring hip pain is often the result of sleeping on the wrong mattress, especially if you are a side sleeper. An unsupportive mattress, or one that is too firm, can put unnecessary pressure on your hips.
If your mattress is old and sagging or too soft and unsupportive, it will throw your spine out of its natural alignment and add pressure to your hips. If your mattress is too firm, it will not cradle to the curve of your hips and again place too much pressure on them. Both situations leave you waking up with hip pain.
Make sure you choose a mattress with adequate support and cushioning. As a side sleeper, a plush to medium comfort level works best, and a medium to firm comfort level may be preferred by stomach and back sleepers.
Pressure relief technology, like TEMPUR foam, is designed to eliminate any unwanted pressure on your hips and other joints. Try out our TEMPUR-Pedic mattress line at any of our Mattress Express locations to decide which one is right for you.
Shoulder Pain During Sleep
Shoulder pain may not start as a result of your mattress or the position you sleep in but can exacerbate an existing injury. It is fairly common for athletes, people with arthritis, or people that suffer from certain autoimmune diseases to regularly experience shoulder pain.
Side sleepers who sleep on the affected shoulder will feel the most pain. You may need to try sleeping in a different position while your injury heals or whenever you experience a flare-up.
Choosing a pressure-point relieving mattress like TEMPUR-Pedic is a good idea.
Choosing a Mattress to Relieve Pressure Points
TEMPUR-Pedic mattresses are designed to offer the ideal sleeping environment for all types of sleepers. TEMPUR-Pedic mattresses are all made with their patented TEMPUR foam, which is designed to adapt and conform to your unique body and its needs.
Side Sleepers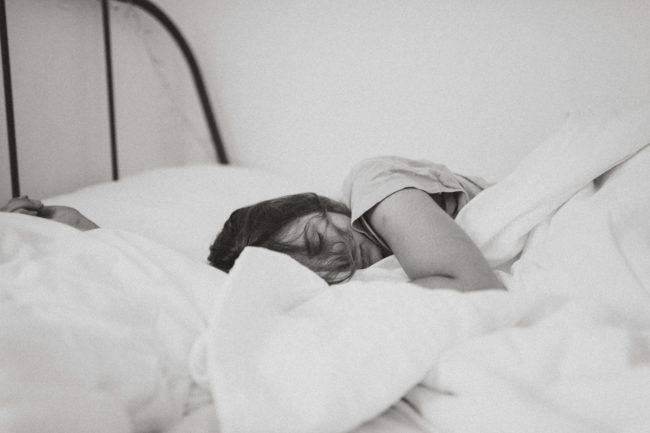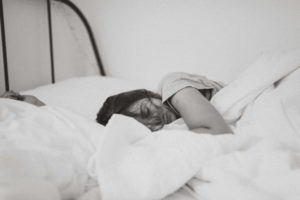 Favored by 75% of the world, side sleeping is the most popular position, especially among women. Side sleeping takes the strain off your back and hips and it is known for reducing heartburn, keeping circulation moving, supporting good spinal alignment, reducing respiratory issues, promoting optimal nerve functioning, and supporting the body's natural detoxification process.
Sleeping on your side is the safest for pregnant people because it promotes circulation in both the adult and the fetus and reduces strain on the organs. Sleeping on your left side is highly recommended if you suffer from GERD, acid reflux or any heart issues. Sleeping on your right side is recommended for cognitive health and to help reduce anxiety and depression.
The best mattress for side sleepers is a perfect blend of plush comfort and solid support.
To avoid too much pressure on your shoulders and hips, side sleepers should opt for a mattress that cushions the body and helps relieve pressure at key points. Latex, TEMPUR foam and memory foam mattresses are all good choices for side sleepers, depending on your budget.
Ready to improve your sleep with a Mattress Express mattress?
Locations
Find your store
Stomach Sleepers
More than 15% of the population still sleeps face down. A big bonus to stomach sleeping is that it prevents snoring, but the concerns outweigh the benefits. Stomach sleeping puts unnecessary pressure on your internal organs and provides inadequate support to the neck and spine. This causes back and neck pain. Healthcare providers often recommend stomach sleepers switch to a different sleeping position that offers better health benefits.
An ideal mattress for those that sleep on their stomachs should firmly support the spine and give you optimal support and comfort. A latex, firm to medium TEMPUR foam or innerspring mattress is ideal.
Back Sleepers
While you may lay on your back to get to sleep, less than 15% of sleepers say that sleeping on their back is their preferred sleep position. That is unfortunate because sleeping on your back is  generally the best at maintaining healthy spinal alignment and allows you to breathe at full capacity. This minimizes the chance of aches and pains.
As a back sleeper your head, neck, and spine remain in a natural, neutral position as long as you are sleeping on a supportive mattress. Lying on your back helps keep the hips elevated and your spine aligned, reducing pressure on your joints and supporting healthy posture.
If you are a back sleeper, a plush mattress may not provide enough support to keep your spine properly aligned. Latex, TEMPUR-foam, or firmer memory foam mattresses are recommended.
Best Tempur-Pedics for Pressure Relief
TEMPUR-foam, found in every TEMPUR-Pedic mattress, is more resilient, predictable and dense than memory foam. It provides better support and comfort as it contours to the curves of your body. TEMPUR-foam supports your body weight evenly, is resistant to sagging, and will provide better relief of pressure points and maintain natural alignment of your spine.
Unparallelled pressure relief is the product of layers of advanced TEMPUR-Pedic materials, working together to provide the ultimate balance of comfort and support. TEMPUR-Pedic mattresses have multiple comfort and support layers while most basic memory foam mattresses consist of two main layers, a soft upper memory foam comfort layer followed by a firm base foam layer.
The TEMPUR-Pedic mattress you choose will evenly absorb the force of your body and your pressure points, dramatically reduce motion transfer between you and your partner, and regulate body temperature to give you the most relaxing sleep possible.
TEMPUR-Adapt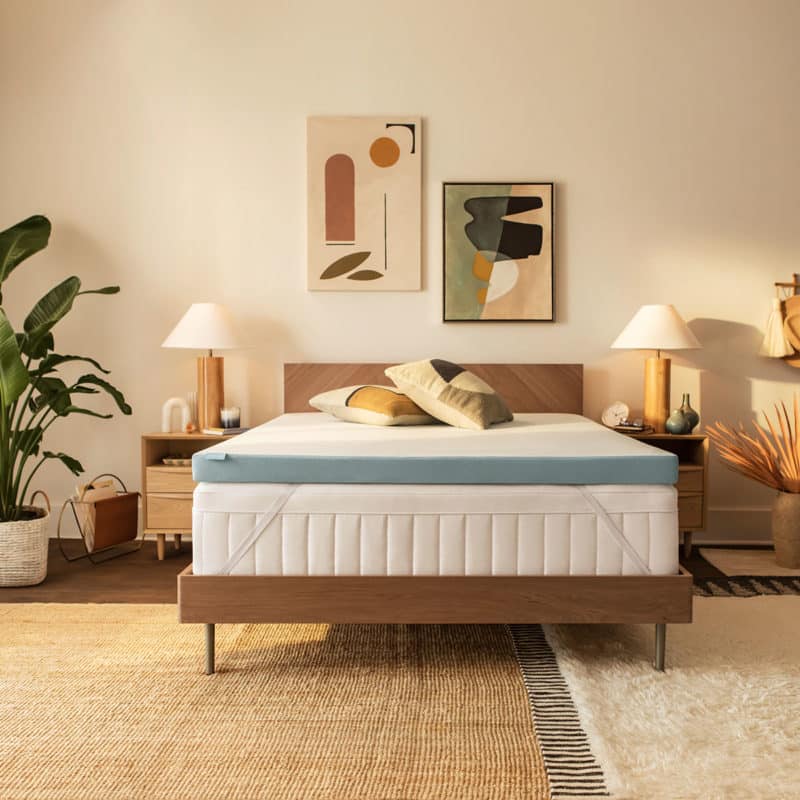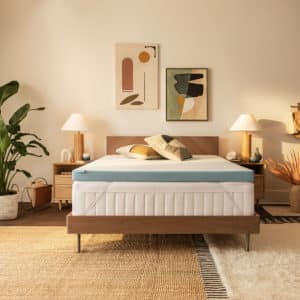 Each TEMPUR-Adapt memory foam mattress features a unique layer of TEMPUR-ES comfort material for a softer feel. This comfort layer works in combination with an original TEMPUR-support layer in the all-foam model and in the hybrid version, a layer of more than 10,000 spring coils. Both TEMPUR-Adapt versions offer advanced, all-night adaptability, truly-personalized comfort, pressure relief, unparalleled motion cancellation and all-over support. The TEMPUR Cool-to-Touch cover protects the inside layers of both of these mattress styles and regulates your body temperature each night.
The TEMPUR-Adapt mattress is available in a medium and a medium hybrid version. The TEMPUR-Adapt all-foam mattress molds closely to the shape of your body, making it a good choice for side sleepers. The TEMPUR-Adapt hybrid version is a good option for stomach and back sleepers due to the combination of foam for comfort and springs for support.
TEMPUR-ProAdapt
The TEMPUR-ProAdapt memory foam mattress combines innovative comfort and support layers to create a comfortable sleep surface that gently cushions, conforms to your body, and reduces pressure. The TEMPUR-ES comfort layer offers an excellent support layer of TEMPUR-APR that provides incredible pressure relief and proper body alignment. Its TEMPUR Cool-to-Touch SmartClimate system promotes a refreshing sleep temperature throughout the night.
The TEMPUR-ProAdapt mattress is available in a soft, medium or firm comfort level.
The TEMPUR-ProAdapt soft option is recommended for side sleepers that like a firm-feeling support system with a little softer-feeling comfort layer. The TEMPUR-ProAdapt medium is a particularly good option for stomach and back sleepers who are lighter weight, while the firm version may appeal to back sleepers who are heavier way and prefer extra support.
TEMPUR-LuxeAdapt
The TEMPUR-Luxe Adapt memory foam mattress features the TEMPUR-APR+ support layer that provides more pressure-relieving power than ever before and unparalleled motion cancellation. The TEMPUR-ES comfort layer quickly conforms to your body with a soft and soothing feel. The TEMPUR Cool-to-Touch SmartClimate system provides the optimal sleeping temperature each and every night through its body temperature regulation.
TEMPUR-Luxe Adapt mattress is available in a soft or a firm style.
TEMPUR- LuxeAdapt soft and firm mattresses are most recommended for side sleepers, depending on the comfort level you prefer. TEMPUR- LuxeAdapt is not recommended for stomach and back sleepers since it tends to contour too much to the curves of your body and may not keep your spine aligned.
TEMPUR-ProBreeze
The TEMPUR-ProBreeze mattress feels three degrees cooler throughout the night compared to the Adapt Collection. The TEMPUR-ProBreeze features cooling comfort with maximum airflow and optimal heat removal. The TEMPUR-CM+ and PureCool comfort layers give advanced, all-night adaptability for truly personalized comfort, unparalleled motion cancellation and support in the original TEMPUR support layer. The TEMPUR Cool-to-Touch SmartClimate cover not only protects your mattress but is infused with cooling fibers that continue to maintain your ideal body temperature for uninterrupted sleep.
The TEMPUR-ProBreeze is offered in a medium all-foam mattress or a medium hybrid mattress.
The TEMPUR-ProBreeze medium all-foam version offers the best sleep experience for side sleepers who are of lighter weight. The TEMPUR-ProBreeze medium hybrid version is better for stomach sleepers, back sleepers or side sleepers of a heavier weight who like a more supportive feel.
TEMPUR-LuxeBreeze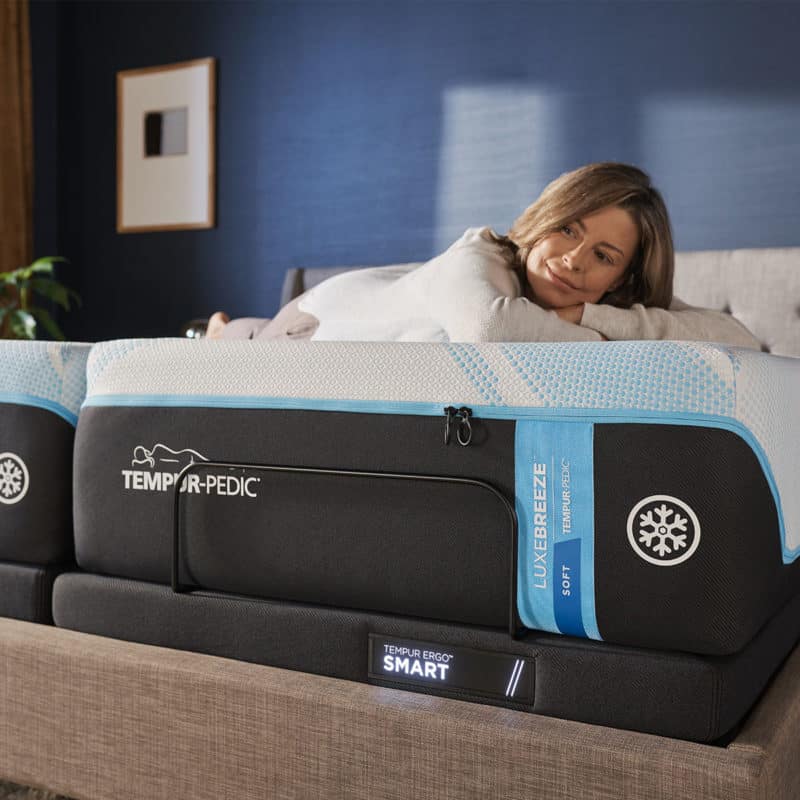 The TEMPUR-LuxeBreeze mattress feels up to eight degrees cooler throughout the night compared to the Adapt Collection. The TEMPUR-Luxe Breeze Memory Foam mattress features comfort layers of TEMPUR-CM+ and TEMPUR-PureCool+ technology that helps keep you cool throughout the night, and the ventilated TEMPUR-APR support layer relieves pressure and provides unparalleled motion cancellation. This combines to give you all the ideal comfort and the optimal support you need. The TEMPUR Cool-to-Touch SmartClimate cover not only protects your mattress but is infused with cooling fibers that continue to maintain your ideal body temperature for uninterrupted sleep all night long.
The TEMPUR-LuxeBreeze soft is best suited for side sleepers of an average to lighter weight. The TEMPUR-LuxeBreeze firm offers above-average temperature regulation and provides excellent support for lightweight back and stomach sleepers as well as heavier side sleepers.
TEMPUR-Pedic Has More to Offer
From the high-end TEMPUR-LuxeBreeze to the affordable TEMPUR-Adapt Series, all the TEMPUR-Pedic mattresses are specifically designed to be breathable, comfortable, supportive and adaptive to your body. Optimal pressure relief for every kind of sleeper is the ultimate goal.
Stop by any of our Mattress Express locations and let a sleep specialist help you discover the best pressure relief mattress for you.