The mattress your neighbor or friend loves may not be ideal for you. Your sleeping position, weight and lifestyle play a huge role in which mattress is right for you, so it is vital to choose a mattress that fits your individual body and sleep style. High-quality sleep is an important part of overall health. We are here to help show you how to choose a mattress that is right for you and how to improve your sleep quality.
TEMPUR-Pedic Mattress for the Best Sleep
Luxury mattress brands like TEMPUR-Pedic are designed to offer the ideal sleeping environment for all types of sleepers. TEMPUR-Pedic mattresses are all made with their patented TEMPUR foam, which is designed to adapt and conform to your body's unique needs. No matter what position you sleep in, TEMPUR-Pedic has a mattress for you. The TEMPUR-Pedic mattress you choose will evenly absorb the force of your body and your pressure points, dramatically reduce motion transfer between you and your partner, and regulate body temperature to give you the most relaxing sleep possible.
Get Familiar with TEMPUR-Pedic and its History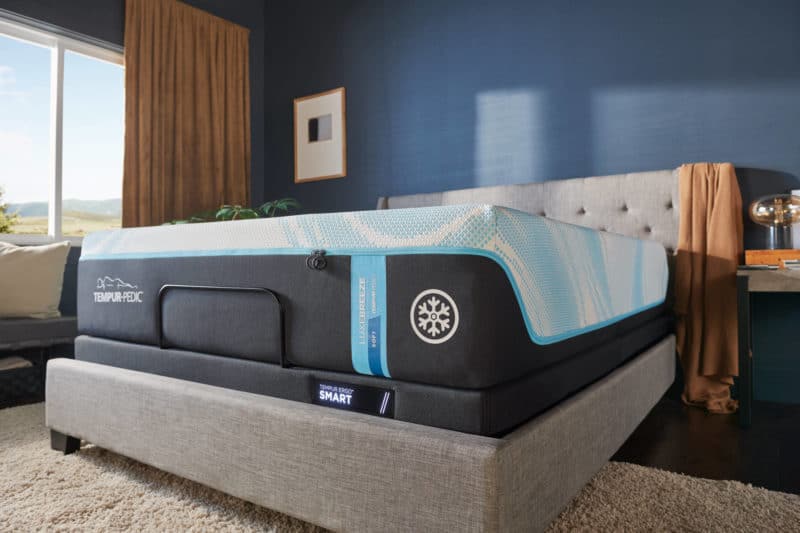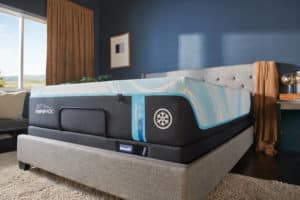 In the 1960s, NASA contracted an aeronautical engineer and a scientist to create an open-cell material to absorb the G-force for astronauts traveling into space. The open-cell material developed had unusually high energy absorption while still remaining soft and pliable. In aerospace and aviation applications, this new material could absorb sudden impacts without shock or bounce, then return to its original shape even after 90% compression. It provided great comfort for aircraft seats and served as a buffer against pressure, increasing the likelihood of survival during a crash.
They first referred to this open-cell material as slow springback foam. It would shape to whatever was pressing against it and then slowly spring back to its original shape once the pressure was removed. The name later changed to temper foam. In the early 1980s, NASA marked the formula for temper foam as public domain, and a number of companies started working with it to develop its commercial use. Many gave up but TEMPUR-Pedic's founders were eager to improve the original application. Their scientists rigorously tested and enhanced the foam to increase its adaptability, heat dissipation and durability.
After close to 10 years of perfecting the temper material for consumer use, specifically for sleepers, the TEMPUR-Pedic Swedish Mattress was introduced to the world in 1991.
Within three years, 50,000 TEMPUR-Pedic mattresses were sold in Sweden, a country with a relatively small population. Shortly after the introduction of this Swedish mattress, TEMPUR-Pedic Inc. was created in North America. By the end of 1995, TEMPUR-Pedic Inc. was a $14 million company.
Types of TEMPUR-Pedic Mattresses
TEMPUR-Pedic's scientists continue to work daily to develop and discover new technology to provide the best luxury mattress line in the industry. Each mattress collection features unique TEMPUR technology, all you need to do is uncover the best TEMPUR-Pedic mattress for you. Here is a list of features and benefits of each model to help you decide.
TEMPUR-Adapt
Each TEMPUR-Adapt mattress features a unique layer of TEMPUR-ES comfort material for a softer feel. This comfort layer works in combination with an original TEMPUR-support layer in the all-foam model and in the hybrid version, a layer of more than 10,000 spring coils. Both TEMPUR-Adapt versions offer advanced, all-night adaptability, truly-personalized comfort, pressure relief, unparalleled motion cancellation and all-over support. The TEMPUR Cool-to-Touch cover protects the inside layers of both of these mattress styles and regulates your body temperature each night.
According to TEMPUR-Pedic mattress reviews, both the hybrid version and the all-foam version are medium firm but the hybrid has a little more bounce.
The all-foam mattress molds closely to the shape of your body making it a good choice for side sleepers while the hybrid version may be a better option for back and stomach sleepers.
We offer both TEMPUR-Adapt mattresses in a medium and a medium hybrid version.
TEMPUR-ProAdapt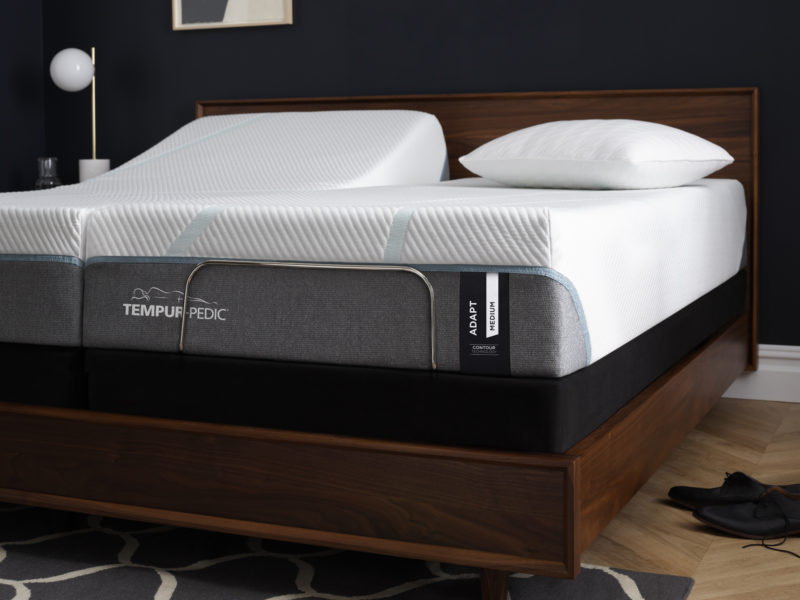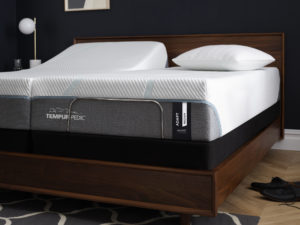 The TEMPUR-ProAdapt memory foam mattress combines innovative comfort and support layers to create a comfortable sleep surface that gently cushions, conforms to your body, and reduces pressure. The TEMPUR-ES comfort layer offers an excellent support layer of TEMPUR-APR that provides incredible pressure relief and proper body alignment. Its TEMPUR Cool-to-Touch SmartClimate system promotes a refreshing sleep temperature throughout the night. The TEMPUR-ProAdapt has 20% more TEMPUR Material in its comfort layer and support layer than the TEMPUR-Adapt Series.
According to Tempurpedic mattress reviews, the TEMPUR-ProAdapt medium is a particularly good option for back sleepers due to its pressure relief. The TEMPUR-ProAdapt soft option is recommended for side sleepers that like a firm-feeling support system with a little softer-feeling comfort layer. The TEMPUR- ProAdapt mattress is available in a soft, medium or firm mattress at Mattress Express.
TEMPUR-LuxeAdapt
The TEMPUR-Luxe Adapt memory foam mattress features the TEMPUR-APR+ support layer that provides more pressure-relieving power than ever before and unparalleled motion cancellation. The TEMPUR-ES comfort layer quickly conforms to your body with a soft and soothing feel. The TEMPUR Cool-to-Touch SmartClimate system provides the optimal sleeping temperature each and every night through its body temperature regulation. The TEMPUR-LuxeAdapt has 20% more TEMPUR® Material and delivers 30% more conforming support than the TEMPUR-ProAdapt Series.
We offer the TEMPUR- LuxeAdapt mattress in a soft or firm.
According to Tempur Pedic mattress reviews, both the TEMPUR- LuxeAdapt soft and firm mattresses are most recommended for side sleepers, depending on the comfort level you prefer. Many felt that the comfort layer contoured to the body more than is recommended for stomach and back sleepers.
Ready to improve your sleep with a Mattress Express mattress?

Locations

Find your store
TEMPUR-Breeze Mattress Collection
Many memory foam mattresses are known for trapping in heat as you sleep. The TEMPUR-Breeze mattress was developed to prevent this issue. A cooler sleep environment helps your body temperature drop to the ideal climate needed to fall asleep faster and longer. TEMPUR designed their new TEMPUR-Breeze mattress collection in a thermal laboratory to help manage the climate between your body, your mattress and your covers for a cooler, deeper sleep all night long.
TEMPUR-ProBreeze Mattress
The TEMPUR-ProBreeze feels three degrees cooler throughout the night compared to the Adapt Collection. The TEMPUR-ProBreeze features cooling comfort with maximum airflow and optimal heat removal. The TEMPUR-CM+ and PureCool comfort layers give advanced, all-night adaptability for truly personalized comfort, unparalleled motion cancellation and support in the original TEMPUR support layer. The TEMPUR Cool-to-Touch SmartClimate cover not only protects your mattress but is infused with cooling fibers that continue to maintain your ideal body temperature for uninterrupted sleep.
We offer the TEMPUR-ProBreeze in a medium or medium hybrid.
According to TEMPUR-Pedic mattress reviews, the TEMPUR-ProBreeze medium offers the best sleep experience for lighter side and back sleepers while the TEMPUR-ProBreeze medium hybrid is better for stomach sleepers and side sleepers that like a more supportive feel.
TEMPUR-LuxeBreeze Mattress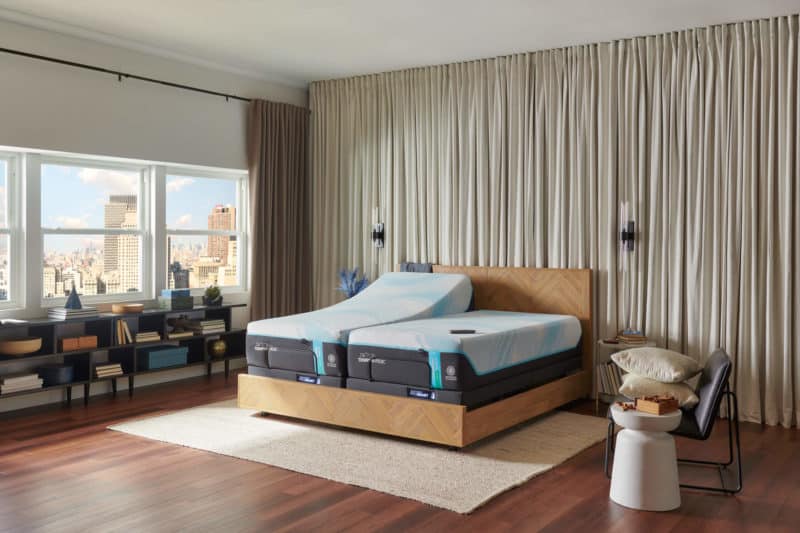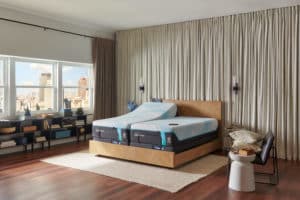 The TEMPUR-LuxeBreeze feels up to eight degrees cooler throughout the night compared to the Adapt Collection. The TEMPUR-Luxe Breeze Memory Foam mattress features comfort layers of TEMPUR-CM+ and TEMPUR-PureCool+ technology that helps keep you cool throughout the night, and the ventilated TEMPUR-APR support layer relieves pressure and provides unparalleled motion cancellation. This combines to give you all the ideal comfort and the optimal support you need. The TEMPUR Cool-to-Touch SmartClimate cover not only protects your mattress but is infused with cooling fibers that continue to maintain your ideal body temperature for uninterrupted sleep all night long.
We offer the TEMPUR-LuxeBreeze in a soft or firm mattress.
According to TEMPUR-Pedic mattress reviews, the TEMPUR-LuxeBreeze firm offers above-average temperature regulation and provides excellent support for back and stomach sleepers weighing between 130 and 230 pounds, as well as side sleepers over 230 pounds. The TEMPUR-LuxeBreeze soft is best suited for average to lighter side sleepers
TEMPUR-Foam versus Memory Foam
There is indeed a difference between a TEMPUR-foam and a standard memory foam.
TEMPUR-foam is more resilient, predictable and dense than memory foam therefore it provides better support and comfort as it contours to the curves of your body. TEMPUR-foam supports your body weight evenly, is resistant to sagging, and will provide better relief of pressure points and maintain natural alignment of your spine.
Another key difference between TEMPUR-Pedic mattresses and memory foam mattresses lies in the material used in the construction of each mattress. TEMPUR-Pedic mattresses have multiple comfort and support layers while most basic memory foam mattresses consist of two main layers, a soft upper memory foam comfort layer followed by a firm base foam layer.
TEMPUR-Pedic mattresses are designed to help troubled sleepers improve their sleep. It is capable of absorbing body weight to relieve the body from excess pressure and maintain an ideal sleeping temperature.
Temperature Control
TEMPUR-Pedic mattresses are designed with cutting-edge cooling materials inside and outside of their mattresses to create a cooler sleeping environment and give you the uninterrupted, restorative sleep you need.
Allergy Protection
TEMPUR-Pedic mattresses and mattress covers are hypoallergenic. They do not attract and retain dust mites, dead skin cells nor germs like many other mattresses on the market.
Adaptivity
TEMPUR-Pedic mattresses are designed to create a separate cradle for anyone lying on the bed so that your partner's movement is not transferred to you. As you move throughout the night, the resilient TEMPUR-foam will instantly recover to its original shape as the pressure of your body is removed and continue to give your body the support it needs in all the right places.
Long Lasting
TEMPUR-Pedic mattresses are built with high-quality, long-lasting materials that perfectly conform to your body as you sleep. They are available in multiple thickness, firmness, and composition to suit different body types. All come with a 10-year warranty.
According to TEMPUR-Pedic mattress reviews, many TEMPUR-Pedic mattresses have lasted 15 years or longer.
Health Benefits of a TEMPUR-Pedic Mattress
Pain Relief
The TEMPUR-Pedic mattresses cradle your back and hug your spine rather than just providing it a surface to rest on. It is better for your spinal alignment and helps alleviate any pain you may feel in your body's pressure points.
You can also opt for a TEMPUR-Pedic pillow to support your neck and maintain your spinal alignment.
Mental and Physical Health
Most mattress companies focus on the benefits of their mattress on your physical health but the benefits of TEMPUR-Pedic mattresses also affect your mental health.
TEMPUR-Pedic mattresses are designed to ease the mind of restless and troubled sleepers by providing them with an ideal sleeping environment.
The Next Step to Ideal Sleep
TEMPUR products are known for their individualized softness and ultimate support so do not forget to replace your pillows when you buy your new TEMPUR-Pedic mattress. Mattress toppers and other accessories are available as well.
Stop by any Mattress Express location of your choice to try our TEMPUR-Pedic mattress line for yourself.