The price of a mattress is often directly connected to its size, so a king-size mattress will cost significantly more than any other size of the same mattress.
Besides mattress size, the biggest factors in determining the cost of a mattress are the quality of materials it is made with, the type of technology used to create it and the craftsmanship that goes into the manufacturing. Each mattress material has its own advantages and disadvantages. It is vital to consider these as well as your body and sleep style needs before buying.
A king-size mattress is the widest standard-sized mattress available and serves as a great luxury for individuals who enjoy a larger sleeping surface. It is big enough for at least two people to sleep comfortably while leaving room for small children and a pet or two.
A standard king-size mattress in the United States is 76 inches by 80 inches, and a California king-size bed is 72 inches by 84 inches to accommodate taller sleepers.
Types of King Mattresses
A bed's features and materials directly affect the cost of a mattress.
Innerspring
An innerspring mattress is the most traditional and affordable mattress available. This mattress type is great for support and durability, making it the most compatible with heavy sleepers.
An innerspring mattress relies on the use of coil springs sandwiched by a layer of foam for comfort.
The type of coil system, coil gauge, and materials used in the comfort layer (the top of the mattress) all factor into the overall comfort, durability and price of the end product. The price point depends on the number of coils used in the mattress –  the coil count. The higher the coil count, the more expensive the mattress. This isn't necessarily an indicator of quality, though. Instead, the gauge of the coil determines innerspring mattress quality. A higher gauge coil is thinner and less durable than a thicker, lower gauge coil.
The Bonnell coil is the most prevalent in the industry because it is easy to produce. It has an hourglass open shape with a knot at each end. Continuous coils are made from a single wire formed into S-shaped ringlets. Each spring is attached to each other creating a firm and stable mattress core, but can cause a squeaking sound due to the coils rubbing against each other after extended use. Continuous coils are generally found in lower-end, inexpensive mattresses.
The offset coil also has an hourglass shape but the circles at the top and bottom are flattened to create a hinged action within the mattress core. This coil system allows your mattress to conform to the curves of your body and is quieter than the Bonnell system. They are generally found in more expensive innerspring mattresses.
Pocketed coils are individually wrapped in fabric pockets to isolate motion transfer. This makes them superior to all other coil mattresses but also costs more. These fabric pockets allow each spring to move alone without causing the typical "domino" effect of other coil systems. Pocketed coils are found in most hybrid mattresses and higher-end mattresses.
The comfort layer of an innerspring mattress contributes to the overall feel of the mattress. These layers slightly conform to your body, providing a cushion between you and the firmer support layer beneath. The simplest, least expensive innerspring mattresses consist mainly of the coil support core with a thin foam cushion or two for the comfort layer.
Higher-end mattresses can have a multitude of materials like poly foam, memory foam and/or latex in the comfort layer of the mattress to provide a luxurious feel.
For the budget-conscientious customer, check out our Body Fit Concord, Summerset and Bridgeport collections at Mattress Express. These lines offer traditional innerspring king mattresses all under $1,000.
To find the innerspring mattress that works for you, visit your local Mattress Express or browse our online shop.
Foam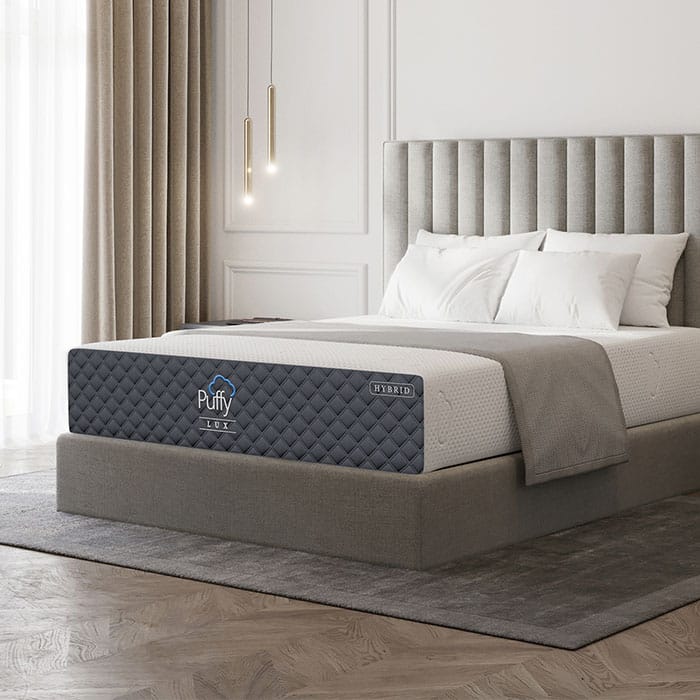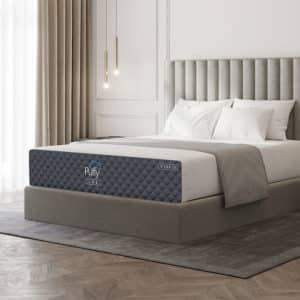 Memory foam was invented in 1966 by NASA to improve aircraft cushions but the first memory foam mattress wasn't made until 1991. Memory foam mattresses are commonly known for their cradling, body-hugging feeling and are now one of the most popular mattresses sold. They are easily compressed and rolled up into a shipping box, making storage and delivery of this mattress style quite cost-effective.
Like any material, the quality of memory foam can differ. Another feature to pay attention to is the density of the memory foam used to make your mattress. The density of memory foam used for mattresses can vary from 1-pound to 5-pound density.  A mattress made with 3- to 4-pound density or higher should last you over a decade. 1-pound density mattresses could develop body impressions and need to be replaced as early as a year or two after purchasing.
The lower-density foam mattresses may sell for a low price but quality varies when comparing the cost. You may want to spend a little more now to save you money in the future.
Memory foam is one of the most incredible innovations in the mattress industry, but not every memory foam mattress is right for everyone. Sleep needs and preferences vary from person to person. Stop by the Mattress Express location nearest you and our sleep specialist on duty will help you uncover the best memory foam mattress for you.
Take a look at our favorite memory foam mattress options, including our IFS Chill Series Euphoria Collection, our Purple Original and Purple Plus and our Puffy kings in our under $5,000 range. Our Wellsville Air Foam Gel Series kings in our luxury line run $5,000 and up.
Hybrid
To many people, hybrid mattresses are the best of both worlds. They offer an equal amount of comfort and support by combining two quality materials equally. Most commonly, they combine the comfort of memory foam or latex with the support core of innersprings. By combining multiple materials, the mattress is a balance between cushioned comfort and adaptive support.
A hybrid mattress is designed to provide moderate firmness, superior support, and plush padding, but not every model contains the same materials from top to bottom.
The most common hybrid mattresses use pocketed coils that are individually encased in fabric in the support core of the mattress. They perform much better at motion isolation than traditional interconnected coils and affect the durability and supportiveness of the mattress.
Natural latex can also be used as the support core in a luxury hybrid mattress but is not quite as common.
Hybrid mattresses are an increasingly popular choice because they can be easily tailored to people's personal preferences and needs. They are typically more expensive than standard memory foam or innerspring styles though. If you have a restricted budget, check out our king mattresses under $2,000, including our IFS Serenity, our Malouf Songbird Collection or the Puffy Lux.
Luxury hybrids, like our Eclipse Deville, Puffy Royal, Purple Premier Hybrid Series king, run in the $2,500 to $5,500 range. Our Posh and Lavish Hybrid Collection king is above $5,000.
Stop by the Mattress Express location nearest you and our sleep specialist on duty will help you uncover if one of our luxury hybrid mattresses is the best for you.
Ready to improve your sleep with a Mattress Express mattress?
Locations
Find your store
Latex
Latex, a natural material made from the sap of a rubber tree, is the most natural mattress you can buy.  A latex mattress will contour to your body and isolate motion but with a bouncier feel than memory foam. Latex mattresses are hypoallergenic, naturally cooling, and naturally dust mite resistant. They generally last 20 years or more and cost more than mattresses made from synthetic materials.
There are two processes that affect the feel and quality of natural latex: dunlop and Talalay. Dunlop is denser and more supportive, and talalay is less dense, more comfortable, and more expensive. Dunlop types are made by pouring the latex in one single pour, making the mattress dense on the bottom and soft on the top.
Talalay is the result when the latex is poured into the mold but then is vacuumed to get all the air out. It is then frozen, making the overall consistency equal throughout the mattress. Talalay mattresses tend to be sold at a higher price due to the longer processing time.
Natural latex is a superior mattress material but watch out for synthetic knockoffs that will lack natural latex's durability and longevity. Latex mattresses are recommended for all types of sleepers.
Experience the luxurious feel of natural Talalay latex at any of our Mattress Express locations with our Posh and Lavish latex collection starting at just over $5,000.
Air Beds/Number Beds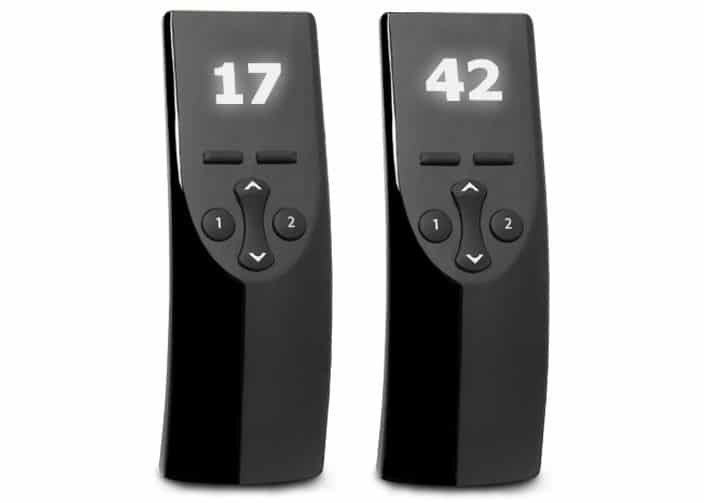 Airbed mattresses are so much more than a blow up mattress you may envision. Airbeds used pressurized air for support combined with layers of foam or latex for comfort. You control the air input for customized firmness making an airbed ideal for couples with different sleeping preferences. Airbeds are made with high quality materials therefore they cost more than most beds. They do outlast most other mattresses and generally come with a 25-year warranty.
At all of our Mattress Express locations, check out our Number Bed by Instant Comfort line with kings starting at $3,000.
Make the Right Decision for You
As a general rule, innerspring mattresses are the least expensive of the bunch, followed by memory foam mattresses, then hybrid pocketed coils, as well as natural latex foam mattresses. Polyfoam Is relatively inexpensive, while memory foam, specialty materials such as gel, carbon or copper-infused memory foam, air beds and latex can add to the cost. The density of the foam of the mattress, as well as the type of materials used in the top comfort layer, will also play a role in how high the price of the mattress will be.
You spend one-third of your life in bed, so investing in a good-quality, long-lasting mattress is extremely important to your quality of life. Lack of sleep or frequently interrupted sleep can affect your overall health.
When it comes to buying a mattress, you should not go with the cheapest option available, but one that balances your budget and sleeping needs. Consider a mattress an investment. The better the quality, the longer it will last.
Check out our website at mattressexpressny.com or come visit us at any of our Mattress Express locations today to find the right mattress for you!