When it comes to picking out a mattress too much of a good thing can turn into a bad thing quickly. A balance of comfort and support is the key. Finding a bed that fits all your needs can be a bit overwhelming, so here's a few things to help you on your journey to a great night's sleep.
Most mattresses contain layers, you heard it right, just like an onion in that famous children's movie, layers are what makes the perfect mattress. There are 2 main structural components in almost every mattress, the support core or bottom layer and the comfort layer or top layer. Each of these components may contain multiple layers within them.
The Support Layer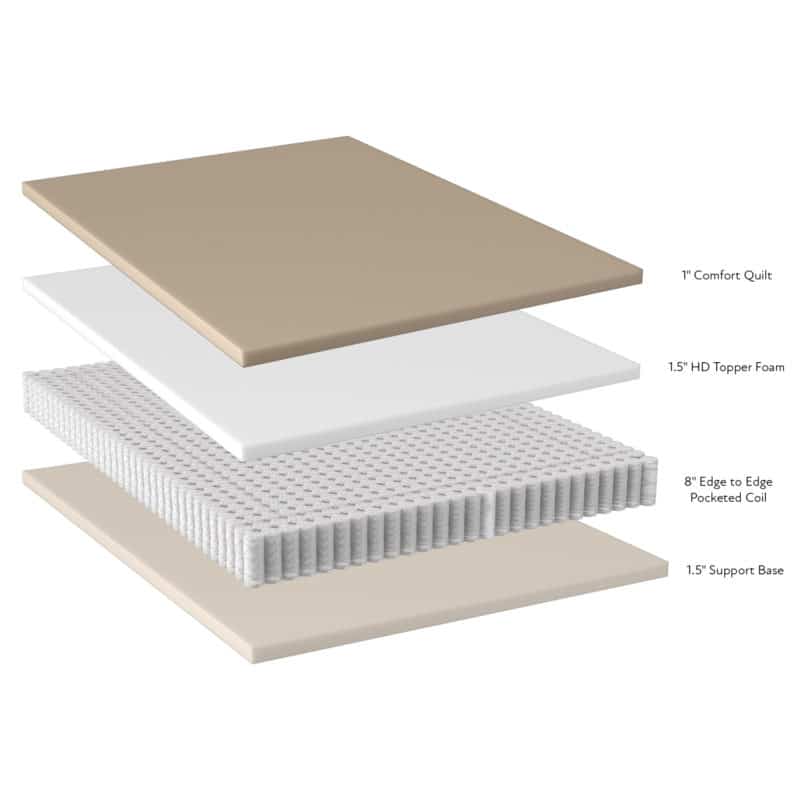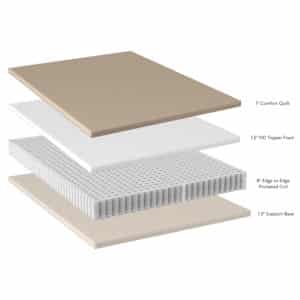 The bottom layer of a mattress is the support layer, or core of the mattress, and can contain one to three different materials on average. The support layer's main purpose is to reinforce the rest of the mattress by providing proper spinal alignment, body support and preventing the body from sinking too far down into the mattress. This layer also plays a major role in temperature neutrality, noise control and the overall longevity of the mattress.
In a foam mattress of any kind, the support layer is rather basic and normally consists of a 6" to 8" layer of high density, durable polyurethane support foam, but some of the higher-end hybrid memory foam mattresses use latex as their support layer instead.
In an innerspring mattress and many hybrid mattresses, the support layer may consist of a 1" layer of high-density, durable polyurethane support foam, followed by a coil system. The bottom layer of an air bed often contains high-density, durable polyurethane support foam that encases the bed's air chambers and latex mattress can vary from one layer of dense latex support foam for a firm bed to multiple layers for a more plush style.
The Comfort Layer
The top layer is the comfort layer and can contain multiple layers and materials. The word "comfort" can be defined as the physical state of ease which needs to be accomplished for quality sleep. The comfort layer's main purpose is to provide a buffer or level of cushioning between your body and the mattress's support core. This layer also provides pressure relief and can affect your body temperature.
This layer varies tremendously in each mattress and may include just one or two layers in a firm mattress or multiple layers in a plush mattress. Polyurethane comfort foam, memory foam comfort foam and latex comfort foam are a few of the materials that are commonly found in the comfort layer of your mattress.
The ratio between the support layer and comfort layer will differ based on the comfort layer you wish to obtain as well as the type of foam that you choose to fulfill your sleeping needs.
Firmer mattresses will have more support foam and less comfort foam while a more plush bed will have a more equal representation of both support foam and comfort foam.
Polyurethane Foam
Polyurethane foam – also known as poly-foam or poly – is the most common type of foam used to make mattresses. It is made of compounds derived from petroleum and is the most inexpensive mattress material you can find.
Due to its affordability, and not necessarily its high quality, polyurethane comfort foam has been used in the comfort layer of mattresses since the 1950s.
In more recent years, many mattress manufacturers have chosen to use polyurethane foam as a base in the support layer of several mattresses instead of a traditional spring or coil system. A major reason is that polyurethane foam can be compressed very easily due to its low density, making it easier to transport from the manufacturer to the retailer or directly to the customer. It is also very lightweight compared to other materials and easy to move.
There are several different varieties and densities of polyurethane foam. The three main grades of polyurethane foam include regular, high-density, and high-resiliency. Regular grade and high-density are most often used as layers in the construction of mattresses. Generally, higher density polyurethane foam is a bit more durable and is used in the support layer of a mattress while low-density polyurethane foam is used in the comfort layer due to its softer feel.
Even high-density polyurethane foam is less dense than latex foam or memory foam. All polyurethane foam, no matter what density, will degrade faster than other foam so it generally is sold at a lower cost and has a shorter lifespan.
Polyurethane foam as the main comfort layer in your mattress is a great option if you are on a tight budget or looking for a mattress for a spare room, a mattress for a seasonal home, a mattress you need to move regularly or a mattress for short-term use.
Check out our Body Fit line or our Madison series and you won't be disappointed!
Not sure which mattress is right for you?

Take our Express Comfort Quiz for instant recommendations.

Get Started!
Memory Foam
Memory Foam is a viscoelastic polyurethane foam developed by NASA in 1966 to protect against impact and improve safety in aircraft seats. It was not until the late 1990s before it gained its popularity in the mattress industry. At first it was too expensive for widespread use but has become more affordable and is now an extremely common mattress material.
Memory foam is a popular comfort layer foam known for uniform body support, alignment with the curvature of your spine, alleviation of joint and back pai
n, pressure point relief and motion isolation. It is denser and more supportive than the average polyurethane foam used in mattresses. It cradles and remembers your body and slowly goes back to its original form, hence its name.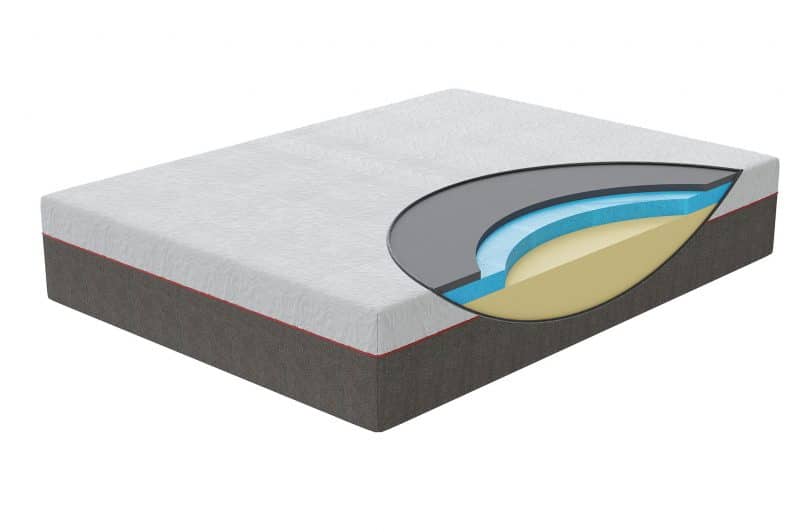 It is temperature sensitive and in its early days warmer sleepers would complain about its heat retaining properties but it was loved by cold and medium sleepers. In the 2000s, open-cell memory foam, gel memory foam and other mineral-infused memory foam such as copper, graphite or carbon were introduced to combat heat retention and help regulate body temperature. This is an important feature to search for when purchasing a quality memory foam mattress.
Like any material, the quality of memory foam can differ. Another feature to research is the density of the memory foam used to make your mattress. The density of memory foam used for mattresses can vary from 1-pound density to 5-pound density.  A mattress made with 3- to 4-pound density or higher should last you over a decade. 1-pound-density mattresses could develop body impressions and need to be replaced as early as a year or two after purchasing.
A memory foam mattress or a hybrid with memory foam as your top comfort layer is a great choice for all types of sleepers.
For back and stomach sleepers choose a medium to firm memory foam. Side sleepers may want a more plush memory foam but the choice is still yours, go with what feels best to you.
Our Mattress Express favorites include our Posh and Lavish Flow and our IFS Chill Series. Stop into your Mattress Express location of choice and check all of our Memory Foam options in person. Our sleep specialists will help you uncover the best memory foam mattress for you.
Latex
Latex is made from the milk-like sap of a rubber tree and is the most natural comfort foam out there. Although you may find synthetic latex knock-offs at a much more affordable cost, it is best to stick with the real thing. A man-made substitute, like many things, cannot provide the same benefits as the real thing.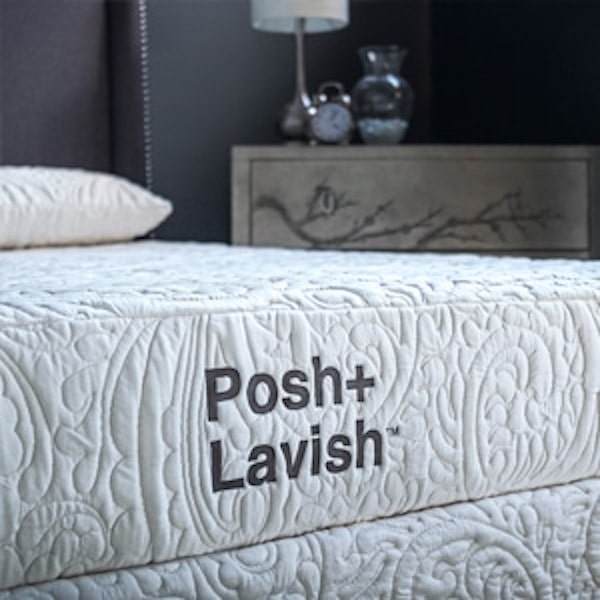 Natural latex is more supportive, durable, eco-friendly, and better for sleep health than synthetic and blended latex. It is harvested and refined from a rubber tree and can be tapped from the same exact tree for up to 30 years. Once the sap is harvested, it is processed into a soft, supportive, and extremely durable comfort foam material.
Latex foam is known for both its comfort and support, no other materials are needed to make a quality supportive, comfortable mattress. Both the support layer and comfort layer can all be one material. It is the most durable mattress material you can find and is known to last for several decades. It is a very resilient material and it naturally maintains its shape year after year.
Latex comfort foam cradles your hips and shoulders and provides pressure relief for your spine and joints while its natural elasticity maintains natural spinal alignment and lightly supports your back and neck.
It is hypoallergenic, naturally antimicrobial and biodegradable. Natural latex foam has an open-cell structure to permit constant airflow, enhance breathability and regulate body temperature naturally.
There are two methods of processing the sap, dunlop is a quicker, more economical and eco-friendly process but talalay provides a superior, consistent product with little room for error.
Dunlop latex is made by pouring liquid foam from whipped sap into a mold and heating it up in an oven to harden. After hardening, the latex is removed from the mold, washed and then dried.
Talalay latex requires more time and energy. Just like dunlop, the sap is whipped into a foam and poured into a mold but the mold is only filled halfway. The mold is then sealed and a vacuum is used to expand the latex until it completely fills the mold. It is then placed in a freezer and carbon dioxide is injected into the rubber to create a gel-like texture. The gel-like foam is then hardened with heat, removed from the mold, washed, and dried. The finished latex is softer and bouncier than dunlop and sold at a higher price.
Latex foam is great for all types of sleepers but its natural antimicrobial properties make it an especially great choice for allergy sufferers and its combination of support and comfort equally is especially beneficial for sleepers with back and joint pain.
Experience the luxurious feel of natural talalay latex with our Posh and Lavish latex collection.
That was a lot of information, so let's recap:
Our Posh and Lavish Latex line is great for all types of sleepers but especially if you have allergies, suffer from lower back or joint pain, want to limit your carbon footprint and have the budget to invest in a mattress with longevity.
Our Posh and Lavish Hybrid and our IFS Chill Series lines can be used by all types of sleepers. A medium or firm mattress choice like our Posh and Lavish Hybrid Flow or our Chill Series is best for back and stomach sleepers while our Posh and Lavish Hybrid Flux, our Posh and Lavish Hybrid Fusion or our 14" Chill Series are a plusher option for side sleepers.
And last but not least, our affordable polyurethane styles like our Body Fit line or our IFS Madison series are great if you are on a tight budget, need a lightweight mattress that is easy to move, looking for a guest room mattress, seasonal home mattress or only need a temporary mattress for a limited number of years.
Come visit us at any of our Mattress Express locations today to find the right mattress for you!