Your sleeping position plays a huge role in finding the perfect mattress for you. Over 75% of adults favor side sleeping, especially women. Sleeping on your side is also proven to be the healthiest sleeping position. Mattress Express offers many of the best mattresses for side sleepers through our TEMPUR-pedic mattress line.
Benefits of Side Sleeping
Side sleeping is known for reducing heartburn, keeping circulation moving, supporting good spinal alignment, promoting optimal nerve functioning, and supporting the body's natural detoxification process. It also takes the strain off your back and hips, relieves breathing difficulties like snoring, diminishes sleep apnea symptoms and improves blood flow. Sleeping on your side is the safest for pregnant people because it promotes circulation in both the adult and the fetus and reduces strain on the organs.
Although side sleeping is the most common sleeping position in the world, the side you sleep on can affect your overall health as well.
Sleeping on your left side improves circulation and eases pressure on your internal organs. It helps relieve heartburn, reduce acid reflux, increase blood flow and is the safest for pregnant women.
Sleeping on your right side decreases nervous system activity to lower anxiety, depression and nightmares. It also helps regulate blood pressure and heart rate. The right side can have adverse effects if you suffer from GERD, or offer gastrological issues due the location of your body organs.
Relieve Pressure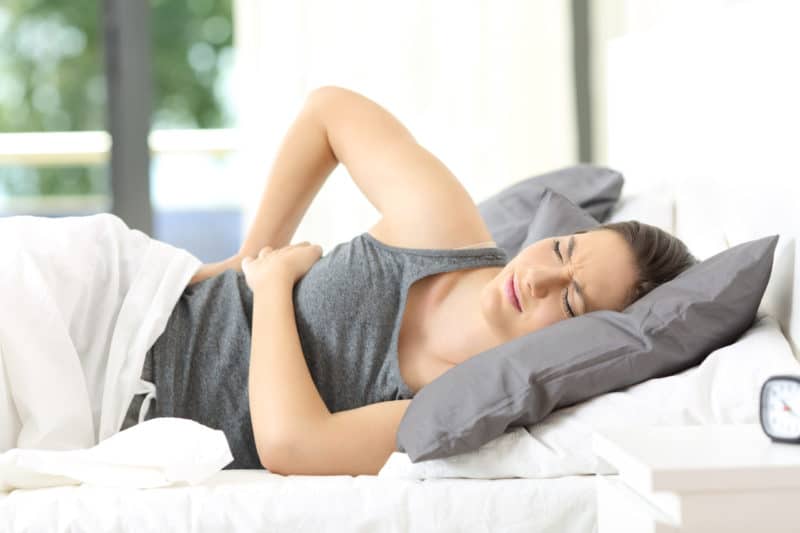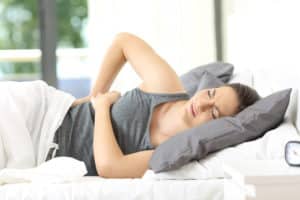 As a side sleeper, it is important to have a mattress that contours to your body and provides pressure relief around your joints like shoulders and hips. Without good pressure relief, you will not sleep well and may wake up with pain in your hip, lower back, shoulder or arm. You may also feel a slight numbness or tingling sensation in one of those extremities as well.
A soft, thick mattress, specifically one with multiple comfort layers that contours to the curves of your body, is ideal. TEMPUR-Pedic is a good option. Be sure the mattress has enough support to keep your spine in its natural alignment.
Spinal Alignment
As mentioned above, side sleeping can lead to shoulder, hip and back pain if your spine, neck and hips are not properly aligned. If you begin to experience some lower back or hip pain after sleeping on your mattress for several years, it may be a sign that it is time for a replacement mattress. If you experience pain during or after sleeping on a new mattress, it could be too soft or too firm.
If your mattress is too soft, you might sink too deep into your mattress and force your back out of alignment. If your mattress is too firm, your spine may be forced out of alignment as well or you may wake up with severe hip or shoulder pain. The mattress must contour to your curves.
Finding the best TEMPUR-Pedic mattress for your body will ensure the right balance of contouring for pressure-point relief and support for proper spinal alignment.
Pelvic Rotation
As a side sleeper, you should pay attention to how you position yourself. If you twist your body in your side sleeping position, it can cause pelvic rotation and throw your spine out of alignment. This will cause unwanted pain.
Sleeping with your legs fully extended or with a small pillow between your knees can help minimize pelvic rotation.
Choosing a soft, conforming mattress with optimal support, like TEMPUR-Pedic, is another way to ensure you keep your spine in its natural alignment.
TEMPUR-Pedic Mattress Design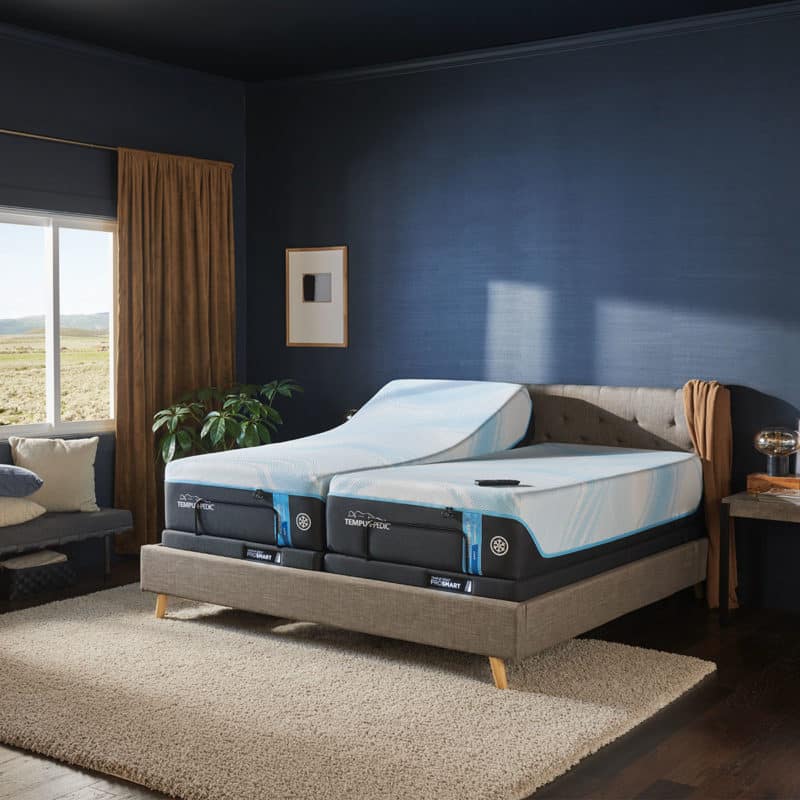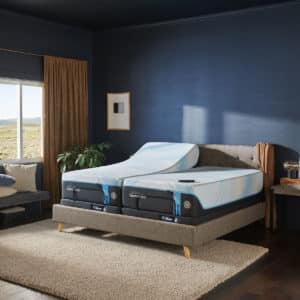 TEMPUR-Pedic mattresses are designed with multiple comfort and support layers. The most basic memory foam mattresses consist of two main layers, a soft upper memory foam comfort layer followed by a firm base foam layer.
TEMPUR-Pedic mattresses are made to excel in pressure relief, motion isolation, edge support and ease of movement. Each TEMPUR-Pedic consists of layers of their patented TEMPUR foam, which is designed to adapt and conform to your body's unique needs. This combines with other patented TEMPUR materials to help troubled sleepers get better sleep.
The TEMPUR-Pedic mattress you choose will evenly absorb the force of your body and your pressure points, dramatically reduce motion transfer between you and your partner, and regulate body temperature to give you the most relaxing sleep possible.
TEMPUR-Pedic Material and Support
The founders of TEMPUR-Pedic eagerly worked to improve the original application of temper foam, which was developed for NASA in the 1960s. TEMPUR-Pedic's scientists continue today to rigorously test and enhance the foam to increase its adaptability, heat dissipation and durability.
TEMPUR-Pedic is well known for popularizing the use of TEMPUR foam, also known as memory foam. TEMPUR foam is uniquely formulated to respond to your body's weight, shape and temperature. Its body-conforming support, infinite adaptability and absorption, unparalleled pressure-point relief, and motion separation helps deliver uninterrupted, deep sleep each and every night. Every TEMPUR-Pedic memory foam mattress is made with optimal comfort and support as a priority, making it among best mattresses for side sleepers.
TEMPUR-Pedic Price
Everyone wants to sleep on a luxurious mattress. When the time comes to actually purchase one at a higher price tag, though, we tend to ignore our wants and needs. Spending the money upfront on a quality mattress, like a TEMPUR-Pedic, could save you money and headaches in the future.
TEMPUR-Pedic mattresses are built with high-quality, long-lasting materials that perfectly conform to your body as you sleep.
They are priced accordingly. They are available in multiple thicknesses, firmness, and composition to suit different body types. All TEMPUR-Pedic mattresses come with a 10-year warranty, but the average mattress lifespan tends to be closer to 15 years.
Ready to improve your sleep with a Mattress Express mattress?

Locations

Find your store
TEMPUR-Pedic Temperature Control
TEMPUR-Pedic mattresses are designed with cutting-edge cooling materials inside and outside of their mattresses. Their cooling features include phase-change technology in the top, inside layer and a cool-to-the-touch outer cover on the outside of each mattress. The combination creates a cooler sleeping environment and gives you the uninterrupted, restorative sleep you need.
If sleeping hot is a recurring issue for you, check out the TEMPUR-Breeze collection for an especially cool night of sleep each and every night.
The TEMPUR-Luxe Breeze soft is the most recommended TEMPUR-Pedic bed of this collection for side sleepers.
Best TEMPUR-Pedic Mattresses for Side Sleepers
No matter what position you sleep in, TEMPUR-Pedic has a mattress for you. TEMPUR-Pedic beds offer the ideal sleeping environment for all types of sleepers, especially side sleepers, thanks to the contouring, pressure-relieving hugging action that TEMPUR foam is known for.
TEMPUR-Adapt
The TEMPUR-Adapt mattress is known for balanced pressure relief. It features a unique layer of TEMPUR-ES comfort material for a softer feel and works in combination with an original TEMPUR support layer for advanced, all-night adaptability, truly personalized comfort, pressure relief, unparalleled motion cancellation and all-over support. The TEMPUR Cool-to-Touch cover protects the inside layers and regulates your body temperature each night.
The all-foam TEMPUR-Adapt mattress molds closely to the shape of your body, making it a good choice for side sleepers. The hybrid TEMPUR-Adapt version may be too supportive and not give to your hips and shoulders as needed.
The TEMPUR-Adapt mattress is available in a medium all-foam version and a medium hybrid version at Mattress Express. The all-foam model is recommended for sleeping on your side.
TEMPUR-ProAdapt
The TEMPUR-ProAdapt mattress combines enhanced pressure relief and conforming with its advanced pressure-relieving material. It is designed to cradle your curves. Its innovative comfort and support layers create a comfortable sleep surface that gently cushions, conforms to your body and reduces pressure.
The TEMPUR-ES comfort layer offers an excellent support layer of TEMPUR-APR that provides incredible pressure relief and proper body alignment. Its TEMPUR Cool-to-Touch SmartClimate system promotes a refreshing sleep temperature throughout the night.
The high-end contouring from the TEMPUR-ProAdapt's comfort and transition layers help ease the sharp pressure points that side sleepers often experience. The TEMPUR-ProAdapt is perfect for side sleepers who need a mattress comfort level to accommodate their body type. It is offered in a soft, medium, or firm version.
TEMPUR-LuxeAdapt
The TEMPUR-LuxeAdapt mattress features the TEMPUR-APR+ support layer that provides more pressure-relieving power than ever before, and unparalleled motion cancellation. The TEMPUR-ES comfort layer quickly conforms to your body with a soft and soothing feel. The TEMPUR Cool-to-Touch SmartClimate system provides the optimal sleeping temperature each and every night through its body temperature regulation.
The TEMPUR-Luxe Adapt memory foam mattress is engineered for enhanced pressure relief. Both the comfort levels of the TEMPUR-LuxeAdapt mattress are recommended for side sleepers. Depending on the comfort level you prefer, you can choose from soft or firm.
TEMPUR-Luxe Breeze
The TEMPUR-Luxe Breeze features comfort layers made with TEMPUR-CM+ and TEMPUR-PureCool+ technology that helps keep you cool throughout the night, and the ventilated TEMPUR-APR support layer relieves pressure and provides unparalleled motion cancellation. This combines to give you all the ideal comfort and the optimal support you need. The TEMPUR Cool-to-Touch SmartClimate cover not only protects your mattress but is infused with cooling fibers that continue to maintain your ideal body temperature for uninterrupted sleep all night long.
TEMPUR-Luxe Breeze's cooling features are superior to others on the market and have been proven to keep you feeling up to eight degrees cooler all night.
The TEMPUR-LuxeBreeze is ideal for hot sleepers. There are two firmness levels to choose from – soft and firm – with the soft being favored by side sleepers. The TEMPUR-Pedic firm mattress in the TEMPUR-Luxe Breeze line is better fitted for back and stomach sleepers.
Let Your Body Make The Decision For You
Side sleeping tends to be the most common and best position to sleep overall, offering many health benefits to different bodies. When it comes to picking out a new mattress, let your body decide by trying it out in person.
Side sleeping pillows are also a key to a good night of sleep. The best side sleeper pillow is one that supports proper alignment between your neck and the rest of your spine, so the right pillow and the right height is especially crucial.
Choose a pillow with a thickness that matches the distance between your neck and your shoulder to keep your neck aligned with your spine and prevent the pain and soreness associated with an unsupportive pillow. Also avoid one that is too high and raises your head at an angle above your shoulder.
Stop by any of our Mattress Express stores to have a sleep specialist guide you to see what the best TEMPUR-Pedic mattress is for you.