Sciatic Nerve Pressure Points
The sciatic nerve is found on each side of your body and runs from your lower back, pelvis and hip down each leg to the back of each of your knees. It is the largest nerve in the body and the main nerve that controls the legs.
Approximately 40% of people in the United States will experience symptoms of sciatica pain in the hip, lower back or glutes in their lifetimes.
When excessive pressure is placed on these pressure points, it results in pain that often starts at your hip and shoots down one or both of your legs. This is called sciatica. Pain along the sciatic nerve often feels like a dull ache, a mild tingling sensation, or a burning sensation. This pain can vary from a mild ache that lasts for hours to a sharp, burning jolt of pain that lasts just a few seconds but may result in lingering soreness. Sciatica often can cause your leg, thigh or backside to feel numb or tingly before or after the jolt of pain. Sciatica pain resolves quickly for some people, but for others, it may be long-lasting.
Sciatica numbness or pain typically affects only one side of the body at a time but can occur almost anywhere along the nerve pathway from your lower back to your calf. It is rare for both sciatic nerves to flare up at the same exact time, but sciatic nerve pain does not favor one side over the other.
Choosing a Mattress for Sciatica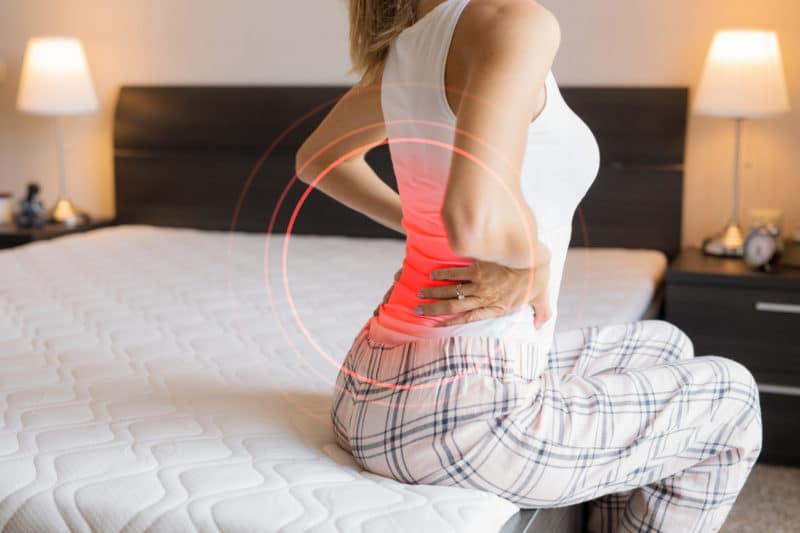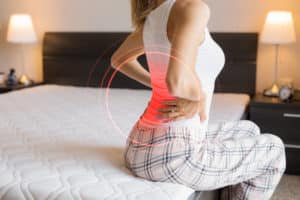 Sciatica can worsen at night if your mattress is placing added pressure on these pressure points. Sleeping with a pinched nerve in the hip (sciatica nerve hip pain) can leave you restless all night.
The best mattress for sciatica sufferers is one that conforms to the curves of the body and provides excellent pressure relief and isolate motion. A mattress with good spinal alignment is key as it will take pressure off the sciatic pressure points and reduce sciatica pain.
If you are a side or back sleeper that suffers from chronic sciatica, it is especially important to make sure you get a medium comfort level that is not too firm or too soft and will not aggravate the area more.
Stomach sleepers may find it easier to change sleeping positions if they have a sciatica flare up than blame it on the mattress because stomach sleeping itself is rough on even the healthiest lower backs.
Best Mattress for Sciatica
Each TEMPUR-Pedic mattress is designed with layers of advanced TEMPUR-Pedic materials like TEMPUR foam. This offers unparalleled pressure relief and the ultimate balance of comfort and support, making it one of the best mattress lines for hip pain and sciatica.
Each TEMPUR-Pedic mattress evenly absorbs the force of your body and your pressure points, dramatically reduces motion transfer between you and your partner, and regulates body temperature to give you the most relaxing sleep possible.
TEMPUR-Pedic Adapt
The TEMPUR-Adapt all-foam mattress molds closely to the shape of your body, making it a good choice for sciatica pain sufferers, especially side sleepers. The TEMPUR-Adapt hybrid version is a good option for stomach and back sleepers who suffer from chronic sciatica pain due to the combination of foam for comfort and springs for support. Both these TEMPUR-Adapt mattresses are available in a medium comfort level.
TEMPUR-ProAdapt
The TEMPUR-ProAdapt mattress is available in a soft, medium or firm. The TEMPUR-ProAdapt is recommended for side sleepers who suffer from sciatica that prefer a soft comfort layer balanced with a solid support layer. The TEMPUR-ProAdapt medium is a particularly good option for sciatica sufferers who are stomach sleepers or back sleepers and who are lighter weight. The firm version may appeal to back sleepers who are heavier and prefer extra support.
Ready to improve your sleep with a Mattress Express mattress?

Locations

Find your store
TEMPUR-Luxe Adapt
The TEMPUR-Luxe Adapt mattress is available in a soft or a firm style. The TEMPUR- LuxeAdapt soft mattress is perfect for side sleepers who suffer from sciatica pain, depending on the preferred comfort level. The TEMPUR- LuxeAdapt firm is recommended for heavier-weight side sleepers, lighter-weight stomach and lighter-weight back sleepers.
The TEMPUR-Luxe Adapt mattress is not recommended for heavier-weight back and stomach sleepers, especially those with recurrent sciatica pain because it tends to contour too much to the curves of your body, may not keep the spine aligned properly and may place unwanted pressure on the sciatic nerve and other pressure points.
TEMPUR-ProBreeze
The TEMPUR-ProBreeze is offered in a medium, all-foam mattress or a medium hybrid mattress and feels three degrees cooler throughout the night compared to the Adapt Collection. The TEMPUR-ProBreeze medium all-foam version offers the best sleep experience for sciatica-suffering side sleepers who are of lighter weight and tend to sleep hot at night.
The TEMPUR-ProBreeze medium hybrid version is better for heavier-weight sleepers of all sleep positions who want body temperature regulation as they sleep, especially those who suffer from recurrent sciatica pain that need the added support to keep the spine aligned and pressure points free from excessive pressure.
TEMPUR-LuxeBreeze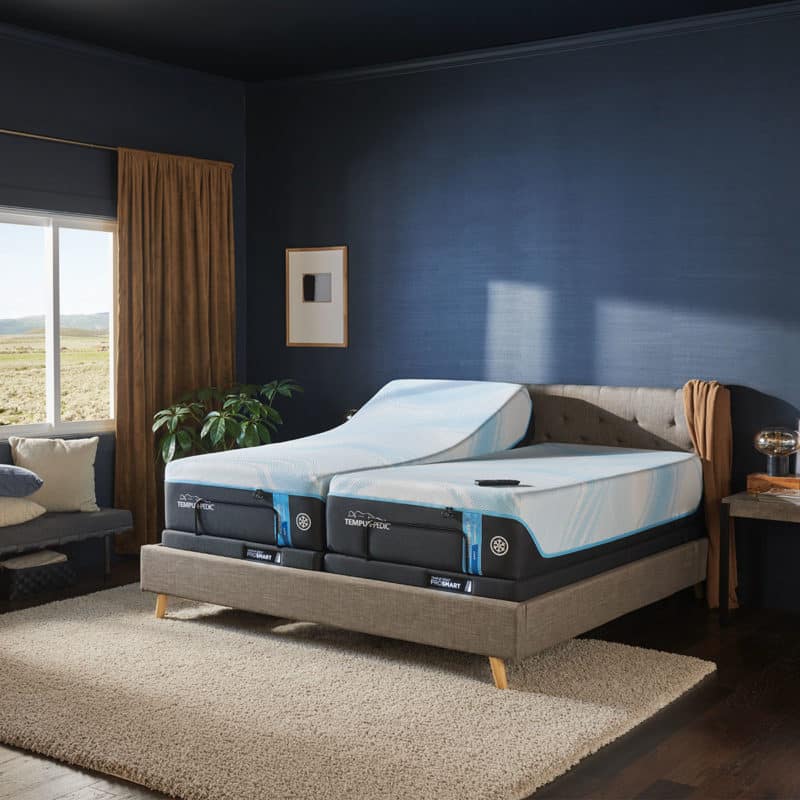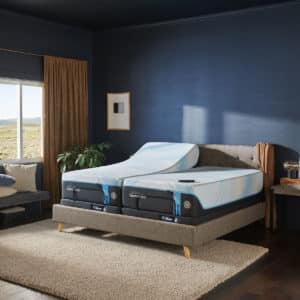 The TEMPUR-LuxeBreeze is offered in a soft and firm version and feels eight degrees cooler throughout the night than the Adapt Collection. The TEMPUR-LuxeBreeze soft is best suited for sciatica-suffering side sleepers of an average to lighter weight. The TEMPUR-LuxeBreeze firm offers above-average temperature regulation and provides excellent support for lighter-weight back and stomach sleepers, as well as heavier-weight side sleepers.
Sciatica and Hip Pain
Sciatica hip pain is often the result from a herniated disc but can also be due to spinal stenosis, pelvic injury, obesity, poor posture, prolonged sitting, wearing tight pants or underwear, and wearing high heels. All these factors can place added pressure on the sciatic nerve pressure points, resulting in hip, leg or back pain.
Since the sciatic nerve starts in the lower pelvic area and travels through the hip down the thigh to the back of the knee, the hip is often where the pain seems to begin and often subsides. If the pain is quick and sharp, it may affect the legs, balance and the ability to walk but only for a few seconds. Although the quick pain does not last, a lingering soreness may continue for a few weeks – any longer and a visit to the doctor is needed.
Sciatica and Lower Back Pain
Lower back pain and sciatica are not always the same thing but the latter can be the cause of your lower back pain. Lower back pain can be the result of various factors but lower back sciatica is the result of an inflamed sciatic nerve.
Again it may start as a quick, sharp pain but if it lasts longer than a few minutes, gets more intense or doesn't get better after a few weeks a doctor's visit is required.
Treating Sciatica
Some people experience sciatica pain in the hip, leg or back. This varies depending on what part of the sciatic nerve is being compressed. Sciatica pain can be excruciating and affect your daily activities or can come and go. Mild sciatica symptoms usually go away over time on their own but if they persist, a doctor's visit may be warranted.
Stretching before bed and other exercises, alternating between heating and icing treatments, and taking a pain reliever like ibuprofen, naproxen or acetaminophen can all help reduce your chronic sciatic pain.
Reduced soreness, numbness and lack of hip, leg and back pain are all signs of sciatica improving.
Try Before You Buy
Stop into any of our Mattress Express locations to decide what TEMPUR-Pedic mattress feels like the best fit for you. Our sleep specialists will guide you in the right direction and your body will tell you what model to choose.