Are you one of the many Americans whose sleep needs have developed to the point of needing different mattress needs than your partner? 25% of couples confess to sleeping separately in order to get better sleep. Maybe you just had surgery, or maybe your legs tend to swell. It could be that you have acid reflux, or trouble breathing at night. You might even already own an adjustable bed, but because of your partner's differing needs you are not able to utilize it to its full capabilities. One of you may sleep on their side, and the other might need to be on their back with the head and feet raised on your adjustable base. Not being able to get quality restorative sleep can affect your daily life.
According to Matthew Walker, "Lack of sleep is like a broken water pipe in your home. It will leak down into every nook and cranny of your physiology."
His book, Why We Sleep, is one of the world's most renowned books when it comes to the secrets of sleep, and the benefits to your overall life that can come from a proper night's sleep. Let's explore the benefits of a split head or flex head mattress against a fully split king or queen mattress.
Similarities Between Split Head and Full Split Mattresses
Split head and full split mattresses are comparable in some ways. If you have trouble breathing at night or acid reflux, the good news is whether you choose a split king or a split head king or queen, you will be able to raise your head and upper back independently of your partner's. When buying a split head mattress or a split king or queen mattress, you will need to consider which adjustable base is right for you. Both types of mattresses could potentially be placed on top of adjustable bases, whether they are vertically split or split-top power bases. Special types of sheets are required for split mattresses and split head mattresses. The final and most important similarity is the independence that comes with either choice!
Pros and Cons of the Full Split King or Queen Mattress
Split king mattresses are a classic and well-known type of bed set-up. A split king mattress set up consists of two twin extra long mattresses, and the consumer's choice of traditional twin extra long foundations or adjustable power bases. When shopping for a split king or queen mattress and adjustable power bases, remember that you will need one base for each side. Consider that in your budget plan!
With fully split set-ups you could have two completely different mattresses if that's what your needs are. Just remember to make sure both mattresses are the same thickness. You might not want one side taller than the other!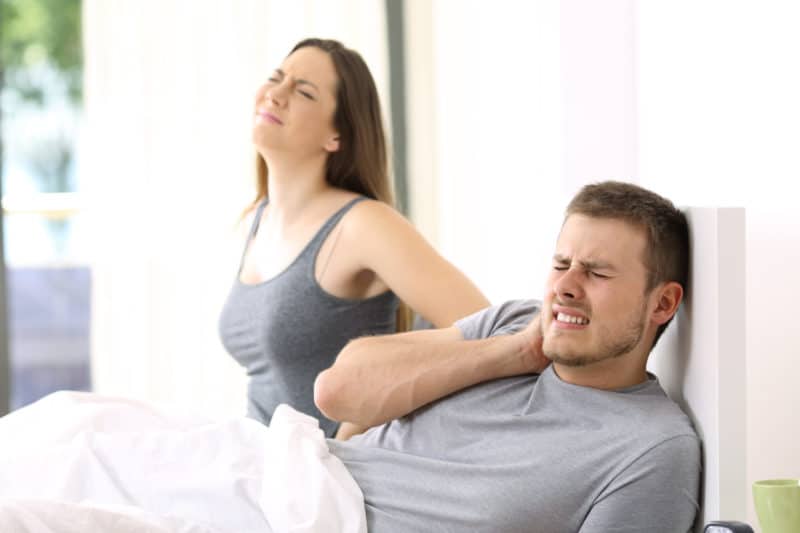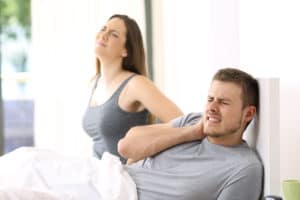 A noticeable difference with a split king or queen mattress is that the legs are separated as well as the head. This means that consumers will have more independence in terms of sleeping choices. For lower back problems, sometimes it is necessary to raise your legs in order to relieve pressure on your lower back. That can only be done independently in a split king or queen mattress with an adjustable power base. This type of mattress is made for people to be totally independent from each other at night, according to Medical News Today. The total split in the middle of the mattress can be a double-edged sword. If you and your partner like to curl up in the middle of your mattress, then the fissure between the two mattresses might make the experience uncomfortable.
Not sure which mattress is right for you?
Take our Express Comfort Quiz for instant recommendations.
Get Started!
Pros and Cons of a Split Head King or Queen Mattress
You may be wondering what a split head mattress, sometimes referred to as a flex head mattress, even is. They are the future of the industry and are a rare thing to come by. Some retailers have figured out that most people prefer the new split head mattress style over the old split king or split queen style of mattress. Mattress Express is one of the retailers that decided to step ahead of the curve and introduced multiple collections of split head mattresses onto their floors.
A split head mattress can come in king, queen, or cal king. It is a mattress that is only split from the top end anywhere from 30 to 35 inches. The bottom half of the mattress is still connected there for you, and your partner would still be on the same mattress. With a fully split king or queen mattress, the "cuddle zone" no longer exists. Your feet can still be elevated in a split head mattress, but not to the extent of its predecessor the split king mattress, at least individually. The same elevation levels can be achieved at the feet, just not separately.
According to Frontiers in Psychiatry, couples that share a bed get better REM sleep.
Most couples do prefer to stay in the same mattress if it is possible. Split head mattresses are very uncommon, especially ones with coils. You are more likely to find flex head Number Beds, split head memory foam, and split head latex. Most of the time the reason a split head mattress is needed is so that couples can raise their heads independently, so plan on adding the adjustable power base or bases that you will need to your budget.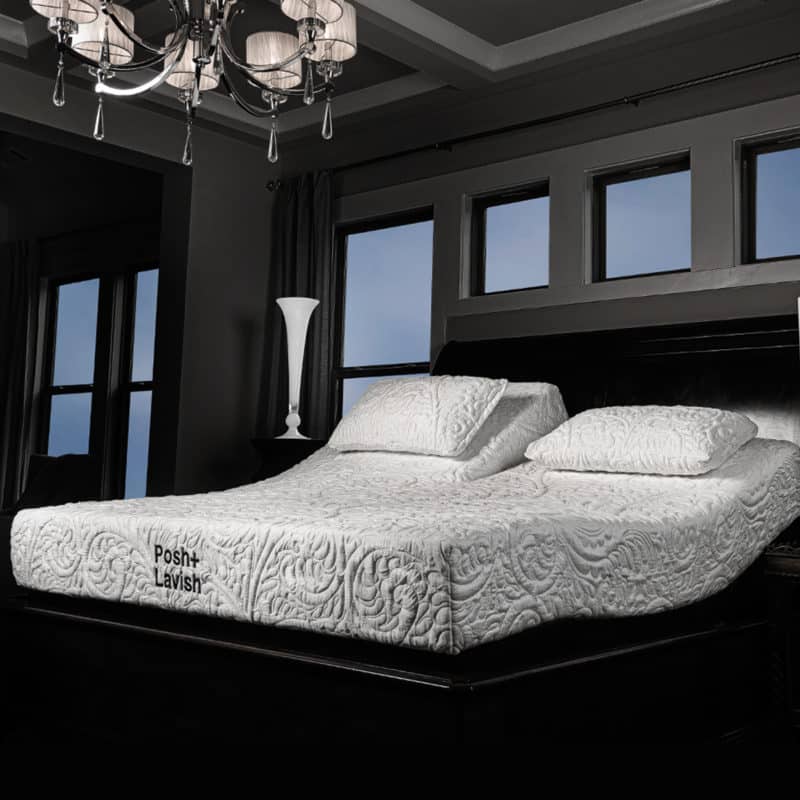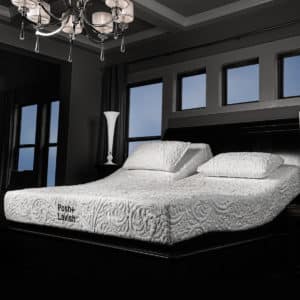 A recent survey shows 61% of people feel they need to get better sleep. Choosing the right mattress that works for both parties in the relationship may be one of the most important decisions you and your partner will ever make. Whether you choose to go with a split head mattress or a split king or queen mattress, you will be able to make the right choice at Mattress Express. Our quality Sleep Specialists will help guide you into the proper mattress.
If you are looking to stay in the same mattress with your partner, then you may be uninterested in the old split king or queen design. The new and innovative split head mattress or flex head design is on the rise in popularity and has been steadily for years. The good news is you can get either size from any Mattress Express store near you! None of our local competitors come close to the selection of split head mattresses at Mattress Express. Visit the nearest store near you and you will find honest consultation and the right mattress for your own personal needs.