Massage chairs aren't just for airport kiosks anymore. Many are so advanced that they can replace other traditional methods of personal well-being and physical therapy. The best massage chairs for 2021 are also attractive enough to earn a spot in your family room.
Learn how the best massage chair or the best massage recliner can benefit your health. And find out how Mattress Express can help get you into a Furniture for Life massage chair that best meets your therapeutic needs.
How Massage Chairs Reduce Stress and Benefit Your Health
First, let's sit back, relax, and think about all the things a massage chair can do for your physical and mental health.
Physical health benefits
A number of different physical problems can start simply because we're sitting or standing incorrectly. Massage chairs can help improve your posture, which means better circulation, less pain overall, and less "referred pain"—which is pain you feel in one part of your body that actually originates somewhere else. Massage chairs can provide a full-body solution to all these problems.
Mental health benefits
When you're stressed, your body releases cortisol—a hormone that gives your brain and body what they need to respond to a stressful situation. When too much cortisol is released, or when it's released too often or for too long, it can put you at greater risk for digestive problems, heart disease, and weight gain. It can also increase the risk of mental health issues such as anxiety and depression.
Massages not only reduce cortisol levels but also elevate levels of serotonin and dopamine. If cortisol is the stress hormone, then serotonin and dopamine are the happy hormones—they help keep you healthy, energized, and better able to manage your mood.
Who Should Consider Buying a Massage Chair
Although many people buy massage chairs in response to an accident or injury, the fastest-growing segment of massage chair buyers contains those taking a proactive approach to health and wellness. They range from baby boomers who want to play with their grandchildren to health-conscious millennials using a massage chair as a means of athletic recovery. In short, there are very few people of any age who wouldn't benefit from a Furniture for Life massage chair.
How to Evaluate Massage Chairs
There are four different parts of any Furniture for Life massage chair that one should always look for when purchasing a chair with massage capability. Our Furniture for Life massage chairs are built with the highest-quality materials and are revised constantly until we found the right recipe for the finest quality massage chairs in the world.
The track
The track is the frame of the massage chair. The two primary track types are "S" tracks and "L" tracks, shaped like the letters S and L. Some chairs offer a hybrid of both. The right choice for you depends on your therapeutic goals. L-track massage chairs can put you into zero-gravity positioning, which experts say is good for spinal decompression. An excellent option for someone looking to relieve lower back pain. These chairs are a favorite among people with back issues, or just looking to relieve pressure after a long day at work. S-track massage chairs recline and are better for spinal or intersegmental traction and stretching. These chairs are a favorite for "weekend warriors" doing 5k races, or serious gym-goers and fitness professionals looking for a more advanced and quicker recovery period.
The air cells
Massage chair air cells apply gentle compression on parts of your body that need rehabilitation but aren't quite ready for something firmer (like the rollers you might see on other massage equipment). Just like in high-end sports cars and luxury vehicles, air cells also help control blood flow and the position of your limbs.
The massage mechanism
Rollers in the massage chair are attached to the massage mechanism. These rollers physically manipulate your muscle tissue and give you the feeling that most people associate with getting a high-quality massage. Our Furniture for Life chairs use top-of-the-line materials to ensure the massage mechanism keeps rolling for the life of your chair.
The choreography massage chair
Choreography is unique to Furniture for Life, and it's one of many things that distinguishes these products from other massage chairs.
A master massage professional carefully choreographs the sequence of movements on every Furniture for Life massage chair. This means that all the parts listed above are working together seamlessly to produce a truly varied and effective therapeutic experience.
Only Furniture for Life massage chairs offer this, and it's what makes the difference between a chair massage that's just OK and a chair massage that has a long-term impact on your health and well-being.
What the Best Massage Chair Is for You
Here are the best massage chairs for 2021. You can find them all at Mattress Express—an authorized Furniture for Life partner—and decide what is the best massage chair for you.
Bang for your buck: Positive Posture BRIO +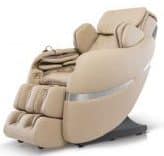 The BRIO + offers world-class massage therapy at a reasonable price. It's also on the smaller side, so it can fit in tighter living spaces.
Top S-track: Panasonic MAJ7
The MAJ7 operates in near silence and can switch between different massage styles, even reaching above your shoulders to relax every inch of your body.
Top L-track: D. Core Cirrus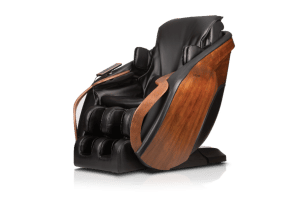 The Cirrus has a zero-gravity position and uses its patented Wave Arrays to provide a deep tissue massage to areas of the body that are usually only worked by air cells.
Best hybrid / best overall massage chairs: OHCO M.8
The OHCO M.8's MaxTrack system combines the benefits of both an L-track and S-track massage chair. It's the closest you can get to having a massage therapist on demand.
How to Invest in Your Own Well-Being
The best massage chairs for 2021 may not be cheap, but as an investment in your health, it's an economical solution once you crunch the numbers.
If you're spending $200 a month on twice-monthly massage therapy, you could spend the same amount on a massage chair that accomplishes even more. And you can use it multiple times a day, anytime you like.
Mattress Express offers 60-month interest-free financing on all Furniture for Life massage chairs, making it easier for qualified buyers to dive into the convenient world of on-demand massage therapy.
Shop Furniture for Life at Mattress Express to make an investment in your own personal health and wellness. We guarantee it'll be worth it.