Is investing in a luxury mattress affordable? Yes, actually, in most cases spending the money upfront on a high-end luxury mattress could save you money and headaches in the future! Here's everything you need to know to answer that question.
Why and How Often Should a Mattress Be Replaced?
If you switch your mattress more often than your car, you may be making poor decisions in terms of quality.
Low-quality materials translate to how well you sleep at night. Sources claim that on average people replace their mattresses every six to eight years. If you spend $1,000 every six years, you may end up spending more than you would have on a high-end luxury mattress that could potentially last you for more than 30 years. This may also be exactly what your mind and body need. Luckily a Mattress Express Sleep Expert is only a phone call away to help you choose what's best for you, whether that's a high-quality traditional mattress, a luxury firm mattress, or a luxury air mattress.
20-Year Mattress Warranties
There are multiple brands at mattress express with 20-year warranties or higher, such as our Posh and Lavish luxury latex mattresses or our Instant Comfort luxury air mattresses. To truly understand the importance of high-end mattress materials and the superior night's sleep they promote, reach out to consult with one of our sleep experts.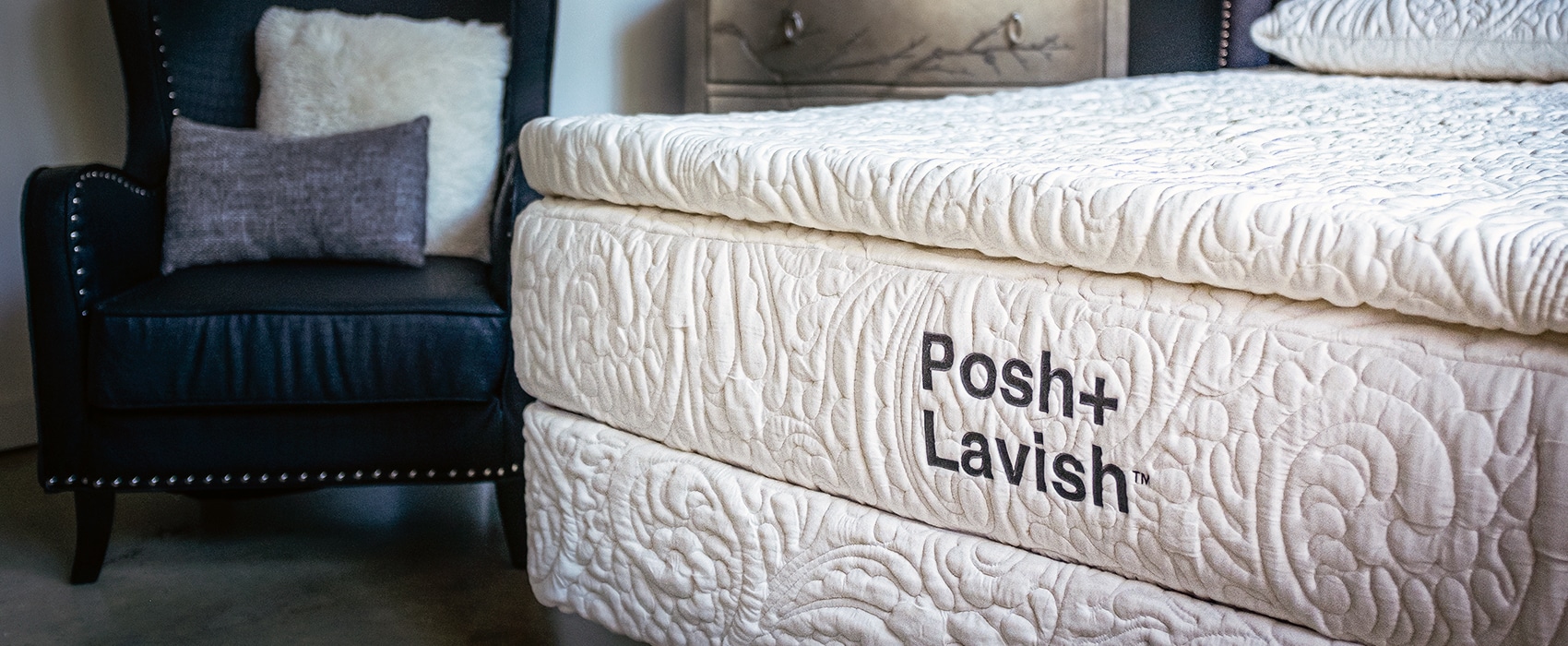 How to Tell Luxury Mattresses Apart
Indentation Load Deflection in Mattresses
Luxury mattresses are not hard to come by. Many companies and brands have high-end mattress options, but how can you distinguish the differences to determine the best luxury mattress brands? According to Test Resources, Indentation Force Deflection (IFD) tests measure the firmness of flexible polyurethane foam cushions. High IFD test results imply increased hardness. Low IFD results indicate soft foam products. Note that the term IFD is interchangeable with ILD, or indentation load deflection.
Indentation Load Deflection helps sort out the fakes from the greats when it comes to high-end mattress shopping.
This testing process is to determine if your mattress will stay indented without your body in it, or if it will come back up to be fully inflated again once you get off the mattress. The higher the number, the more likely the mattress is to last a long time, but don't forget that going too firm might not be the answer. It is still important to find the right mattress for your particular preferences and needs.
Not sure which mattress is right for you?

Take our Express Comfort Quiz for instant recommendations.

Get Started!
Luxury Mattress Materials
When it comes to materials, many consumers have strict preferences and love it or hate it.
Memory foam is made of polyurethane. Polyurethane is synthetic and is a common material used in the luxury mattress industry. In fact, memory foam is hard to get away from. There is a mixture of memory foam inside most mattresses these days. Whether it is a traditional mattress, a hybrid, or a luxury mattress, there is a good chance you will find memory foam inside. Often the only difference between mattress types is the support system, which could be coils, high-density memory foam, latex, or even air.
Memory foam is famous for its contouring ability and notorious for its inability to fight off heat. Often customers share a negative experience with a mattress at some point in their life, and with memory foam, it is more than likely about the high temperatures it retains. Luckily the industry cannot survive without its consumers, so that drove the need to solve the heat retention problem with memory foam into hyperdrive.  Presently, most of the memory foam mattresses sold contain cooling gel and multiple holes throughout the entire mattress to help keep a colder surface and help air flow throughout the mattress.
Memory foam is often used as material for both high-end mattresses and low-end mattresses. There is a different kind of foam that does not retain heat and is even more luxurious than its unnatural counterpart …
Natural Latex Foam Mattresses
Natural Latex foam is the most durable component in the mattress industry. It can be created from natural materials or even synthetic ones. Latex is extracted from Brazilian Rubber Trees, kind of like maple syrup is from maple trees. Posh and Lavish is a great example of the combination of the most luxurious natural components that help create a perfect night's sleep.
Tencel
Not only will the longevity of your sleep increase when using natural high-end mattress materials such as wool, cotton, tencel, and latex, the quality will be noticeably better. Tencel is derived from the Australian eucalyptus tree's wood pulp and is designed to mimic horse hair which is used as a hollow fiber that helps wick moisture away from the body. Luxury mattresses tend to use some form of tencel in their covers to help pull away moisture.
Cotton In Mattresses
Cotton is another material that is used in high-end mattresses. It is very good at absorbing water. Think about that time at the dentist when they put the cotton ball in your mouth, which may have made you a bit thirsty!
Wool in Mattresses
Wool, for some mysterious reason, can naturally lower a person's heart rate, and that is why it is considered nature's miracle fiber. That's not the only benefit when it comes to wool! It is worn in cold climates as well as warm climates because of its incredible ability to regulate temperature. No one wants to wake up drenched in sweat and feeling clammy. That's why wool, cotton, and tencel are great to use in combination.
Bamboo in Mattresses
Some luxury mattresses use bamboo in their covers to help with moisture control. Rayon is a synthetic material that was created to mimic wool, cotton, and silk. Companies may infuse Rayon in their covers with other materials such as bamboo in order to save money. That is not to say that those are not high-end materials as well.
Should You Invest in a Luxury Mattress?
Higher-end mattresses are the ones that do not mix materials in order to save on costs.
Luxury mattresses offer the ideal sleeping environment. You can tell the difference when no detail is left behind by a mattress company. When a mattress company has put all of its efforts towards getting the right materials for your comfort, support, body temperature, and health, then it is worth considering that brand.
Mattress Express has partnerships with many luxury mattress creators that spare no detail. With the combination of our trained sleep experts and our amazing luxury mattresses, you will leave satisfied with your experience. You will feel more knowledgeable, and comfortable with your mattress purchase after talking to a Mattress Express Sleep Specialist, whether you decide to make a purchase or not.