The Number Bed by Instant Comfort, available at all our Mattress Express locations, is an air bed designed and manufactured by American National Manufacturing. American National Manufacturing has been innovating and enhancing mattress technology for more than 40 years. As early pioneers of adjustable number beds, they have set a high standard for their products through nothing less than state-of-the-art engineering and craftsmanship. Understanding Instant Comfort is easy, let us show you how.
If you're in the market for a new mattress, you will want one that is individually comfortable for you and your partner. The goal of the Number Bed by Instant Comfort is for each person sleeping in the bed to achieve maximum comfort by adjusting their side to their ideal number of choice.
Superior quality is only one part of Instant Comfort's commitment. Consulting with and educating customers about mattress selection is equally as important. Each year, many Americans lose valuable sleep simply because they haven't selected a proper mattress.
Why Buy the Number Bed by Instant Comfort Mattress?
Instant Comfort mattresses are known for superior construction, quality, and technology.
Whether you like to lounge and read in bed, cuddle your kids with you in bed, need some space from your bed partner, sink into a romantic night, or enjoy movies and popcorn, Instant Comfort has considered it all.
Each adjustable bed comes equipped with a medically recognized pressure scale that allows you to effectively monitor your sleep and adjust your mattress settings. Instant Comfort is the adjustable mattress made for you with 45 different sleep settings.
Added features, such as a reversible top built to last but that is also replaceable, or interchangeable parts and layers, allow you to maintain or upgrade your mattress whenever your budget is ready to do so. The Instant Comfort adjustable beds also come with an industry-leading 25-year limited manufacturer's warranty.

What Instant Comfort Mattress is Right For You?
The Instant Comfort collection offers three types of beds. They include firm comfort, plush comfort, and ultra plush comfort. At Mattress Express, we offer our customers the most popular and highest-rated models in the industry. We carry the Plush Comfort Q5, the Ultra-Plush Comfort Q8, and the Ultra-Plush Comfort Q9. Each version is available in the Flex-Head® design: a split-foam mattress that lets you and your sleeping partner independently adjust the bed for your individualized sleeping preferences.
Choosing the right Instant Comfort adjustable bed will come down to a number of factors. Each version of The Number Bed mattress has a split mattress design at the head of the bed allowing for individual settings control. Both sides of the bed can be adjusted, either raised or lowered, separately without disturbing your partner. Additionally, each side offers many sleep settings for any type of sleeper.
This state-of-the-art design includes preserving the "Cuddle Zone™" for those sleepers who still like to feel like they are on a single surfaced bed with their partner without an uncomfortable gap in between.
Ready to improve your sleep with a Mattress Express mattress?
Locations
Find your store
The Plush Comfort Q5
The Plush Comfort Q5 mattress has a pillow-top quilted, four-way stretch removable fabric top cover that sits atop a 2″ layer of convoluted foam that allows increased airflow and provides an amazing, comfortable feel. All that rests above the supportive, adjustable air chamber technology and underneath is a 3″ layer of support foam that completes the Plush Comfort Q5 mattress. Use Bluetooth connectivity through the Instant Comfort® app or use the touch screen remote that is provided to adjust your side of your mattress to your ideal comfort and support level.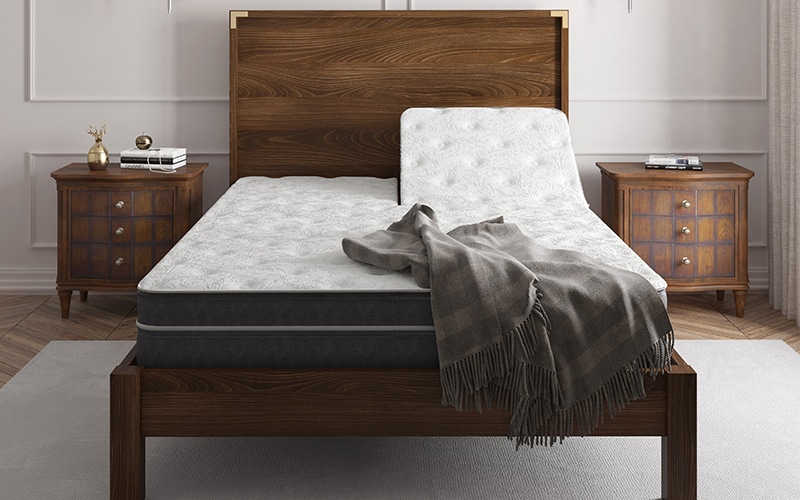 The Ultra Plush Comfort Q8
The Ultra-Plush Comfort Q8 sets itself apart with both high-tech options and luxurious design pleasantries. For optimal sleeping temperatures, the top cover is designed to sleep warmer in the winter months and breathe cooler in the summer. The Q8 layering system includes a layer of gel-infused, visco-elastic foam as well as a layer of evolution foam. These sumptuous layers increase support for pressure points while conforming to your body for proper spine support. Each Q8 also features a touch screen remote for making adjustments on each side. An additional option is an app that can be downloaded for ease and convenience in making changes to your sleep settings.
Furthermore, the app can keep track of or save your preferred settings as well as monitoring your sleep patterns!
The Ultra Plush Comfort Q9
The Ultra-Plush Comfort Q9 is one of the most beautifully constructed adjustable beds. The Q9 comes with a carefully crafted two-sided top cover using Platinum Thermacool technology on one side, and bamboo on the other, both aiding in body temperature control throughout different climates. The Q9 internal layers include intricate and generously infused visco-elastic gel foam supplying unrivaled support and integrity. The Q9 also includes advanced technology for monitoring pressure points and fully customizing preferred settings. The bed also comes standard with a touch screen control system and the additional option of using an Instant Comfort® downloaded app.
Inside the Instant Comfort Adjustable Bed
Instead of the coils or springs that are in traditional mattresses, The Number Bed by Instant Comfort contains baffled 24-gauge vulcanized rubber air chambers that create uniform support throughout your mattress for long-lasting use. These chambers expand or contract the mattress to change the firmness or softness. Each air chamber can be adjusted by a remote control or phone app so that each person in the bed can receive the desired amount of comfort and support.
The dual settings are very helpful for couples, since each individual can decide which number is most comfortable for them. There are a number of factors that determine an individual sleeper's number which can range from 5 to 50. Each person's sleeping position helps to determine how firm the mattress should be. For instance, an individual who sleeps on her stomach may want a softer mattress, while her husband, who sleeps on his back, may prefer a firmer mattress. A person's weight and height may factor into the mattress number each sleeper chooses as well.
The remotes provided with the bed and the Instant Comfort Number Bed app have state-of-the-art touch screen technology and use the bed's medical-grade pressure scale to ensure the most precise adjustments. Every pump system and comfort component also uses medical-grade technology to ensure precise control of your comfort setting. Instant Comfort® bed components are completely interchangeable and fully upgradeable. They provide a limited 25-year warranty with 100% coverage to repair or replace any components in the first three years of ownership. Instant Comfort is committed to bringing individual, adjustable comfort to millions across the U.S. and around the world.
Every Instant Comfort® bed is crafted with industry-leading comfort components. Their attention to detail extends to every stitch on the mattress.  A combination of handcrafted excellence, engineering prowess, and exceptional number bed technology ensures every Instant Comfort® bed meets rigorous quality control standards.
Health Benefits of the Instant Comfort Adjustable Mattress
Adjustable air mattress beds are an increasingly popular choice for sleepers who desire greater control over their sleep experience. It is also a common choice for couples with different sleep preferences. An air bed mattress allows you to independently select different levels of comfort on each side of the bed. Dual adjustability is just another perk of choosing an adjustable air bed.
At Mattress Express, we have many Instant Comfort adjustable mattresses that promise the perfect fit for every individual preference, as each is fully customizable to your needs. Exhaustion, back issues and other health problems can be aggravated by poor sleep associated with a poor mattress selection. The Number Bed by Instant Comfort is the perfect solution to even the most complex health problems.
Injuries, pregnancy, illness, and aging all affect our sleep needs. With an adjustable air mattress, as your needs change, your bed changes with you.
Adjustable firmness levels mean you can enjoy softer, more conforming support when you feel soreness or pressure points in your shoulders, lower back, hips, and other sensitive areas. An air bed with an adjustable inflation level allows the user to customize the firmness of the bed in order to treat pressure sores, improve blood circulation, and alleviate backaches.
You'll love your Instant Comfort® Number Bed mattress no matter who you are and how you like to sleep. They are the perfect beds for early risers, binge watchers, cuddlers, passionate souls, bookworms, lazy loungers, hopeless romantics and workaholics too. Stop by the Mattress Express location of your choice shop online today and pick your number!