In January 2016, Purple introduced itself to the online mattress world with its "Goldilocks" video, which demonstrated the raw egg test. The test showed how this new innovative mattress would absorb and prevent a fragile egg from breaking under hundreds of pounds. This shocked the viewers, piqued their interest and Purple soon became the internet's most sought-out mattress.
Although Purple's instant popularity seemed like an overnight success story, it actually took years to perfect – 20 years to be exact.
Brothers Tony and Terry Pearce, the founders of Purple, always dreamed of inventing the perfect mattress. They hoped to combine the benefits of both firm and soft mattresses to alleviate pain, provide the best sleep possible, and be available for a reasonable price.
Tony, an aerospace engineer, and Terry, an expert in materials and manufacturing, set out to use their expert knowledge in both areas to achieve this. After a series of discoveries and several product developments, they invented a Hyper-Elastic Polymer™ grid, which they believed to be the best mattress technology in the world.
The Unique Qualities of the Purple Mattress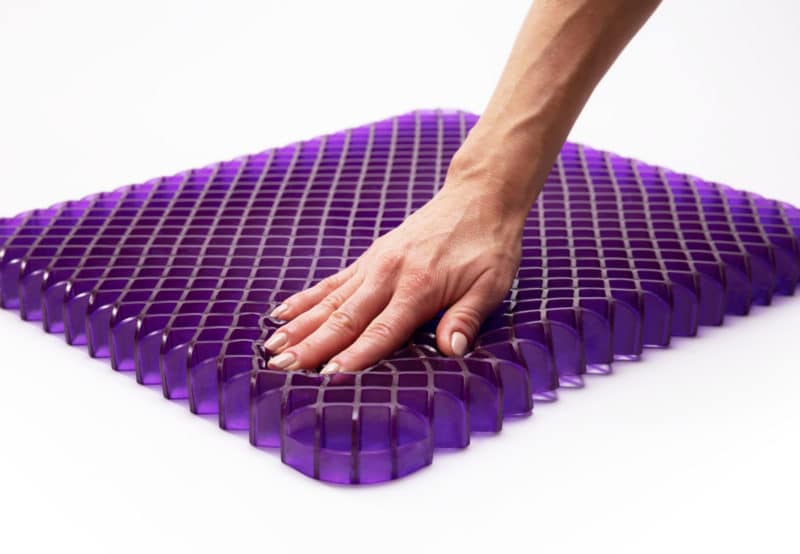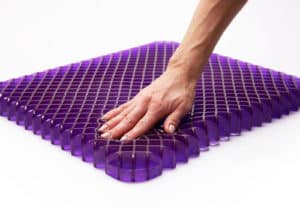 Purple is now known as one of the most comfortable mattresses on the market thanks to its patented Purple Grid. The hyperelastic polymer grid material is extremely soft, flexible, responsive, pressure-relieving and supportive. The Purple mattress flexes around you and your partner's bodies individually, eliminating motion transfer. This allows you to roll over without causing a disturbance to the other.
Purple's carefully crafted layers create a one-of-a-kind sleeping experience. As such, it doesn't fit into the usual mattress categories such as foam, latex, air, hybrid, or innerspring. The hyper-elastic polymer grid offers pressure point relief and is unique to Purple only.
Enjoying a Purple Mattress
The Purple's GelFlex Grid, made from hyper-elastic polymer, responds quickly to your every movement, therefore you are always supported even if you move frequently during the night.
The GelFlex grid flexes around your hips and shoulders, reducing stress and alleviating pressure. At the same time, it stays full and supportive where you need it most:  your lower back. This flexibility ensures custom support for every body type because it is both soft and firm at the same time.
The open cells of the GelFlex Grid allow air to flow freely, moving heat away from your body. This creates the perfect mattress temperature at all times so you will never feel too hot or too cold regardless of the temperature outside.
Mattress Express and Purple have joined forces so you can try out a Purple mattress before you buy it with no online buying hassle.
With a variety of designs to choose from, finding the right Purple mattress that works for your sleeping preferences requires little to no effort, but here are a few facts that can help you choose your perfect mattress.
Select From Five Different Styles of Purple Mattresses
Purple Original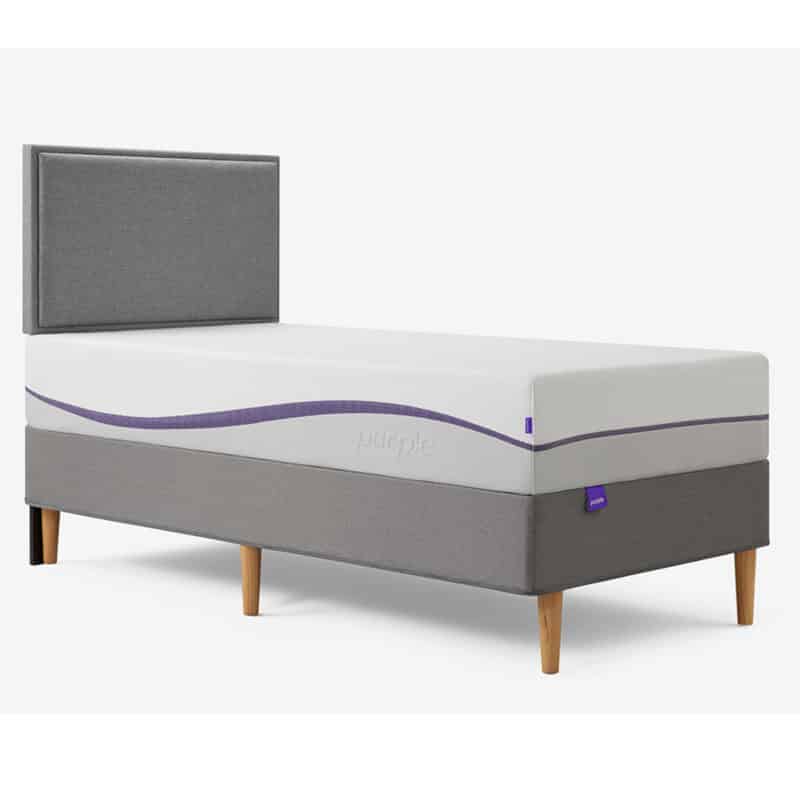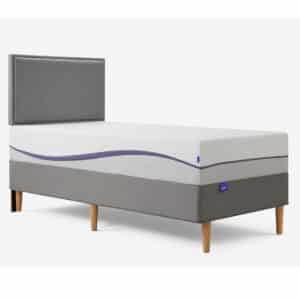 The Original Purple Mattress® is the base model and offers the core Purple experience balancing comfort and support.  The 2″ GelFlex Grid™ cradles pressure points, while the Comfort Core produces a less bouncy feel.  All the Purple mattresses are nontoxic, Certified Clean Air GOLD, hypoallergenic and made in the USA.
The Original Purple works for all types of sleepers except for those with extra weight or height.
Purple Plus
The Purple Plus™ Mattress is just like the original but has an extra premium foam layer in the Comfort Plus Core for more cushioning and comfort.
The Purple Plus Mattress offers a comfort upgrade to our Purple Mattress, thanks to an extra layer of premium foam that provides better cushioning, responsiveness, and breathability. This improved foam base is topped with two inches of GelFlex Grid in order to relieve pressure points at the hips and shoulders while keeping your body fully aligned for amazing sleep.
The Purple Plus is recommended for side sleepers and lightweight sleepers due to the extra comfort cushioning.
Purple Hybrid or Premier 2
The Purple Hybrid combines the comfort and pressure-relieving benefits of 2″ of GelFlex Grid™ with the added support of the Responsive Coil Core.
The responsive-support coils increase the mattress's overall comfort and durability. Combining the Purple Grid™ and the responsive support coils means increased responsiveness as well as airflow, providing an even more adaptive sleep.
The Purple Hybrid is a good option for those with higher body weight or for back or stomach sleepers because of the added support and firm feel.
Purple Premier 3
The Purple Hybrid Premier® 3 hugs the body more and provides pressure relief with 3″ of GelFlex Grid™ plus the support, responsiveness and ease of movement of the Responsive Coil Core.
This combination of Purple Grid™ and the responsive support coils increases the mattress's responsiveness and improves airflow for support that is even more adaptive and cool. The Purple Hybrid Premier is perfectly balanced between soft and firm.
The Purple Premier 3 is favored by couples with mixed sleep preferences but is also a good choice for any type of sleeper.
Purple Premier 4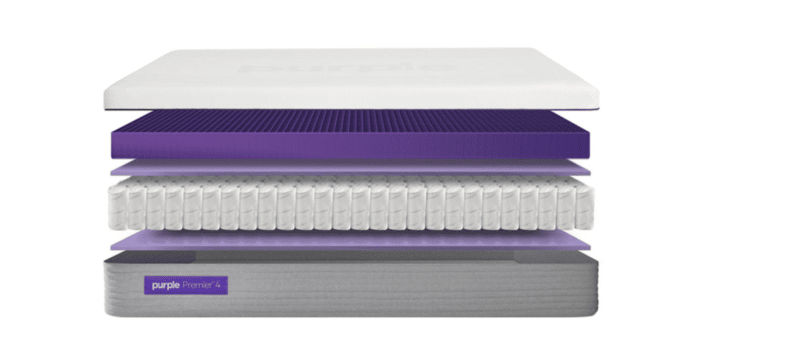 The Purple Hybrid Premier® 4 provides the deepest cradling or hugging of your body as well as maximum pressure relief with 4″ of GelFlex Grid™. The Grid is paired with the support, responsiveness and ease of movement of the Responsive Coil Core.
The Purple Hybrid Premier 4" feels like a zero gravity float.
The Purple Hybrid Premier 4 is favored by side sleepers that like a plush, cushiony feel.
Cost of a Purple Mattress
Purple is a good choice if you're looking to try an innovative mattress built on new technology and you have the budget. Financing is available for up to 12 months. Apply for special financing online.
More Reasons to Buy a Purple Mattress
Purple received an A+ rating from the BBB (Better Business Bureau).
A 2020 J.D. Power survey gave Purple mattresses the highest customer satisfaction ratings for an online mattress.
Try it before you buy it at any Mattress Express location near you. Stop by today.