Your body, particularly your back, takes a lot of wear and tear throughout the day, so a good night of sleep is necessary for your back to rest, recover and restore. The best way to achieve this is through undisturbed sleep in the right sleeping position with the right mattress, like a Sealy Posturepedic mattress.
Types of Back Pain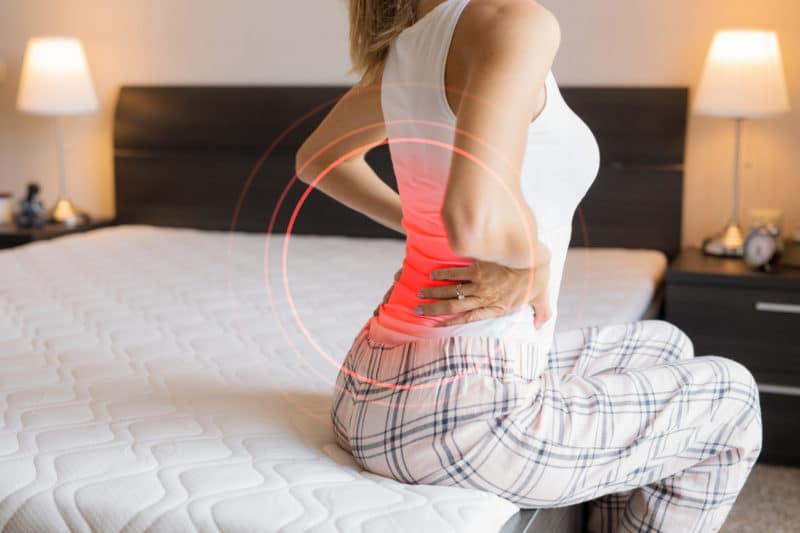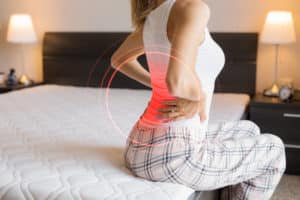 Back pain comes in many different forms and intensities. A few of the natural causes include muscle strains, pinched nerves, herniated discs, vertebra fracture, osteoporosis, and pain caused simply by aging.
Unhealthy habits like bad posture, gaining or carrying excess weight, overexerting your back muscles, sitting for an extended period of time, sleeping in the wrong position or sleeping on an unsupportive mattress are also common reasons that back pain may occur. But these can easily be prevented or remedied.
Best Mattress for Back Pain
There are many features to consider when you pick out your next mattress, especially if back pain is a recurring issue for you due to your health or habits.
Mattress Firmness
The firmness or comfort level of your mattress has a huge impact on the support it provides your body, especially your back. Your body weight and sleeping position play an important role in determining the mattress comfort level that you should choose. A medium firmness level tends to be the most ideal for a majority of sleepers, regardless of the position you sleep in.
A too soft, old, or damaged mattress may throw your spine out of its natural alignment and put excess pressure on the lower back, hips, shoulders and neck.
If you are a side sleeper, the best mattress for upper and lower back pain is a plush to medium mattress that cradles your shoulders and hips while keeping your spine aligned.
If you are a back or stomach sleeper, the best mattress choice for back pain, hip pain or shoulder pain is a medium to medium-firm mattress that keeps your hips or shoulders from sinking too far into your mattress and causing your spine to take on added pressure.
Pressure Relief
A mattress that evenly distributes your weight is the best mattress for pressure relief. It will prevent excessive contact in any pressure point area, including your back.
To ensure your mattress is not the cause of your back pain, you need to find the appropriate balance of comfort and support for you. The comfort layer of your mattress should contour to the curves of your body to reduce the pressure around your pressure points, specifically your hips and lumbar area when it comes to back pain, while the support layer of your mattress needs to keep your spine aligned, no matter which position you choose to sleep in.
Ready to improve your sleep with a Mattress Express mattress?

Locations

Find your store
Mattress Temperature
Our bodies sleep better in a cooler environment than a hot one. Sleeping on a surface that stays cool will help ensure you sleep without interruption. Uninterrupted sleep will allow your body and your spine the time needed to rest, restore and recover effectively each night. Be sure to choose a mattress with a breathable top layer that will adapt to your body temperature and room temperature throughout the night.
Motion Isolation
Another feature that is extremely important when buying a new mattress is motion isolation. A mattress with excellent motion isolation will keep your partner from waking you up if they toss and turn throughout the night or if they wake up and get out of bed before you.
The better you sleep, the longer your body and spine will stay healthy, fit, and highly functional.
Back Pain and Your Sleeping Position
Your sleeping position and mattress each impact back pain relief and back pain prevention.
Side Sleeping
The best sleeping position for back pain is on your side with your body stretched out in a line, as it takes the strain off your back and hips and supports proper spinal alignment. Side sleeping also reduces heartburn, supports circulation, relieves breathing difficulties that cause snoring, diminishes sleep apnea symptoms, improves brain function and aids in the removal of toxins from the brain to reduce the risk of neurological disease. Thankfully about 78% of sleepers tend to prefer this sleeping position.
Back Sleeping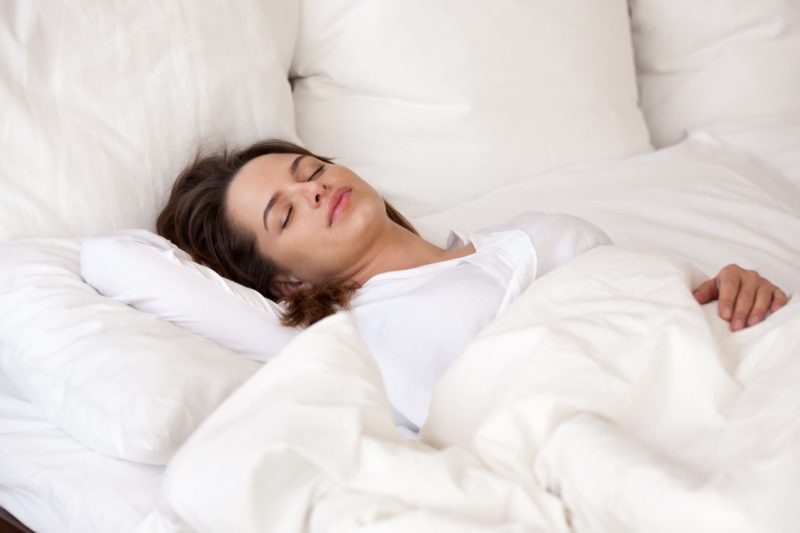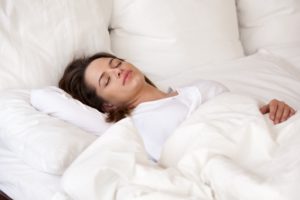 Sleeping on your back also maintains your spine's natural alignment and alleviates stress on your lumbar region, as long as you are sleeping on a supportive mattress. Lying on your back helps keep your head, neck, and spine in a natural, neutral position. It keeps your hips elevated to reduce pressure on your joints and support healthy posture. It is overall an ideal position to prevent or reduce back pain.
Back sleeping also helps eliminate friction between your face and your pillowcase, preventing wrinkles and acne, avoiding wear and tear on the skin, and stopping pores from clogging with facial oils and sweat.
Stomach Sleeping
Sleeping on your stomach is the worst position if you are experiencing back pain. When you sleep on your stomach it tends to put excess pressure on your lower back and your neck which leads to soreness.
Luckily, only about 7% of the world are stomach sleepers. If you fall into this minority, though, and are experiencing a sore back or neck, you may need to change your sleeping position, at least temporarily, to give these muscles time to heal.
Sealy Mattress Company Creates High-Quality Mattresses for All Sleepers
Back in 1881, a cotton gin maker in Sealy, Texas, made the first cotton-filled mattress. He later developed and licensed a machine to compress cotton, eventually leading to the Sealy Incorporated mattress company that we know today.
After over 140 years, Sealy continues to manufacture each mattress in the USA.
Sealy Posturepedic Mattress
In 1950, with the help of leading orthopedic surgeons, Sealy Incorporated introduced the Sealy Posturepedic mattress line. It is designed to provide additional back support in the center third of the mattress. Sealy Posturepedic aims to deliver high-quality, pain-free sleep for every type of sleeper with their targeted back support.
Recommended Sealy Posturepedic Mattresses
All Sealy Posturepedic hybrid mattresses combine titanium alloy pocketed coils that are light but strong with a DuraFlex Edge. The combination provides deep targeted support, increased airflow, and durability.
Sealy Posturepedic Plus Hybrid Mattresses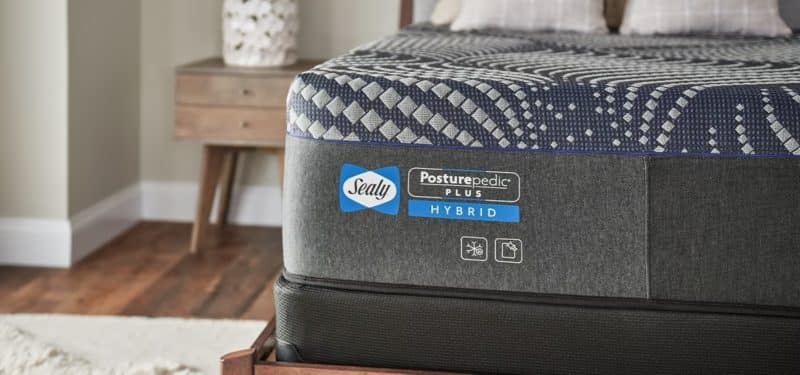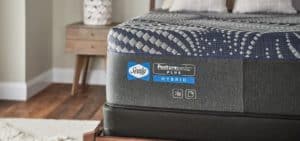 The Sealy Posturepedic Plus Hybrid High Point offers the Sealy Response Pro HD Zoned Coil system. It is the highest coil count in the Sealy line, surrounded by a DuraFlex Pro Edge, combined with a multitude of comfort layers, including ComfortSense Premium Memory Foam with Chill, ComfortSense Premium Memory Foam, and SealySupport Gel Foam. These are three of the highest-quality cooling, pressure-relieving memory foams patented by Sealy.
The Sealy Posturepedic Plus Hybrid Brenham evenly disperses your body weight across the mattress using a high-coil count and pocketed coil support core and a ventilated, reinforced  DuraFlex Edge combined with a ComfortSense Premium Memory Foam with Chill comfort layer and an antibacterial soft-knit cover.
The Sealy Posturepedic Plus Hybrid Albany offers the perfect combination of comfort and support with a pocketed coil core and DuraFlex Edge combined with a multitude of layers of ComfortSense Premium Memory Foam and SealyCool Gel Memory Foam, covered with a soft knit, antibacterial fabric that is cool to touch due to its SealyChill application.
The Sealy Posturepedic Plus Hybrid High Point and the Sealy Posturepedic Plus Hybrid Brenham are available in soft or firm. The Sealy Posturepedic Plus Hybrid Albany is available in a medium comfort level.
Sealy Posturepedic Hybrid Mattresses
The Sealy Posturepedic Lacey Hybrid pairs pocketed coils and a DuraFlex Edge coil system with SealyCool Gel Foam and a Sealy Chill soft-knit cover.
The Sealy Posturepedic Paterson Hybrid pairs pocketed coils and a DuraFlex Edge coil system with premium memory foam and SealyCool Gel Foam covered by a Sealy Chill softknit cover.
The Sealy Posturepedic Lacey Hybrid is available in soft or firm, while the Sealy Posturepedic Paterson Hybrid is available in a medium comfort level.
Sealy Posturepedic Innerspring Mattresses
The Sealy Posturepedic Satisfied is a traditional innerspring mattress designed with exclusive Posturepedic Technology, including targeted lower back support, a pocketed coil system, reduced motion transfer and allergen protect materials.
The Sealy Posturepedic Satisfied is available in a tight-top plush, tight-top ultra firm, euro-pillow top plush or euro-top cushion firm comfort level.
Don't Forget to Replace Your Pillows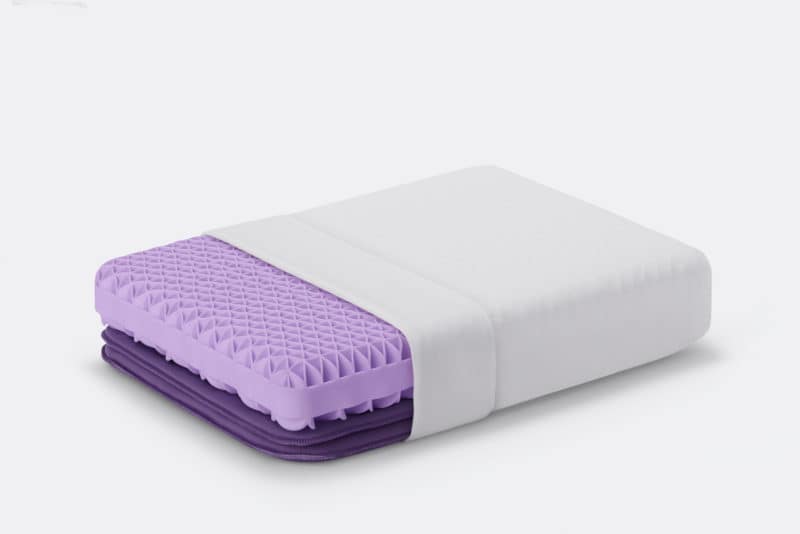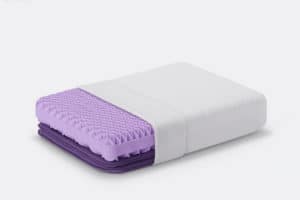 Not only do you need a good mattress when you suffer from back pain, but the right pillow can go a long way toward easing your pain. Find a pillow that keeps your head in a neutral position so that your neck stays perfectly aligned with your spine as you sleep. Your ideal pillow should be durable, breathable and fill any gaps between your neck, head, and back.
Shop Today
Stop into the Mattress Express location of your choice and have a sleep specialist help you choose which Sealy Posturepedic mattress and accessories are the best choices for you to eliminate and prevent your recurring back pain.