The Adjustable Bed
Willis D. Gatch, former chair of the Department of Surgery at the Indiana University School of Medicine, introduced the first electric adjustable hospital bed in 1909. Known as the Gatch Bed today, it is a 3 segment adjustable hospital bed which allows for the head and the feet to be elevated. It took another 65 years before the idea of an adjustable base bed was brought into the home.
In 1974, as bedrooms had become more of a leisure area for reading books and watching television as well as sleeping, it was discovered that an adjustable base could be an asset in a home too. The Craftmatic Adjustable Bed company was formed and were the first to introduce adjustable bases for home use. They were marketed towards couples and elderly customers that might need a lift getting in and out of bed. The original adjustable bed didn't look very different from the hospital design at first, but as time went on, the bases became more fashionable and designed to enhance the decor of the modern bedroom.
In recent years, adjustable beds have gained even more popularity among people of all ages. This luxury bed purchase allows you to create a close connection between bed and sleep. Although most people assume that adjustable beds are only intended for medical facilities and those over 65 years old, adjustable beds allow people to customize their sleep position to help not only with a health condition but to add comfort and adapt to the individual lifestyle of all types of sleepers.
An adjustable bed can consist of an adjustable base with any compatible mattress or an adjustable air mattress paired with an adjustable base. When choosing an adjustable bed, a person may wish to consider the benefits, functions, costs, warranties, and quality of each option available
The Adjustable Base: Features and Technology
An adjustable base is a heavy-duty platform built to perform with your mattress. It allows for the sleeper to move the bed into a position that best supports the natural curvature of the spine. By supporting the body in the ideal posture, it is possible to get a deeper, more restful night's sleep. An adjustable base provides the means to raise the head of the bed for those who have difficulty breathing or poor circulation.
Adjustable bed frames come in a variety of constructions with various options. It's possible to get adjustable bed frames that allow each sleeping partner to choose their own position. With dual controls and the ability to choose a position that's best suited to each partner's unique sleep needs, you can both get a better night's sleep.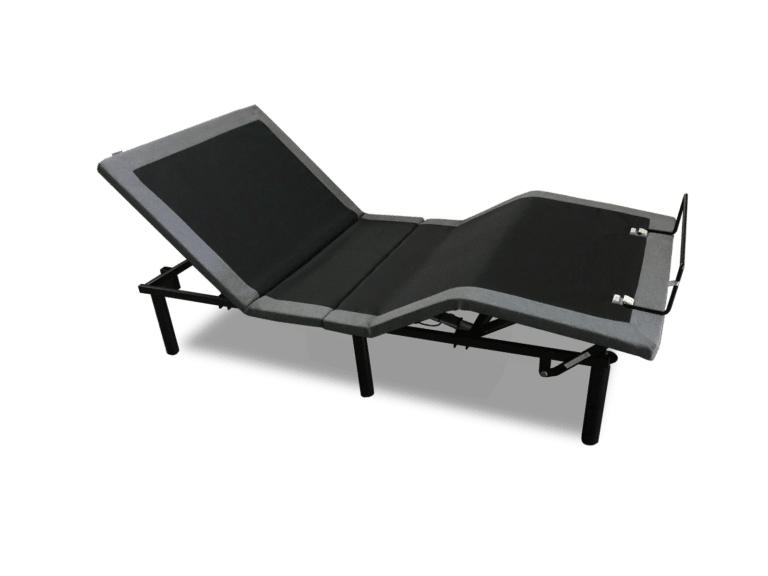 Adjustable bases are not an inexpensive investment. With the extra features comes an extra price tag, not to mention the weight and difficulties in moving an adjustable base bed. It's best to choose one room and one space for the adjustable base bed frames where it will be permanently installed. Once the bed is in place, however, the convenience and comfort of adjustable bed frames can't be beaten. Adjustable bed frames have become an increasingly popular option for getting a good night's sleep. These frames allow you unparalleled freedom to choose your sleeping position, and feel comfortable on your bed.
In 2009, BedTech started in a garage. Now it is a worldwide business and services customers across the United States.They are proof that the American Dream is still alive and well. Proof that hard work, determination, good will and a little good fortune still go a long way. At Mattress Express, we carry the BTHU -head up only adjustable base, BTx4– basic head and foot up adjustable base, BT2000– head and foot up adjustable base, BT2500– head and foot up massage adjustable base and BT3000– head and foot up, full body massage adjustable base.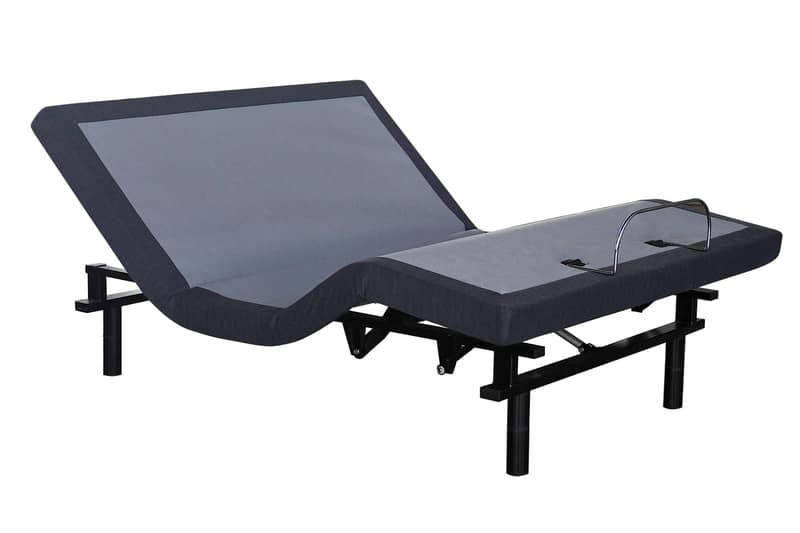 Adjustable beds are increasing in popularity as people discover their advantages.
Improving Sleep with an Adjustable Base
An adjustable bed can be a great investment for people who live with back pain because sleeping upright may be more comfortable than using a flat surface. The ability to adjust to support the natural curvature of the spine is critical to an excellent night's sleep.
Chronic snorers can also benefit from using an adjustable bed, as elevating the head can help open the airway. People with low blood pressure can increase their circulation by lifting the foot of their bed. An adjustable bed is also good for those who must sleep with a raised head. Doctors sometimes recommend elevating the head to help people with Chronic obstructive pulmonary disease (COPD) breathe easier or to prevent nighttime heartburn from Gastroesophageal reflux disease (GERD). These beds can also allow you to adjust your knees and hips to a 90-degree angle, relieving some of the pressure on sore joints. Most adjustable beds allow sleepers on both sides of the mattress to program their own settings, so you and your partner can sleep at different angles depending on your individual needs.
The Adjustable Mattress: Features and Technology
Luckily, with contemporary designs, almost all mattresses are compatible with an adjustable base. An adjustable mattress or air bed is one more innovation that ensures you an even better night's sleep. An adjustable mattress paired with an adjustable mattress allows you and your partner to both experience the ultimate sleeping experience,
Instant Comfort mattresses are designed and manufactured by American National Manufacturing which has been innovating and enhancing mattress technology for more than 40 years. As early pioneers of adjustable number beds, they have set a high standard for their products through nothing less than state-of-the-art engineering and craftsmanship.
However, superior quality is only one part of Instant Comfort's commitment. Consulting with and educating customers about mattress selection is equally as important. Each year, many Americans lose valuable sleep simply because they haven't selected a proper mattress.
Instant Comfort beds are known for superior construction, quality, and technology. Every kind of bed use has been considered, whether you like to lounge and read in bed, cuddle your kids with you in bed, crave some space from your bed partner, sink into a romantic night, or enjoy movies and popcorn in bed, Instant Comfort has the adjustable bed for you with 45 different sleep settings, 5 to 50.
Additionally, each adjustable bed comes equipped with a medically recognized pressure scale that allows you to effectively monitor your sleep and adjust your mattress settings. Added features, such as reversible built-to-last top, as well as replaceable or interchangeable parts or layers, allow you to maintain or upgrade your mattress whenever your budget is ready to do so. The Instant Comfort adjustable beds come also with an industry leading 25-year limited manufacturer's warranty.
The Instant Comfort collection offers three types of number beds. They include firm comfort, plush comfort, and ultra plush comfort. At Mattress Express, we offer our customers the most popular and highest rated models in the industry. We carry the Plush Comfort Q5,  the Ultra-Plush Comfort Q8, and the Ultra-Plush Comfort Q9. Each version is available in the Flex-Head® design; a split foam mattress that  lets you and your sleeping partner independently adjust the bed for your individualized sleeping preferences. 
Choosing the right Instant Comfort adjustable bed for you will come down to a number of factors. Each version of The Number Bed mattress has a split mattress design at the head of the bed allowing for individual setting control. Both sides of the bed can be adjusted, either raised or lowered, separately without disturbing your partner. Additionally, each side offers many sleep settings for any type of sleeper. This state-of-the-art design includes preserving the "Cuddle Zone"™ for those sleepers who still like to feel like they are on a single surfaced bed with their partner without an uncomfortable gap in between.
The Plush Comfort Q5 mattress has a pillow-top quilted foam cover that sits atop a 2″ layer of convoluted foam providing an amazing and comfortable feel and support that rests above the air chambers and the adjustable technology. Underneath is a 3″ layer of support foam that completes the Plush Comfort Q5 mattress.
The Ultra-Plush Comfort Q8 sets itself apart with both high tech options and luxurious design pleasantries. For optimal sleeping temperatures, the top cover is designed to sleep warmer in the winter months and breathe cooler in the summer. The Q8 layering system includes a layer of gel-infused, visco-elastic foam as well as a layer of evolution foam. These sumptuous layers increase support for pressure points while conforming for proper spine support. Each Q8 also features a touch screen remote for making adjustments on each side. An additional option is an app that can be downloaded for ease and convenience in making changes to your sleep settings. Furthermore, the app can keep track or save your preferred settings as well as monitoring your sleep patterns!
The Ultra-Plush Comfort Q9 is one of the most beautifully constructed adjustable beds. The Q9 comes with a carefully crafted two sided top cover using Platinum Thermacool technology on one side, and bamboo on the other, both aiding in body temperature control throughout different climates. The Q9 internal layers include intricate and generously infused visco-elastic gel foam supplying unrivaled support and integrity. The Q9 also includes advanced technology for monitoring pressure points and fully customizing preferred settings. The bed also comes standard with a touch screen control system and the additional option of using an Instant Comfort® downloaded app.
How will an Adjustable Mattress Improve Your Sleep?
Adjustable air mattress beds are an increasingly popular choice for sleepers who desire greater control over their sleep experience.
It is also a common choice for couples with different sleep preferences. An air bed mattress allows you to independently select different levels of comfort on each side of the bed. Dual adjustability is just another perk of choosing an adjustable air bed.
Injuries, pregnancy, illness, and aging all affect our sleep needs. With an adjustable air mattress, as your needs change, your bed changes with you.
Adjustable firmness levels mean you can enjoy a softer, more conforming feel when you feel soreness or pressure points in your shoulders, lower back, hips, and other sensitive areas. An air bed with an adjustable inflation level allows the user to customize the firmness of the bed in order to treat pressure sores, improve blood circulation, and alleviate backaches.
Health Benefits of the Adjustable Bed
A flat mattress for sleeping is not necessarily the best for the comfort of the curves of your spine. You are more at risk of pressure points while lying flat versus being elevated because of the curvature of the hips, shoulders, and overall body shape. People with underlying medical conditions are more sensitive and even the slightest amount of pressure can cause immense pain and lack of sleep. Having an adjustable base is a medically beneficial way to cope or help relieve pain or discomfort.
Better Circulation
One of the biggest advantages that adjustable beds offer is improved blood circulation. Since you can adjust the bed according to your specific needs, you'll be able to enjoy a sleeping position that makes it easier for your heart to pump blood to the parts of your body that need it the most. If you need to keep a leg or a joint in a raised position, it is much easier to do so with an adjustable bed.
Reduced Pain
Along with better blood flow comes fewer muscle aches and loosened joints. Elevating your head and legs allows your mattress to follow the curve of your spine and allows pressure relief especially for the lower back.The airbed appears to be a useful sleep aid and an adjunct to medical and physical therapies for chronic back pain sufferers. A sleep study back in 2000, measured the short-term outcomes of chronic back pain patients on an airbed vs innerspring mattresses. 95% showed pain improvement, and 88% reported better sleep. The average improvements were a 32% pain decrease and a 73% increase in sleep quality.
Acid Reflux Control
If you try to sleep in a traditional flat position on your mattress, then acid reflux can make a full night's sleep almost impossible. If you sleep on an incline then your acid reflux symptoms may be greatly reduced, and you may be able to sleep more easily. An adjustable bed allows you to adjust your incline as needed.
More Independence
Adjustable bed frames are often the perfect solution for people that have trouble getting into or out of bed due to chronic health issues. Whether this is due to age, injury, or another factor, people that sleep on adjustable beds often enjoy better mobility.
Increased Comfort
An adjustable bed system allows each sleeper to pick the perfect comfort level and position in which they will sleep each night. They can choose the same level and position every night or adjust it to their daily life. Some adjustable beds come equipped with built-in massage equipment. These vibrating motors can relax sore muscles and provide a soothing, comfortable experience for the sleeper.
Stop by any of our Mattress Express locations or check out our website mattressexpressny.com to decide which adjustable bed system is best for you!