The word plush as an adjective is defined in Merriam & Webster's Dictionary as something that is "notably luxurious." The term plush is commonly used in the mattress industry to describe a mattress with a soft, cushioning feel. A plush mattress is the type of mattress that you gently sink into, cradling and hugging you as you drift off to sleep. If a plush mattress is the right fit for you, a quality plush mattress from Mattress Express definitely provides a luxurious feel!
The Layers of a Mattress Matter
A common misconception is that plush mattresses offer little support but that's not true. The support of any mattress depends on what materials are used in both the comfort layer and the support layer. Low-quality plush mattresses may break down more quickly and lose their buoyancy and their soft feel before a low-quality firm mattress does. But a high-quality plush mattress is worth the price.
A plush mattress is often thicker than a firm mattress due to its thick comfort layer that may range from 1 to 4 inches deep. The comfort layer of a plush mattress is often constructed using multiple layers of cushioning material to achieve that cloud-like sensation and a soft sleep surface. The comfort layer is what you feel first when you get in bed, therefore the comfort layer helps you fall asleep.
Support is created by materials beneath the top comfort layer, the denser, firmer layers of foam, coils or a combination of both are called the support layer or core. The goal of the support layer is to keep your body in the ideal position for sleep with your ears, shoulders and hips aligned. Proper support and body alignment are also big contributors to stress relief.
When positioned correctly on your mattress, your body relaxes more easily and your lungs take in more oxygen to help increase circulation.
The support layer is what supports you throughout the night therefore the support layer is what keeps you asleep. The support layer is often constructed exactly the same for both the firm and plush version of a mattress, therefore, offering the same support regardless of the comfort layer on the top.
The Top Recommended Plush Mattresses at Mattress Express
Eastman House Phantom Plush
At all of our Mattress Express locations, our Eastman House Phantom Plush and Phantom Firm are a perfect example of the same quality-made support core with varying comfort layers to provide both a plush and a firm option. They both have the same pocketed coil support layer and both comfort layers are hand-tufted and sewn from top to bottom. The plush hybrid version has additional comfort layers and a more pillowed look and feel, while the firm version has a tight, smooth top.
Eclipse Deville Euro Pillow Top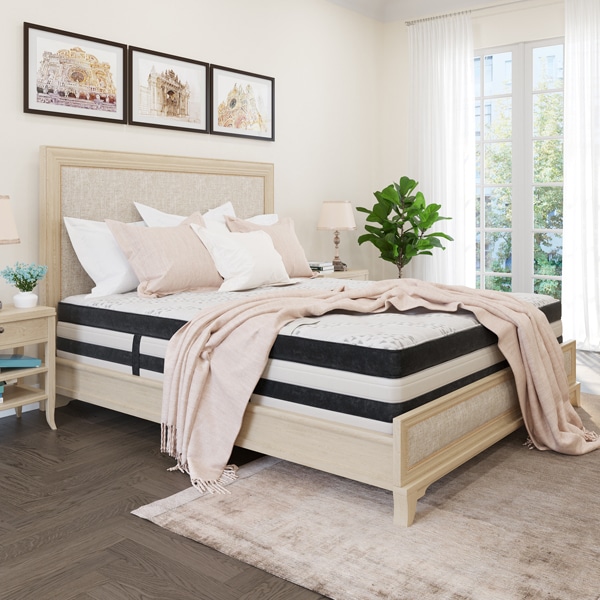 The Eclipse Deville Euro Pillow Top mattress is available at Mattress Express online as well as all our retail locations.
The Eclipse Deville is endorsed by the Congress of Chiropractic State Association (COCSA) and stands out above the rest with the blend of patented technologies and natural materials like Talalay latex. Its support core consists of an individually wrapped coil system that provides maximum spinal support called ComforTek™ Encasement, a grid-like steel feature across the top of the coil system known as the Spinal Zone Sleep System™ that is clinically proven to reduce back pain for a healthier night's sleep and a foam perimeter that goes from edge to edge of the mattress expanding your sleep surface called LifeEdge™ Encasement. Its comfort layer includes a layer of convoluted, poly comfort foam and 2 layers of Talalay latex topped by a Spinal Zone Quilt™ cover that is made of pre-compressed cushioning materials in the center third of the mattress to help prevent body impressions and provide proper lumbar support as well as a fabric blend with reactive fibers that provide conforming properties for all body types called Comfortlux Surface™. Eclipse's mission is to make a difference in every customer's sleep health and their Eclipse Deville Euro Pillow Top mattress offers all the benefits needed to provide that for you.
Ultra Plush Posh and Lavish Refine
Sleep is the ultimate luxury and in its purest form, allows our body and mind to enter a state of calm and tranquility. In order for your body to achieve this state, there needs to be a physiological balance. This is why the Posh and Lavish collection was created.
The ultra-plush Posh and Lavish Refine's balance of design and engineering gives your body a buoyant and weightless feel, properly supporting your spine and allowing your muscles to relax, sleep and rejuvenate throughout the night. As you get into bed, the ultra-plush Posh and Lavish Refine mattress slowly engulfs your body into a pillow of softness and comfort. It is no doubt a luxurious feeling, as you float on a cloud of natural latex, a soft, cool cotton-wool blend layer with a smooth Tencel fabric cover underneath you. Posh & Lavish certified mattresses are made by hand by skilled craftsmen in Southern California and they are known as the best, most luxurious, non-toxic and natural mattresses on the market. Each mattress is designed using Oeko Tex certified latex rubber and covered in a fire-retardant layer of wool and cotton as well as a lightweight Tencel-Faced fabric. Natural latex rubber is not a common component found in all premium mattresses. It is more elastic, resilient, temperature neutralizing and longer-lasting than traditional polyurethane foam used in other luxury brands.
The Ultra Plush Posh and Lavish Refine stands out above the rest. It is one of the most pressure-relieving mattresses in the industry today and its natural latex core is mold, mildew and dust mite resistant.
The Ultra Plush Posh and Lavish Refine's natural latex core is covered with wool and a blend of two layers of cotton. Wool is a natural fire retardant and along with cotton, so this fabric blend is more elastic, resilient, longer-lasting and more comfortable than traditional polyester fibers used by most premium brands. The final fabric layer is made of Tencel™fabric, a material derived from wood pulp. It is moisture-wicking, incredibly supple and known for its longevity.
Not sure which mattress is right for you?

Take our Express Comfort Quiz for instant recommendations.

Get Started!
Posh and Lavish Fusion
Posh and Lavish Fusion is a natural latex and memory foam ultra plush model that offers the best of both worlds, combining natural latex with synthetic memory foam to give you the best sleep of your life. Try the Posh and Lavish Refine and the Posh and Lavish Fusion out for yourself. Check out our website at mattressexpressny.com or stop into any of our Mattress Express locations and let one of our sleep specialists help you start sleeping every night in luxury. 
Purple Premier 4 Hybrid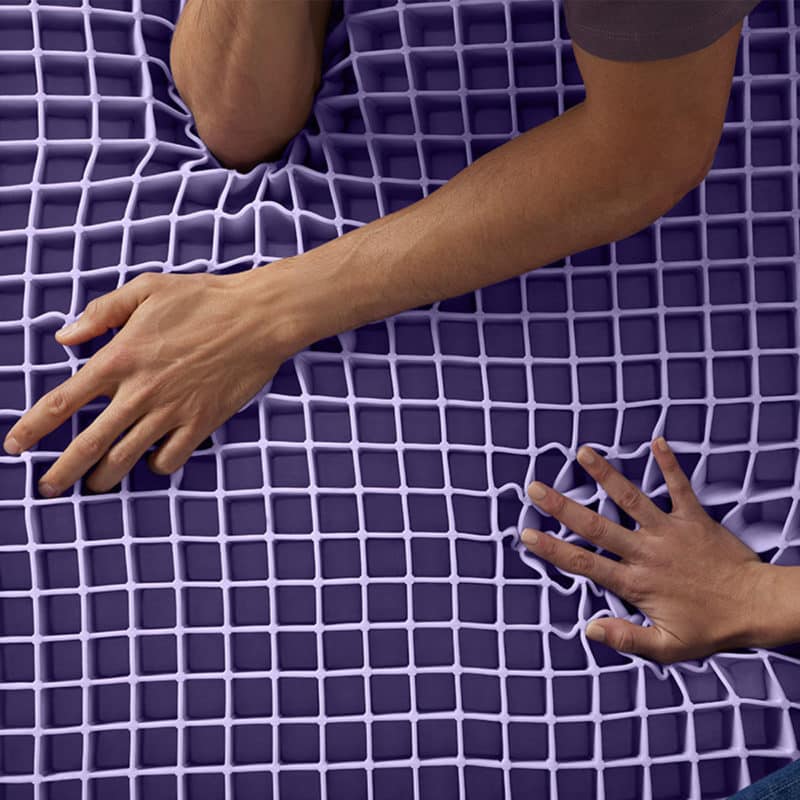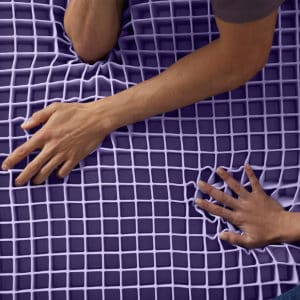 It took years and over 30 patents to perfect it. The Purple Premier 4 Hybrid's unique 4" Purple Grid™  adapts to your body and stays cool for superior comfort, support, and better sleep. Purple Comfort Grid™  provides the perfect balance of firm and soft without compromise and is bordered with a high-density polyurethane foam to provide proper edge support. The Purple Hybrid Premier 4's base layer of individually wrapped responsive-support coils enhances the overall comfort and durability of the mattress. The combination of the open-air channels of the Purple Grid™, the temperature-neutral materials in the comfort layer, and the coil support core ensures proper airflow for an even more adaptive cool, No Pressure® Support. The 4" grid in the comfort layer of  Purple Hybrid Premier 4 makes you feel like you are floating on a cloud while the coil support core ensures you proper spinal alignment and the maximum support your body needs. The Purple Hybrid Premier 4 is excellent for back and side sleepers.
Is a Plush Mattress the Right Choice For You?
What's comfortable and supportive to one person might not feel the same way to another. The level of firmness best for you depends on several factors, not just the way it feels but also your body weight, the health of your joints, and the position you sleep in.
Side sleepers can benefit most from selecting a plush mattress. Soft mattresses have the right amount of give to make sure the mattress cradles you comfortably, while still providing enough support to help maintain your natural spinal alignment. A plush mattress is also perfect for side sleepers with back pain because they offer better pressure relief and ensure that heavy pressure is not felt on your shoulders and hips.
Your physical size is another consideration. A lighter person may prefer a plush mattress because you don't sink too deeply into the comfort layer. Sleeping closer to the surface of the mattress makes it easier to move during the night as you naturally change position. If you are a heavier, you may prefer a medium to firm mattress that you won't sink into as much making it easier for you to reposition your body in throughout the night.
Another positive feature of a plush mattress is motion isolation. The thick comfort layers of a plush mattress absorb movement and help you get undisturbed sleep if your partner tosses and turns during the night.
In conclusion, for your best night's sleep, focus on mattress comfort. Choose the firmness or softness that feels most comfortable to you, and you can't go wrong. Visit mattressexpressny.com or stop by the Mattress Express location of choice and a sleep expert will help you uncover the right mattress for you today!