Stomach sleeping is the least popular position of choice to sleep. Only about 17% of sleepers admit to solely sleeping on their stomachs throughout the night, and studies show several reasons why that may be the case. Purple Mattresses at Mattress Express can help with this serious sleep problem.
There are benefits to choosing stomach sleeping over other sleeping positions. Stomach sleeping can reduce snoring, help sleep apnea in some cases, reduce or control acid reflux and help eliminate or control insomnia. Stomach sleepers tend to enjoy the comfort and security of the softness of their mattress against their bodies. When a position is comfortable, you stay longer in that position and sleep without interruptions through the entire night. There are downsides, though. Stomach sleepers may experience back strain, a stiff neck, nerve pain, numbness in their arms, and an increased chance of facial wrinkles.
Regardless of which position you choose, your sleep position plays a primary role in determining which mattress is the best for you. Purple Mattress and Mattress Express will help lead you to the right mattress and the best sleep of your life.
Best Ways to Stomach Sleep
If sleeping on your stomach allows you to get a quality night of sleep, then here are a few ways to make it more comfortable.
Try to use a thin pillow or no pillow at all to keep your neck in a more natural position. Also try sleeping with your forehead angled toward the pillow instead of your head turned to the side. This allows you to keep your neck aligned with the rest of your body.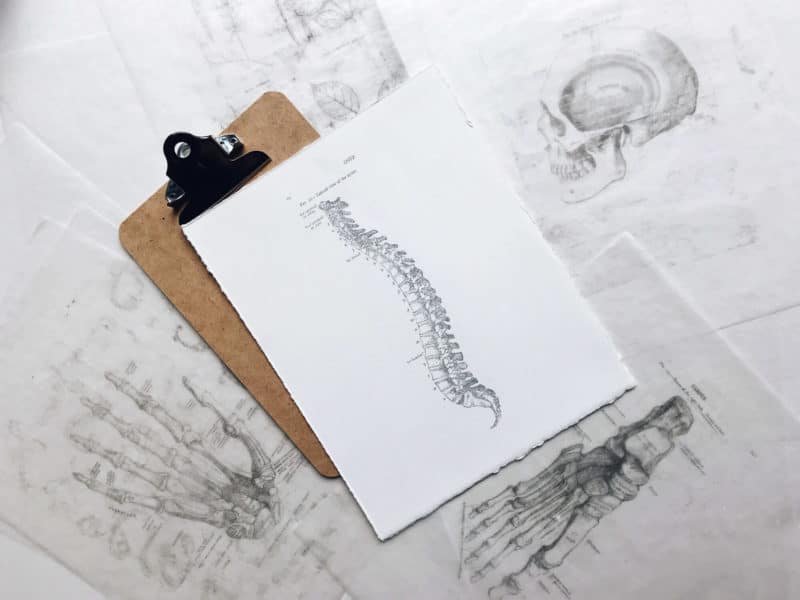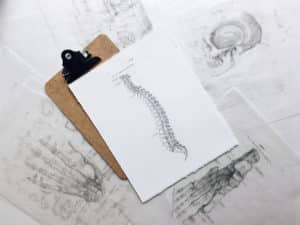 If you prop a pillow under your pelvis while you sleep, it will keep your hips from dropping too far into your mattress and throwing off the natural alignment of your spine. Place the top of the pillow on your lower abdomen so the bottom of the pillow will hit about mid-thigh. This will allow your spine to stay in its natural alignment.
Types of Stomach Sleeping
The Freefall
If you sleep with your head to your side and your hands wrapped around your pillow when you lie on your stomach, you sleep in what is labeled as the Freefall position. This way of sleeping on your stomach eases strain on your spine and neck. Make sure you use a thin pillow under your head or no pillow at all.
The Running Man
If you are a stomach sleeper that falls asleep on your stomach with one arm at your side and one arm and leg up in a running position, then you sleep in the Running Man position. If you want to keep your back and neck in natural alignment then make sure to keep your legs and hips straight at all times and place your forehead face down on your pillow.
The Sky Diver
If you like to sleep on your stomach with one leg up and your arms by your head, this is your preferred position. To make this pose better for your health, try to keep your leg down at all times and put a thin pillow under your pelvis. While still not great, these modifications help keep your spine in a more neutral position and prevent it from getting twisted.
Pain Caused by Stomach Sleeping
As a stomach sleeper, you may often complain that you wake up feeling anxious or experience numbness and stiffness in your neck, extremities, lower back and joints.
The most common complaint by stomach sleepers is back pain. You hold the majority of your weight in your core, so as you lay with your chest down, your hips tend to sink into your mattress, forcing your spine to arch in an unnatural position. This causes all kinds of back pain, especially lower back pain. Your spine is the nerve central to your body, so any sort of distress or pinching along your spinal column could lead to referred pain in almost any part of your body.
Sleeping with your head turned to one side all night can also lead to a sore neck in the morning. Using a tall or thick pillow forces your neck into an unnatural position, causing upper back and neck pain as well.
Although this complaint is not a source of physical pain it is still a concern. Sleeping on your stomach can increase the amount of wrinkles on your face more than sleeping in a position like your back.
Tips to Transition to a New Sleeping Position
Stomach sleeping is not the best sleeping position if you regularly suffer from lower back pain, neck pain, and sciatica or if you have a cough, are experiencing menstrual cramps, are pregnant or recently had a C-section. If you suffer from one of these ailments, you may suddenly need to sleep in a different position.
Switching up your sleeping position will not happen in one night but with time, practice, and a good sleep routine, your body will learn to relax in another sleeping position.
First, pick a new position to try. Start on your back or side and try to fall asleep that way. If you wake up in the middle of the night on your stomach still, try flipping to your original position so you can get used to the feeling. It will take time but you will eventually adapt.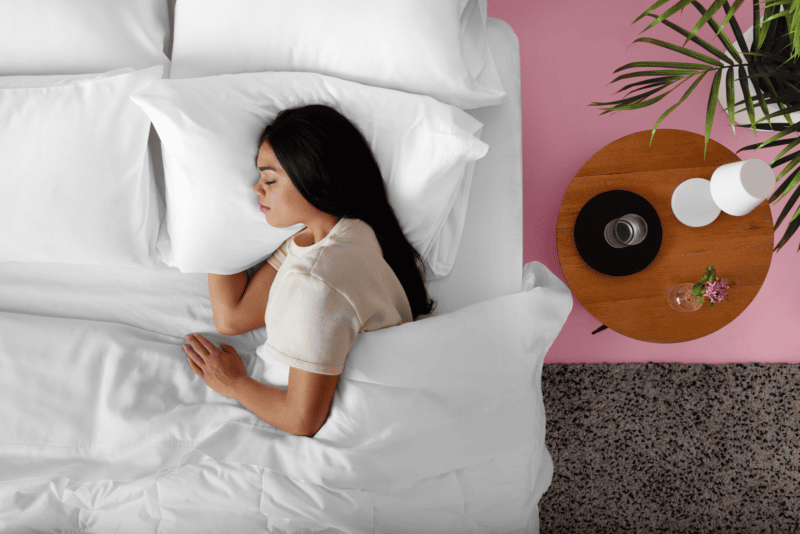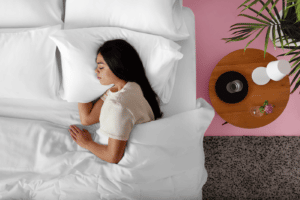 Next try to sleep with a body pillow or a new big, comfy comforter. Stomach sleepers often like the comfort of having their whole body on the mattress. To transition to sleeping on your side or back, try snuggling a body pillow or a comfy blanket. You will still feel the comfort and security you are used to but in a healthier position.
Also, try a thicker pillow or memory foam pillow to support your neck and maintain its natural curves. Your new position will definitely require a new supportive pillow with a more defined thickness and shape.
Other things you can try include changing the side of the bed you normally sleep on, moving the location of your bed in your room, turning off all devices at a certain time each night, and sleeping in total darkness. Once your body is trained to find comfort in a new position, you can gradually go back to some of your old sleeping habits.
Best Mattresses for Stomach Sleepers
For sleepers that find sleeping on their stomach most comfortable, we tend to recommend firmer mattresses. This ensures the hips don't sink in too deeply, keeping your spine aligned. This is especially true of sleepers who weigh above 230 pounds, since they require more support to maintain good sleep posture.
When choosing a new mattress, proper support is what you really need. As you sleep on your stomach, most of your weight is concentrated around your midsection, specifically your hips. You will need a firmness level that prevents your hips from sinking too far into the bed but allows a slight contouring to protect your pressure points. If your hips sink too much into your mattress, or there is no contouring, it will throw your spine out of alignment and cause back pain, muscle aches and even a sore neck.
You also naturally trap heat beneath your body when you sleep on your stomach, so you want a mattress that wicks heat and moisture away.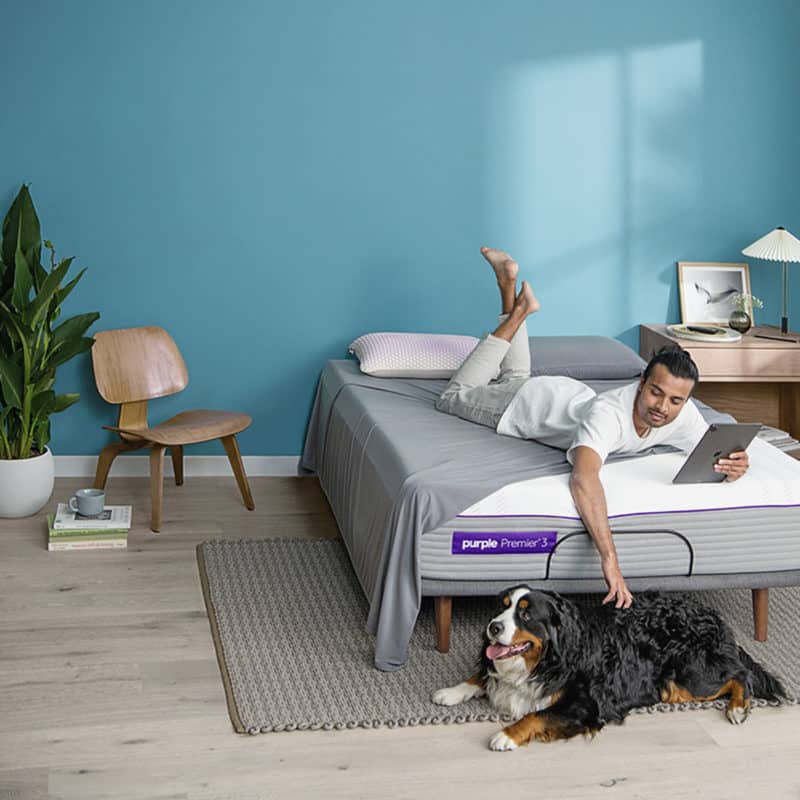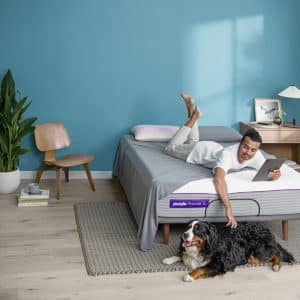 A medium-firm to medium-plush mattress like the Purple Premier 3 Hybrid Mattress may be the perfect mix of support and comfort for you. If you prefer a firmer mattress, try the Purple Hybrid Mattress (also known as the Premier 2). If you prefer a plusher feel, try the Purple Premier 4 Hybrid Mattress. The Purple Mattress's patented GelFlex Grid allows air to flow through the mattress and neutralize your body temperature. This is unique to Purple and allows for a much cooler night of sleep than most memory foam, latex and hybrid mattresses on the market. This unique feature makes the Purple Hybrid line a top pick for stomach sleepers.
Bedding for Stomach Sleepers
If you are a stomach sleeper, you should sleep on a thin pillow or no pillow at all. You want to ensure that your pillow supports your neck so that it is aligned with your back when you sleep.
You may use a thicker pillow under your hips, like the Purple Harmony Pillow that is available in 3 different lofts or thicknesses, to keep your spine and neck in natural alignment.
If you sleep warm, natural cotton, bamboo or Tencel sheets will help control your body temperature. Microfiber or other synthetic materials tend to trap in heat.
Conclusion
If stomach sleeping is definitely the sleeping position for you, let our sleeping specialists at Mattress Express guide you to the best mattress for sleeping on your stomach. Check us out at mattressexpressny.com or stop by any of our Mattress Express locations in Central New York today.