Founded in 2016, Puffy is a popular online mattress company that started with an all-foam, 10" mattress and now additionally offers two hybrid models: the Puffy Royal 14" Hybrid Mattress and the Puffy Lux 12" Hybrid that combine the original foam layer for comfort with a coil layer for support. All three are available in mattress sizes Twin, Twin XL, Full, Queen, King and Cal King.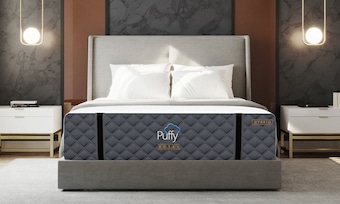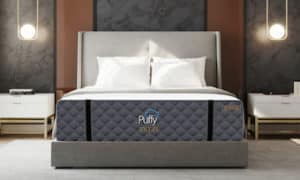 Puffy's cloud logo alone gives us certain expectations before even trying the mattress. As the logo implies, the Puffy mattress is designed to feel like you are floating on a cloud. Imagine plush layers of comfort that allow you to drift away to sleep. The combination of plush layers on top of a supportive base makes Puffy an excellent choice for those who suffer from insomnia or any sleep deprivation disorder.
Explaining the Puffy Mattresses
The Puffy Original Mattress
The Puffy Original mattress features a soft foam feel that is bouncy and responsive. While the top layer is made of memory foam, it is not too thick so you will still feel the bounce of the transition layer. This makes it easy to move around and switch positions at night.
For back sleepers, the Puffy Original mattress offers an appropriate balance of comfort and support.
The hips sink into the comfort layer, but the transition layer keeps them from sinking too far. The top memory foam layer provides nice contouring and takes the shape of every curve of your body.
For side sleepers, the top comfort layer is not extremely thick, so you may feel some pressure on the shoulders and hips, causing discomfort in the morning.
The Puffy Original is not a top pick for stomach sleepers as it's not supportive enough, especially under the hips, which may cause lower back pain.
The Puffy Lux Hybrid Mattress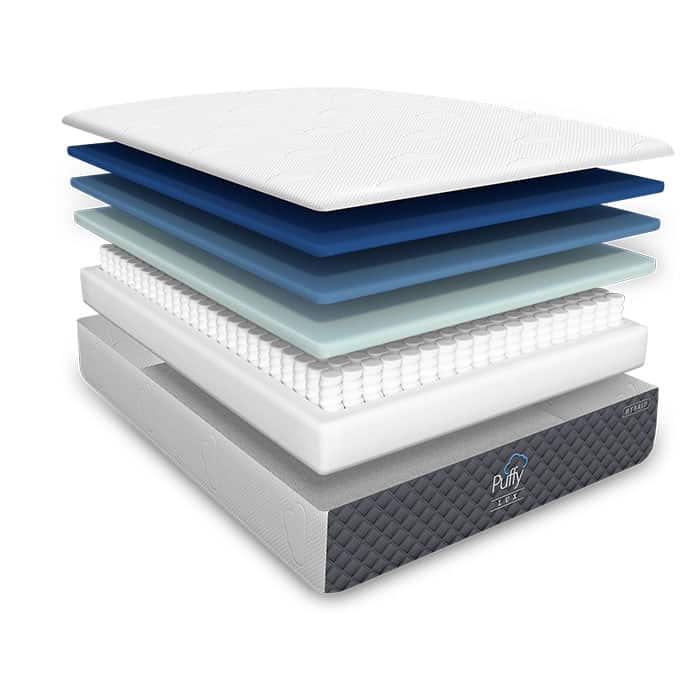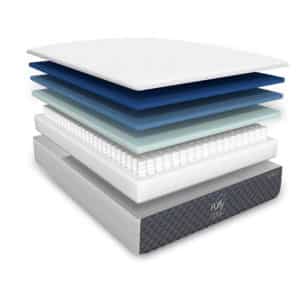 The Puffy Lux Hybrid 12" mattress is known for being plush and airy with three layers of comfort construction. The first layer of gel memory foam helps draw heat away from your body and regulates your body temperature. The second layer gives the mattress its plush feel of comfort. The final layer is a transitional layer that sits on top of the support layer.
The base or support layer of 7" pocketed coils and high-density polyfoam provides overall support and allows for a good balance between responsiveness and motion transfer.
The Puffy Lux Hybrid Mattress is a good option for couples since it has low motion transfer, excellent body temperature regulation and edge support that allows you to comfortably sleep near the edge of the bed.
For side sleepers, the soft feel of the comfort layers does a great job of relieving aches and pains while the support or base layer offers good support.
Side sleepers and lightweight sleepers will enjoy the soft, cloud-like feel with balanced support where you need it.
For back sleepers, the balance of comfort and support ensures a good night of sleep. Thanks to the lower lumbar support, the Puffy Lux Hybrid is great for heavier people and back sleepers who sink into typical plush mattresses but do not like an extremely firm feel.
For stomach sleepers, a little m
ore support may be needed to keep the hips aligned. The plush comfort layer may allow the hips to sink a little more than they should, causing you to wake up with lower back pain.
The Puffy Royal Hybrid Mattress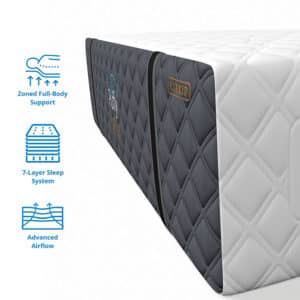 The Puffy Royal Hybrid 14" mattress is the company's top-of-the-line mattress. This mattress features five layers of comfort and support to fully cradle the body and give you the best night of sleep.
The top layer contains cooling beads to help reduce heat and provide pressure relief. A layer of premium foam provides ultra-responsive body contouring and maximum recovery. A layer of Climate Comfort™ foam wicks away moisture no matter how warm you tend to sleep. A layer of Cloud Air Technology foam provides five support zones, ensuring that the head, neck, shoulders, back, and legs receive the optimal cushion and body support. This is all on top of 7 inches of a contour-adapt coil base and a layer of high-density foam to help stabilize your mattress with advanced edge support.
Whether you're a side sleeper, a back sleeper or prefer snoozing on your stomach, the Puffy Royal Hybrid Mattress is versatile enough to contour to your body while providing total comfort.
It is suitable for lightweight and heavyweight sleepers alike making it ideal for couples as well.
Best Features of the Puffy Mattresses
Every Puffy mattress is designed and manufactured in the USA with a lifetime warranty that protects the quality and craftsmanship of the mattress. No matter what sleeping position you prefer, the Puffy Mattress line is versatile for every type of sleeper and one of best mattresses available at an affordable price.
The top layer of comfort foam in all three Puffy mattresses is infused with cooling gel for optimal temperature control. It is cool to the touch and does not absorb heat so you can sleep without interruption all night.
All Puffy mattresses are designed with an innovative stain-resistant cloud cover that is hypoallergenic and protects the mattress from allowing dust mites and other allergens to cause irritation while you sleep.
Other Considerations for the Puffy Mattress
Every Puffy mattress comes with two pillows roll-packed inside the mattress box, except for a twin, which only includes one. Each pillow is made from a special blend of polyester and bamboo rayon, the Puffy Pillow is completely hypoallergenic and dust mite resistant.
A mattress protector and set of sheets are also offered with each mattress. This is great when upgrading to a new bed size or just starting out.
Although Puffy started out as an online-only, bed-in-a-box company, it is now available at all Mattress Express locations. Stop in and experience a Puffy today and say goodbye to insomnia!