The material a mattress is made of, how it feels, how long it will last and what it costs are a few things that factor into deciding which is the best new mattress for you. Latex and memory foam are both types of foam but they are different in many ways.
Memory Foam
Memory Foam is a viscoelastic polyurethane foam developed by NASA in 1966 to protect against impact and improve safety in aircraft seats. It was not until the late 1990s that it gained popularity in the mattress industry. At first, it was too expensive for widespread use but is now so affordable that it is an extremely common mattress material these days.
Memory foam actively molds to your body in response to heat and pressure, allowing your body weight to be evenly distributed and return to its original shape once pressure from your body is removed.
This feature helps provide health benefits like uniform body support, alignment with the curvature of your spine, alleviation of joint and back pain, pressure point relief and motion isolation.
It is denser and more supportive than the average polyurethane foam used in mattresses. It cradles and remembers your body and slowly goes back to its original form, hence its name is memory foam.
Since memory foam actively responds to heat, it is temperature-sensitive. In its early days, its heat-retaining property was a complaint from warmer sleepers but loved by cold and medium sleepers. In the 2000s, open-cell memory foam, gel memory foam and other mineral-infused memory foam like copper, graphite or carbon were introduced to combat heat retention and help regulate body temperature. This is an important feature to search for when purchasing a quality memory foam mattress.
Memory foam absorbs surface movement to reduce disturbances when a partner moves around in bed. This is good news for those currently using a standard coil mattress and who have partners that toss and turn, often causing disturbances – and poor sleep – for the other partner.
Memory foam, or viscoelastic polyurethane foam, is hypoallergenic and prevents allergy-causing dust mites and other allergens from collecting within the bed, unlike a standard spring mattress that collects dust mites and allergens nightly.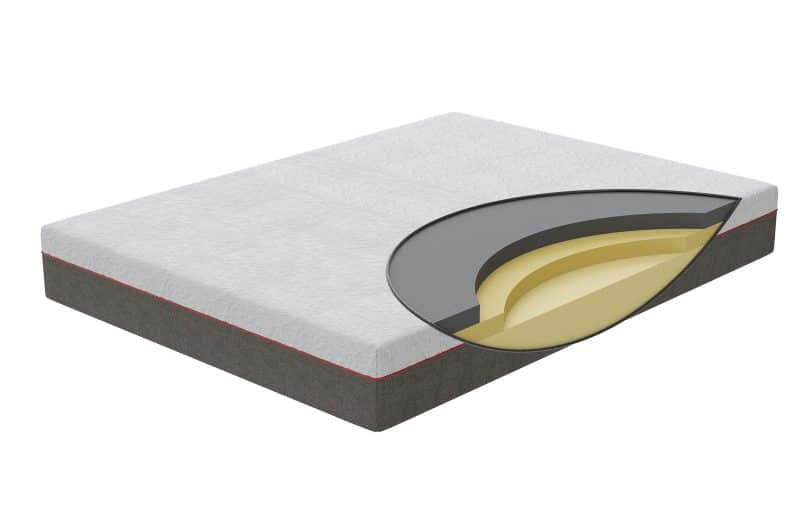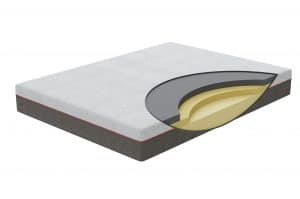 Like any material, the quality of memory foam can differ. Another feature to pay attention to is the density of the memory foam used to make your mattress. The density of memory foam used for mattresses can vary from 1-pound density to 5-pound density.  A mattress made with 3- to 4-pound density or higher should last you over a decade. 1-pound density mattresses could develop body impressions and need to be replaced as early as a year or two after purchasing.
While memory foam is one of the most incredible innovations in the mattress industry, that does not mean that every memory foam mattress is right for everyone. Sleep needs and preferences vary from person-to-person, memory foam beds offer a smart alternative to a standard mattress but be sure to research your options before making a mattress purchase.
For back and stomach sleepers choose a medium to firm memory foam. Side sleepers may want a more plush memory foam but the choice is still yours, go with what feels best to you.
Our Mattress Express favorites include the Posh and Lavish Flow and IFS Chill Series and our new Posh and Lavish Hybrids: the Flux or the Fusion. Stop by the Mattress Express location nearest you and our sleep specialist on duty will help you uncover the best memory foam mattress for you.
Not sure which mattress is right for you?
Take our Express Comfort Quiz for instant recommendations.
Get Started!
Latex
In 1931, the world's first latex mattress was introduced with many positive features. It didn't have to be flipped, it stayed fresh, responsive, supportive, and it kept its shape. These many benefits of the latex mattress made it a huge success with consumers through the ages. A natural latex mattress is more supportive, durable, eco-friendly, and better for sleep health than a mattress made from synthetic materials.
Latex is made from the milk-like sap of a rubber tree and is the most natural mattress material out there. The sap is harvested and refined and can be tapped from the same exact tree for up to 30 years. Once the sap is harvested, it is processed into a soft, supportive, extremely durable, solid, thick foam core that can last for decades. Latex offers you support and comfort without the use of harsh chemicals.
Latex foam is known for both its comfort and support, no other materials are needed to make a quality supportive, comfortable mattress. Both the support layer and comfort layer can all be one material. It is the most durable mattress material you can find and is known to last for over several decades. It is a very resilient material and it naturally maintains its shape year after year.
Latex comfort foam cradles your hips and shoulders and provides pressure relief for your spine and joints while its natural elasticity maintains natural spinal alignment and lightly supports your back and neck.
It is hypoallergenic, naturally antimicrobial and biodegradable. Natural latex foam has an open-cell structure to permit constant airflow, enhance breathability and regulate body temperature naturally.
Latex foam is proven to contain exceptionally high antibacterial properties, making it the hygienic ideal for mattresses, superior to all other materials. There is no need to worry about latex allergies either. The allergic proteins in latex are completely removed when made into a soft natural rubber foam. Plus, it's encased and covered inside natural cotton and wool so there's never direct contact to the skin.
There are two methods of processing the sap, Dunlop is a quicker, more economical and eco-friendly process but Talalay provides a superior, consistent product with little room for error.
Dunlop latex is made by pouring liquid foam from whipped sap into a mold and heating it up in an oven to harden. After hardening, the latex is removed from the mold, washed and then dried.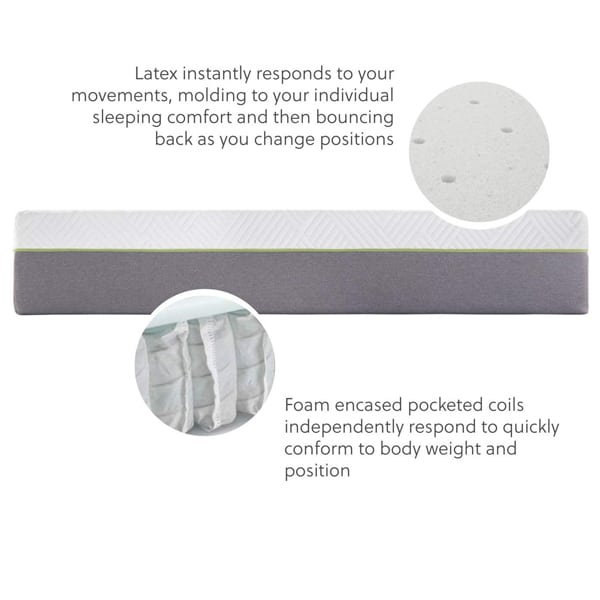 Talalay latex requires more time and energy. Just like Dunlop, the sap is whipped into a foam and poured into a mold but the mold is only filled halfway. The mold is then sealed and a vacuum is used to expand the latex until it completely fills the mold. It is then placed in a freezer and carbon dioxide is injected into the rubber to create a gel-like texture. The gel-like foam is then hardened with heat, removed from the mold, washed, and dried. The finished latex is softer and bouncier than Dunlop and sold at a higher price.
Natural latex is proven to be the very best component used in mattresses and offers a healthier sleeping environment. It's naturally dust-mite resistant and allergen-free; it's breathable so you won't sleep hot; its resiliency is known to last for decades; its responsive support offers comfort and proper alignment; and it's made from a renewable, sustainable resource, unlike other mattresses that use foam derived from petroleum.
Most manufacturers that make mattresses with natural latex also use other natural resources like cotton and wool in the mattress cover. Wool provides a temperature-controlled sleep environment that's perfect for your body, no matter the season. In the winter, wool produces warmth and in the summer you will stay cool thanks to its natural moisture-wicking property.
Latex mattresses are great for all types of sleepers but their natural antimicrobial properties make it an especially great choice for allergy sufferers and the combination of support and comfort equally is especially beneficial for sleepers with back and joint pain.
Experience the luxurious feel of natural Talalay latex at any of our Mattress Express locations with our Posh and Lavish latex collection.
What Mattress is Best for You?
Let's briefly sum up the answers to these questions: what material a mattress is made of, how will it feel, how long will it last and what it will cost.
Memory Foam is a synthetic material derived from petroleum, it is known to hug and contour your body, it isolates motion, generally lasts about 10 years and is available at many different price levels depending on the density and quality of the foam used in the mattress. Memory foam mattresses are great for side and back sleepers but not recommended for stomach sleepers.
Latex is a natural material made from the sap of a rubber tree, it will contour your body yet be responsive, it will help isolate motion but with a bouncier feel than memory foam, it generally lasts over 15 years or more and costs more than mattresses made from synthetic materials. Latex mattresses are recommended for all types of sleepers.
Stop by any of our Mattress Express locations or check out our website mattressexpressny.com to decide which mattress is best for you!