We are asleep for almost a third of our lives, so choosing the right sleeping surface is crucial to a good night's sleep, can help provide pain relief, and enhance your overall sleep quality. Choosing incorrectly can lead to chronic back pain, neck stiffness, and shoulder aches.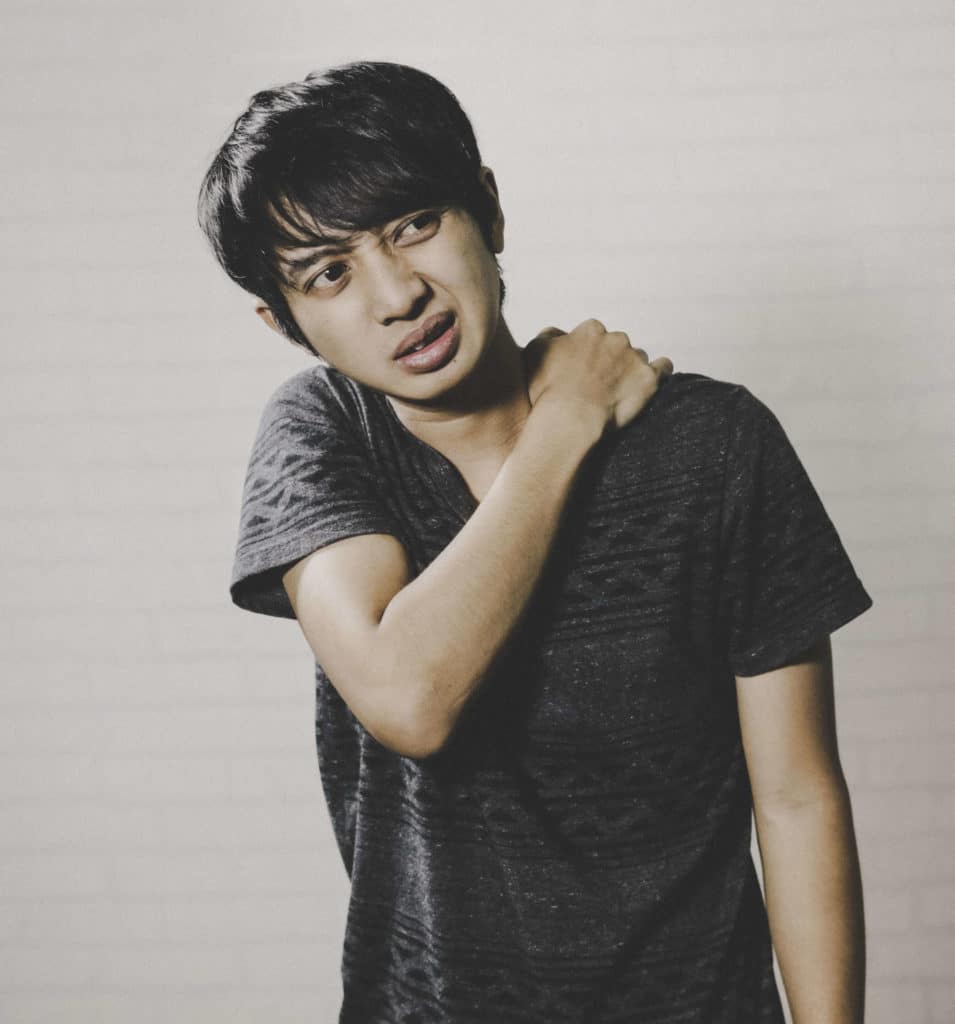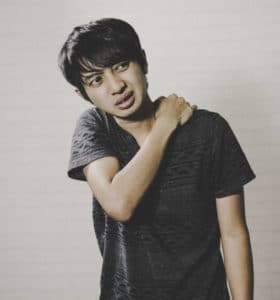 Although there may be various reasons why you experience back pain, your mattress could be one of them. The Purple Mattress is highly recommended for back pain sufferers thanks to its balance of support and comfort. Its patented Purple GelFlex Grid evenly distributes your body weight to keep your spine in a healthy, neutral position while eliminating any unwelcome pressure on your spine and joints.
The entire Purple Mattress line is available to try at any of our nine Mattress Express locations in central New York. Visit us today and our experienced sleep specialists can guide you to find the right Purple mattress for you.
Types of Back Pain
Back pain is a leading cause of sleep problems, especially staying asleep. Not all back pain is equal, though.
Back pain comes in many different forms and intensities, so it is important to pinpoint the type of back pain you suffer from. Muscle strains, pinched nerves, herniated discs, vertebra fracture, osteoporosis, and pain caused through natural aging may be a few reasons for your back pain.
Several other sources can be the cause of your back pain, such as poor posture, sitting for extended time periods, sleeping on an unsupportive mattress, a mattress that is too firm or too soft and even your preferred sleeping position.
How Mattresses Impact Back Pain
The right mattress can offer comfort, pressure relief to joints, aid in proper alignment of the spine and help prevent body aches and pains. When you sleep on the right mattress for your preferred sleeping position, you'll keep your spine aligned to wake up feeling refreshed and free from aches and pains.
If you experience back pain when you wake up or feel it intensify in the morning, your mattress is likely the problem. A mattress that is too firm, too soft, or lacks proper support due to sagging, wear-and-tear, or because it's low quality will not properly support the natural alignment of your spine. Instead, it will compound your existing neck, shoulder, hip, upper back or lower back pain.
As your mattress wears down, its structure and support also gives out. If you notice lumps or a sagging mattress, it may be time to get a new one. An unsupportive mattress may cause stress to your lumbar or lower back and result in chronic pain if not corrected. A mattress that is too firm can cause joint pressure in your hips and lead to pain in your lower back.
Choosing the Best Mattress for Back Pain
The best type of mattress to prevent or help remove back pain is the one that fits your sleep position, your comfort preference, providing the proper support to keep your spine in neutral alignment. The right mattress for you is not the same for everyone but there are a few things that can help you decide on one.
The most important consideration when buying a mattress is whether it provides the appropriate balance of comfort and support for you.
The Purple Solution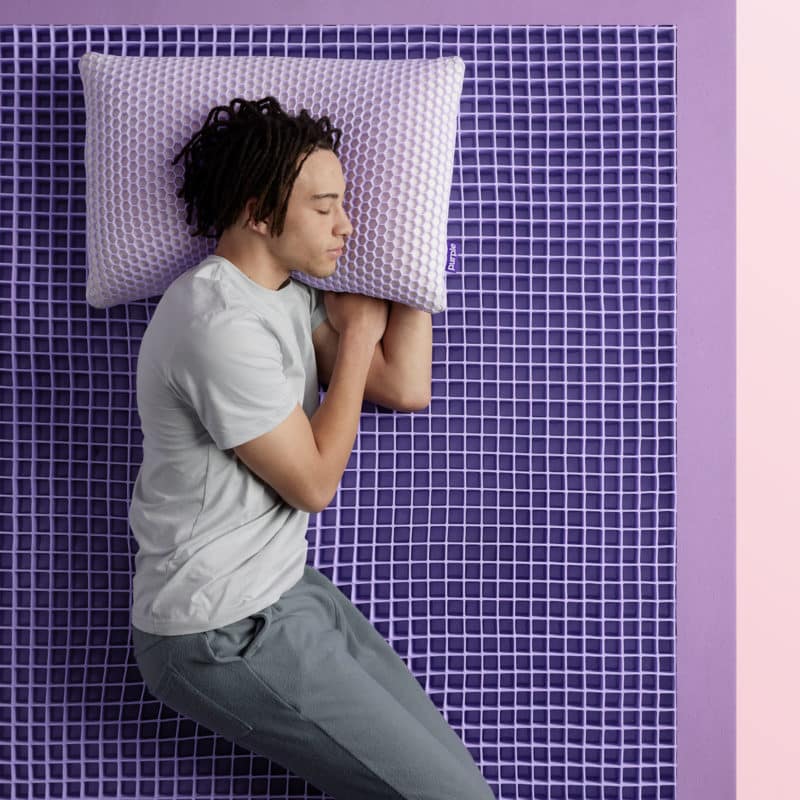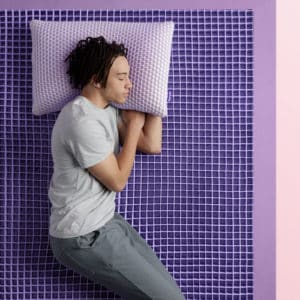 The Purple® mattress line is known as the one of the most comfortable mattress products offered on the market thanks to its patented Purple GelFlex Grid™.  It took years and over 30 patents to perfect it. Exclusive to the Purple Mattress line, the Purple GelFlex Grid is the top comfort layer of every Purple mattress.
Purple does not fit into the usual mattress categories of foam, latex, air, hybrid, or innerspring. Its carefully crafted layers create a sleeping experience unique to Purple with the perfect balance of firmness and softness without compromise.
The grid is made of a hyper-elastic polymer known for its stretch, durability and ultra-breathability. The GelFlex Grid has open cells that allow air to flow freely, moving heat away from your body to create the perfect mattress temperature at all times. I
t also isolates motion transfer as it responds quickly to your every movement.
The Purple GelFlex Grid flexes around your hips and shoulders, reducing stress and alleviating pressure while evenly distributing your body weight. This helps keep your spine in a healthy, neutral posture. Purple mattresses balance support and comfort make it a great choice for heavy sleepers, hot sleepers, back sleepers, and those with back pain.
Types of Purple Mattresses
Purple Original
The Original Purple Mattress® is the base model and offers the core Purple experience balancing comfort and support.  The GelFlex Grid™ cradles pressure points, while the Comfort Core produces a less bouncy feel. All the Purple mattresses are nontoxic, Certified Clean Air GOLD, hypoallergenic and made in the USA.
The Original Purple is excellent for all types of sleepers but not recommended for those with extra weight or height.
Purple Plus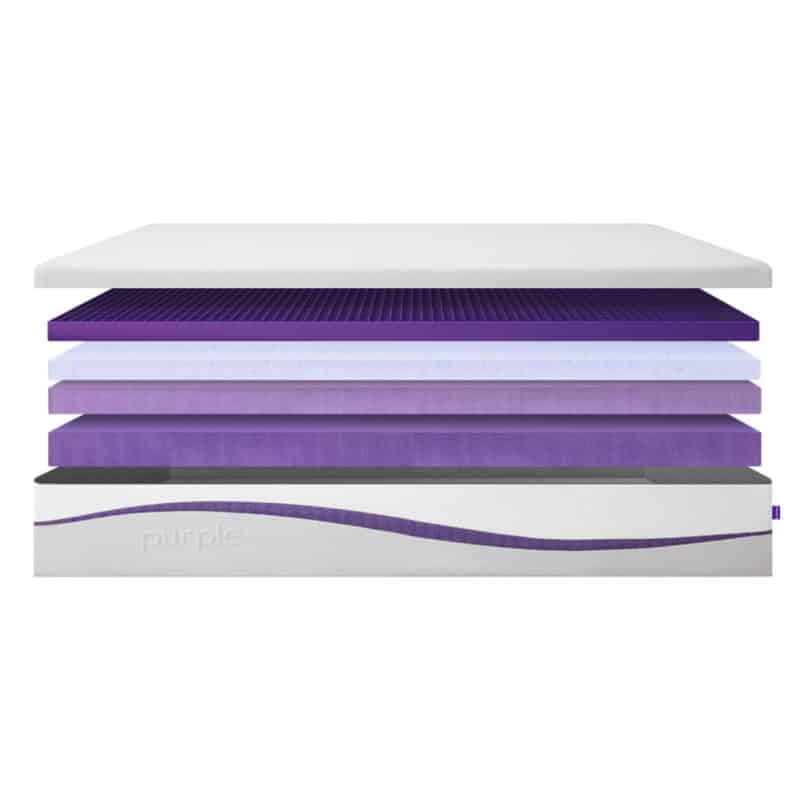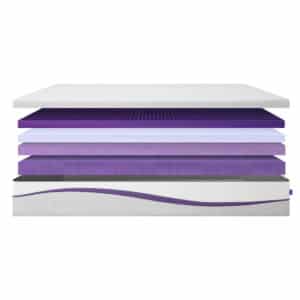 The Purple Plus™ Mattress is just like the original but has an extra premium foam layer in the Comfort Plus Core for more cushioning, comfort, breathability, and responsiveness. This improved foam base is topped with the GelFlex Grid in order to relieve pressure points at the hips and shoulders while keeping your body fully aligned for amazing sleep.
The Purple Plus is recommended for side sleepers and lightweight sleepers due to the extra comfort cushioning.
Purple Hybrid or Premier 2
The Purple Hybrid combines the comfort and pressure-relieving benefits of 2″ of GelFlex Grid with the added support of the Responsive Coil Core. Combining the Purple Grid and the responsive support coils means increased responsiveness and airflow, providing an even more adaptive sleep.
The Purple Hybrid is a good option for those with higher body weight or stomach sleepers. It is the top choice for back sleepers that suffer from back pain because of the added coil support and firm feel.
Purple Premier 3
The Purple Hybrid Premier® 3 hugs the body and provides pressure relief with 3″ of GelFlex Grid™ plus the support, responsiveness and ease of movement of the Responsive Coil Core. This combination of Purple Grid™ and the responsive support coils increases the mattress's resiliency and improves airflow for support that is even more adaptive and cool. The Purple Hybrid Premier is perfectly balanced between soft and firm and its combination of comfort and support is perfect for back pain sufferers.
The Purple Premier 3 is favored by couples with mixed sleep preferences because it fits any type of sleeper, especially those who suffer from back pain of any kind.
Purple Premier 4
The Purple Hybrid Premier® 4 provides the deepest cradling or hugging of your body, as well as maximum pressure relief with 4″ of GelFlex Grid™. The Grid is paired with the Responsive Coil Core that provides support, responsiveness and ease of movement.
The Purple Hybrid Premier 4 is favored by side sleepers and back sleepers that like a plush, cushiony feel but need the back support of its coil core.
Other Ways to Relieve Your Back Pain
Try sleeping on your back in your new bed as this is better and easier for  your spinal alignment. Lying flat on your back keeps your hips, shoulders, and head in a neutral position and keeps your spine stable.
Try a Purple Pillow. A firmer pillow will help keep your neck in alignment with your spine while you sleep. The Purple Harmony Pillow comes in King and Standard sizes and is available in a high, medium and low profile. The Purple Harmony Pillow combined with your new Purple bed will have you sleeping pain free tomorrow.
Let a Sleep Specialist Help Guide You
Stop by any one of our Mattress Express locations in upstate New York and try the Purple mattress line out for yourself. Speak to any one of our friendly and experienced sleep specialists to help get you started. Feel free to refer to mattressexpressny.com to check out Purple Mattress prices on all five models as well.