The founders of Purple, brothers Tony and Terry Pearce, dreamed of inventing the perfect mattress. Their goal was to combine the benefits of both a firm and soft mattress to alleviate pain, provide the best sleep possible, and be available for a reasonable price.
The Purple mattress is now known as one of the most comfortable mattresses on the market, thanks to its patented Purple GelFlex Grid™ developed by the Pearce brothers. Each Purple mattress has carefully crafted layers, including the GelFlex Grid, that create a one-of-a-kind sleeping experience.
Purple mattresses don't fit into the usual mattress categories such as foam, latex, air, hybrid, or innerspring. The hyper-elastic polymer grid is unique to Purple Mattresses.
Engineering of The Purple Mattress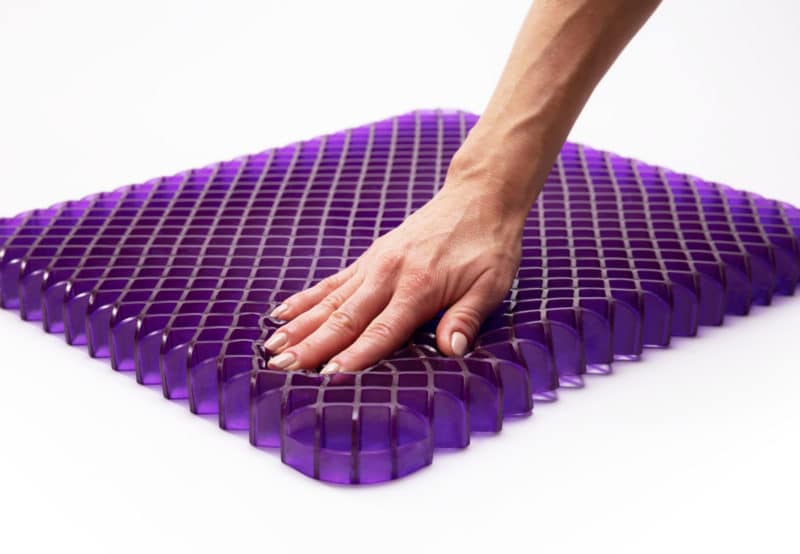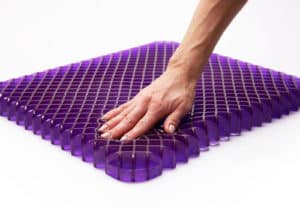 Tony, an aerospace engineer, and Terry, an expert in materials and manufacturing, set out to use their expert knowledge in both areas to achieve the perfect blend of comfort and support. After a series of discoveries and several product developments, they invented a Hyper-Elastic Polymer™ GelFlex Grid, which they believed to be the best mattress technology in the world.
The GelFlex Grid is extremely soft, flexible, responsive, pressure-relieving and supportive. It instantly adapts as you move, reconfiguring itself to support any position your body takes so you can roll over, shift, or reposition yourself as much as you need to.
Your Purple bed will flex around you and your partner's bodies individually, eliminating motion transfer and allowing you to roll over or change sleeping positions without causing a disturbance to your sleeping partner.
With over 1,400 individual air channels, the GelFlex grid dissipates excess body heat by drawing it away. The open cells of the GelFlex Grid allow air to flow freely, creating the perfect mattress temperature at all times. You will never feel too hot or too cold, regardless of the temperature outside.
Hyper-Elastic Polymer
The term "hyper-elastic" means a material that can be significantly stretched in different directions, then bounce back to its original form without affecting the integrity of the original material. Latex made from the rubber tree is an example of a natural hyperelastic material. Similarly, Purple's GelFlex Grid is a man-made polymer created for comfort, support and durability. If you have ever tried a latex mattress, you are familiar with its very bouncy properties.
The Purple GelFlex Grid's stretchable, highly elastic and responsive bounce stands out from all the other mattresses available on the market. The Purple GelFlex Grid is engineered to be both supportive and soft.
Its unique design includes hundreds of columns working together to support your back and give way to gently cradling areas like shoulders and hips under concentrated weight.
The GelFlex grid wraps around your hips and shoulders, reducing stress and alleviating pressure while still providing full support for your lower back, where you need it most. This flexibility ensures custom support for every body type because it is both soft and firm at the same time. The GelFlex Grid material is a 100% non-toxic, CleanAir GOLD and CertiPUR-US-certified, high-density polyurethane foam.
Types of Purple Mattresses Available
The Purple Original and the Purple Plus are designed with a combination of high-density memory foam and GelFlex Grid layers to ensure they are more durable and last longer than the lower-quality materials typically found in cheaper mattresses. All the Purple mattresses are non-toxic, hypoallergenic and made in the USA.
The Original Purple Mattress is the base model and offers the true Purple experience that balances comfort and support. The 2″ GelFlex Grid supports pressure points, while the high-density memory foam support core produces a less-bouncy feel. The Original Purple suits all types of sleepers except for those with extra weight or height.
The Purple Plus™ Mattress is just like the original but has an extra-premium foam layer in the Comfort Plus Core that offers a comfort upgrade to provide better cushioning, responsiveness, and breathability. This improved foam base is topped with two inches of GelFlex Grid in order to relieve pressure points at the hips and shoulders while keeping your body fully aligned for amazing sleep. The Purple Plus is recommended for side sleepers and lightweight sleepers due to the extra comfort cushioning.
The Purple Hybrid Line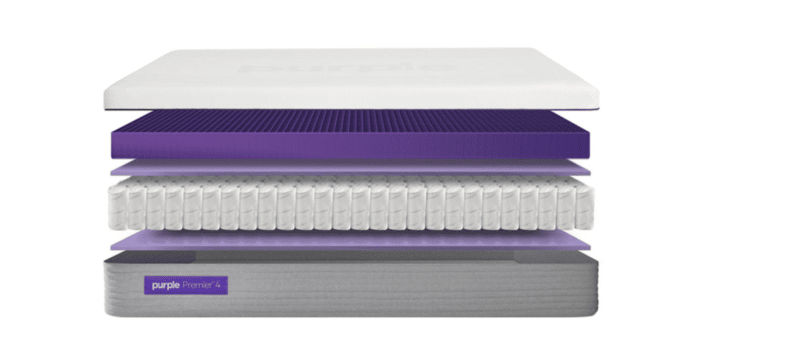 The Purple Hybrid, Premier 3 and Premier 4 are designed with a combination of GelFlex Grid layers and the Responsive Coil Core for added support. This combination of superior materials ensures that these Purple beds are more durable and last longer than any of Purple's competitors.
The Purple Hybrid or Premier 2 combines the comfort and pressure-relieving benefits of 2″ of GelFlex Grid with the added support of the Responsive Coil Core. The responsive-support coils increase the mattress's overall comfort and durability. Combining the Purple Grid and the responsive support coils means increased responsiveness as well as airflow, providing an even more adaptive sleep. The Purple Hybrid is a good option for those with higher body weight or for back or stomach sleepers because of the added support and firm feel.
The Purple Hybrid Premier® 3 hugs the body more and provides pressure relief with 3″ of GelFlex Grid plus the support, responsiveness and ease of movement of the Responsive Coil Core. This combination of Purple Grid and the responsive support coils increases the responsiveness and improves airflow of the mattress for support that is even more adaptive and cool. The Purple Hybrid Premier is perfectly balanced between soft and firm.
The Purple Premier 3 is favored by couples with mixed sleep preferences but is also a good choice for any type of sleeper.
The Purple Hybrid Premier® 4 provides the deepest cradling or hugging of your body as well as maximum pressure relief with 4″ of GelFlex Grid. The Grid is paired with the support, responsiveness and ease of movement of the Responsive Coil Core.
The Purple Hybrid Premier 4" feels like a zero-gravity float and is favored by side sleepers that like a plush, cushiony feel.
Comparing the Purple Mattress
Purple Mattress Versus Memory Foam
The Purple Original and Purple Plus mattresses have a bouncier and more responsive feel than most memory foam mattresses due to the GelFlex Grid in the comfort layer. This grid also allows airflow to neutralize body temperature, unlike most memory foam mattresses that trap heat in their solid core of foam.
Purple Mattress Versus Spring Mattresses
The Purple GelFlex Grid is designed to provide a bouncy feel similar to a traditional coil or hybrid spring mattress. Depending on the other materials found in the traditional mattress's comfort layer, you may prefer the Purple due to its temperature-neutralizing and motion-isolation features.
Purple Mattresses Versus Latex Mattresses
The Purple mattress is said to most closely resemble a latex mattress more than any other type of mattress because both are breathable, responsive, and hypoallergenic. Many prefer the price of the Purple over a natural latex mattress.
Purple Versus Cheaper Mattresses
The materials used to make all five models of Purple mattresses are longer lasting than the lower-density foam used in cheap polyfoam and memory foam mattresses. A Purple mattress is the better choice over the long run.
Purple Versus More Expensive Mattresses
Purple may prove to be both less expensive and made of equal or better quality materials when compared to more expensive, higher-end memory foam, latex foam, or even hybrid spring mattresses. Be sure to research all these aspects before making a final decision.
Who The Purple Mattress is Best Suited For
With a variety of designs to choose from, finding the Purple mattress that works for your sleeping preferences should be fairly easy.
If you are looking for temperature regulation, motion isolation, excellent edge support and one-of-a-kind comfort, try any Purple of your choice. All Purple mattresses are also non-toxic, hypoallergenic and made in the USA.
Weight
Heavier-weight sleepers will prefer the Purple Hybrid or Purple Premier 3, especially those that are back and stomach sleepers. A heavier side sleeper that prefers a plush feel may prefer the Purple Premier 4.
If you are a lighter-weight sleeper, opt for the Purple Plus or the Purple Premier 3 or 4, regardless of the position you choose to sleep.
Sleeping Position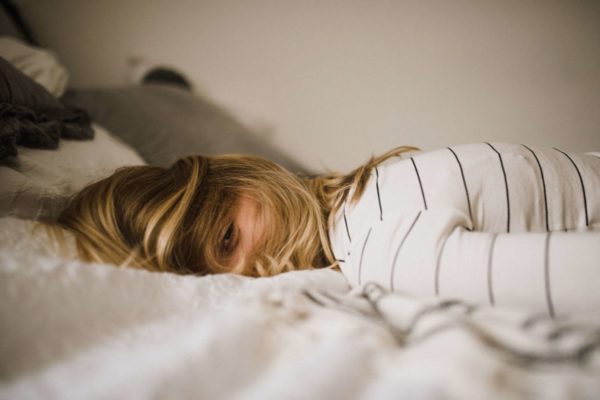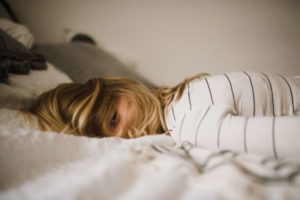 Side sleepers may want to avoid the Purple Hybrid, as it may not cradle your hips and shoulders as it should. Side sleepers will likely love the pressure relief of all four other models.
Stomach sleepers should stick with the Original Purple, the Purple Hybrid or the Purple Premier 3 if they like a plusher feel. The Purple Plus and the Purple Premier 4 may allow your hips to sink further into the mattress than they should and not give you the proper spinal support you need.
Back sleepers may choose to avoid the Purple Plus and the Purple Premier 4 as well, unless they like an extra plush feel or are a lighter-weight sleeper.
Health Conditions
All Purple mattress models are hypoallergenic so allergy sufferers are safe with any model. If you suffer from snoring, sleep apnea, acid reflux or even the common cold and need to sleep on your back often, the Purple Premier 3 is the most versatile of all five models.
Cost of The Purple Mattress
According to multiple Purple mattress reviews, the Purple bed is certainly worth the extra expense when compared to cheaper memory foam, spring, and polyfoam mattresses. When you purchase a Purple mattress, you are getting a non-toxic, hypoallergenic, American-made, temperature-regulating and motion-isolating mattress all in one, with the perfect combination of comfort and support. Purple stands by their mattress with a 10-year warranty and an easy online warranty self-assessment with no hassle. Thanks to its quality components and patented technology, the Purple mattress is unlike any other mattress on the market.
Try It Before You Buy It
Mattress Express and Purple have joined forces so you can try out a Purple mattress before you buy it. This is the best way to decide what Purple mattress is best for you without the trial and error of Purple's 100-day online policy.
Our sleep specialist will guide you to make the right choice at the time of your purchase. Check out all our locations in Central New York and visit the Mattress Express location of your choice today.