Adjustable base beds are drastically growing in popularity because of their health benefits, promotion of high-quality sleep, and overall comfort. A Tempur Pedic adjustable base allows you to elevate your upper body and legs independently.
Elevating the upper body opens up your airway and allows you to breathe easier, which alleviates snoring, congestion, asthma, seasonal allergies, heartburn, acid reflux, and other serious sleep issues like sleep apnea.
Customizing your sleep position takes pressure off your lower back and other pressure points. Reducing pain in these sensitive areas allows you a more restful night of sleep. It is particularly beneficial for individuals that suffer from chronic pain conditions such as arthritis or fibromyalgia.
Elevating your legs can improve blood circulation, reduce swelling, and reduce the risk of developing conditions like restless leg syndrome, deep vein thrombosis and varicose veins. It also relieves pressure on the sciatic nerve.
When you activate the controls of your adjustable base, the motor engages and allows you to adjust the elevation and angle of both your upper body and legs. This technology enables you to find your ideal sleeping position to provide you with better sleep quality and overall comfort.
Adjustable base beds are not only beneficial for individuals with specific health conditions they also enhance your lifestyle during your leisure time. Whether you enjoy reading in bed, watching TV, or scrolling on your laptop or phone, an adjustable base bed can help.
Adjustable Base Beds
An adjustable base bed allows you to customize your sleep experience and tailor it specifically to your individual needs. There are plenty of adjustable base models available on the market, starting with basic styles that offer adjustable head and/or foot positions. There are also higher-end models that offer more advanced features like massage, zero gravity, Bluetooth connectivity and anti-snoring features.
NASA inspired the zero gravity mode. It gives you the feeling of weightlessness while helping you relax your spine and muscles. Anti-snore features put your body in a position that opens your airway and allows you to breathe more easily. Massage bases gently vibrate as they massage your head, feet, or both, and often have a timer so the massage feature does not stay on all night. These are all extra perks of some of the more advanced adjustable bases available today. You can decide which features you want and which you can not go without.
TEMPUR-Pedic Technology
TEMPUR-Sealy International has developed an adjustable base with Snore Response that is designed to sense when someone starts snoring. It will automatically adjust the position of the mattress without anyone in the bed having to wake or press a remote.
The same base also provides you with a "sleep coach" that gives you a report each morning through an app on your phone, telling you how you slept and giving advice on how to improve your sleep. TEMPUR-Sealy is continuing to research and develop more ways for every type of sleeper to get good sleep each and every night.
Ready to improve your sleep with a Mattress Express mattress?
Locations
Find your store
TEMPUR-Pedic Adjustable Base
All TEMPUR-Pedic adjustable bases support up to 650 pounds and are available in twin, twin long, double, queen, and king.
TEMPUR-Ease Power Base
The TEMPUR-Ease Power Base is the first of four adjustable base options offered by TEMPUR-Pedic and may be used with any TEMPUR-Pedic mattress.
The design of the Ease Power Base consists of a simple, fabric-covered platform with a metal foot bar to keep your mattress in place as you move it. You can personalize your sleep experience by raising your head, with a max head tilt of 57 degrees and up to 46 degrees for your feet. All you need is the wireless remote control.
TEMPUR-Ergo Base
The TEMPUR-Ergo Base is an upgraded version of the TEMPUR-Ease with additional lumbar support, a zero gravity preset button, an anti-snore preset button, USB and USB-C ports, massage and under-bed lighting.
TEMPUR-Ergo Smart Base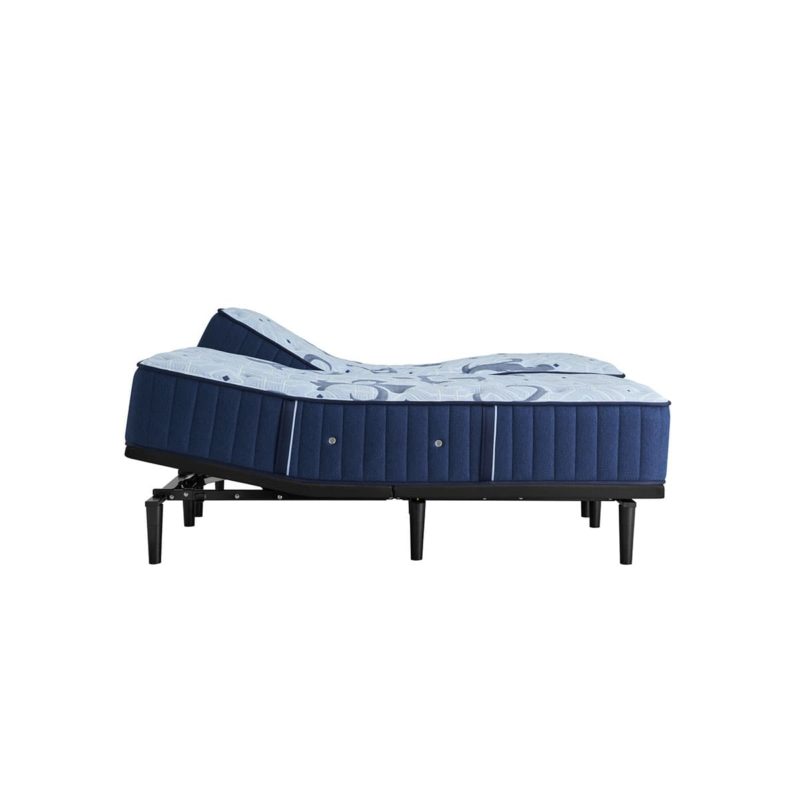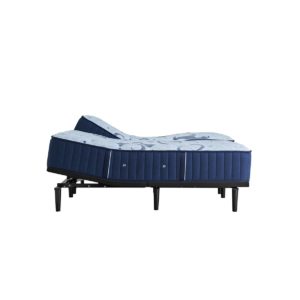 The next step up is the TEMPUR-Ergo Smart Base. It offers all the features of TEMPUR-Ergo base but also includes two-zone massage, snore response, sleep coaching and a smart alarm.
The TEMPUR-Ergo Smart Base Snore Response automatically senses snoring and raises your head to a position to help reduce it. The sleep coach function monitors your sleep experience through an app on your phone and offers daily tips on how to get a better night of sleep.
TEMPUR-Ergo ProSmart Base
The TEMPUR-Ergo PRO SMART Base offers all of TEMPUR's smart technologies, including WaveForm massage, soundscape mode and a wind down program.
The WaveForm massage feature uses sound waves to transmit vibrations from the base throughout the mattress. It will relax your mind and your body.
The SoundScape Mode allows you to both hear and feel sound through the mattress through Bluetooth wireless technology. You can choose music or sounds to help you relax and sleep.
The wind down program is a preset option that cycles through different base positions and soothing massage types so you can calmly and comfortably drift off to sleep.
TEMPUR Bases at Mattress Express
Stop into a Mattress Express location of your choice and see what TEMPUR-Sealy has to offer. A sleep specialist will guide you through all of your options.